While I often set timers with Siri on my iPhone, doing so means I need another Siri command or series of swipes and taps to check the timer's progress. When I'm at my desk working, I prefer a simple onscreen timer. Whimsicalifornia's $3 Timebar ( Mac App Store link) is a nifty timer app that lives in your menu bar. Actually, lives isn't quite the right word: Timebar consumes your menu bar—but in a good way.
To use Timebar, you simply click the Timebar icon in your menu bar (it's the one that looks like a stopwatch, which makes it easy to confuse with the Time Machine icon), and then you drag a slider to set the length of your timer. Click Start, and the background of your Mac's menu bar turns blue, fading from right to left until the timer hits zero—much like any standard progress bar. When the timer runs out, you're alerted with a dialog box and, optionally, a sound.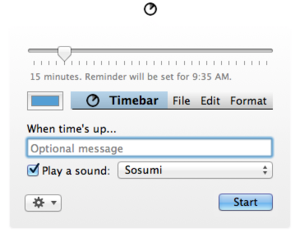 The aforementioned slider is an unusual design choice: You can set a timer for one minute, two minutes, and then in five-minute increments up to four hours, and then in 30-minute increments up to eight hours. I understand the thinking behind this approach, but it limits your flexibility when it comes to choosing a timer length. For example, I brew my tea for four minutes, and I put some foods in the microwave for seven. I'd like to at least have the option to enter the timer duration manually.
That said, you can download a pair of Timebar extras for setting timers of any length using Alfred or Terminal. And the app is scriptable with a custom URL protocol (timebar://), which means you can create your own means to control it—for example, by using LaunchBar.
Other Timebar options let you tweak the color used in the menu-bar progress bar and change the sound that rings out when your timer is done. You also get an option to snooze the timer when it finishes. However, the snooze length is based on the length of the original timer; I'd love an option to choose a custom snooze duration.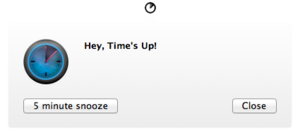 If you click the Timebar menu-bar icon while a timer is running, you get a digital readout of how much time is remaining. If you right-click that icon while no timer is running, you get quick access to the utility's menu, which includes an option to repeat the previous timer. (Note that if your previous timer used a non-standard duration, the menu option instead offers the nearest standard Timebar interval.)
Timebar isn't the only menu-bar-icon app around. Another popular option is Tadam, which lets you type in any time duration you'd like, but the software's a bit too opinionated for my tastes: It wants you to take a break when your timer's done and intentionally annoys you to persuade you to do so. Another is Eggscellent (currently in beta), which aims to integrate your reminders (from the Reminders app, Things, or OmniFocus) with timers—something I don't need, but that's clever enough in its own right.
If you're just looking for a simple timer, on the other hand, Timebar is appealing thanks to its unique approach: It gives you a constant, though subtle, indicator of your timer's status. Though I'd prefer more time controls, Timebar is a helpful utility to keep around.
Want to stay up to date with the latest Gems? You can follow Mac Gems on Twitter.