Back in 2008 when I last reviewed DevonAgent (version 2.3), I said this unique application had powerful research capabilities but was less successful at being a day-to-day Web browser. Now, many revisions later, this app (now called DevonAgent Pro) has matured and improved considerably, so I went back for another look.
DevonAgent Pro's main function is to search for information on the Internet—but not just from a single search engine such as Google. DevonAgent Pro can collect data from all the major search engines as well as from dozens of specialized sources, such as USA.gov (government data; formerly called FirstGov), Lexis Web (legal data), MedlinePlus (medical data), Scirus (scientific data), the U.S. Patent Office, various online libraries, and so on, not to mention Facebook and Twitter.
You start a search by selecting or creating a Search Set, which tells DevonAgent Pro where to search and what to look for. The Search Set can include Boolean operators (AND, OR, XOR, NOT), proximity terms (BEFORE, AFTER, NEAR), and wildcards; it can also specify whether and how deeply to follow links, whether to search inside documents such as PDF and Microsoft Word, and how to present the results (for example, displaying only images or audio files). Besides filtering the search results according to your preferences, DevonAgent Pro ranks all the results in order of relevance and provides a brief summary of each one.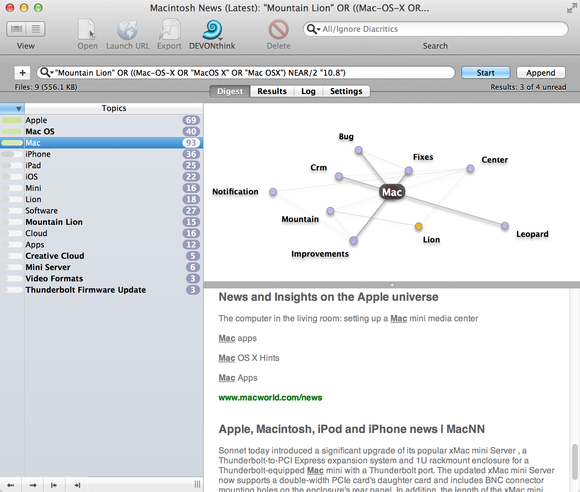 A search might take anywhere from seconds to hours, depending on how thorough you want a given search to be. But searches can run unattended on a schedule, and can even look for only newly added items since the last search. You can ask DevonAgent Pro to cache all downloaded pages (optionally clearing that cache—which can become quite large—when you quit), and you can also archive any search results within DevonAgent Pro or in DevonThink Pro, the document management app from the same developer.
One of the biggest changes since version 2.3 is an all-new See Also capability. Select any search result, click the Top Hat button, and DevonAgent Pro lists similar items in the search results, on the Web, and even in your DevonThink database. This lets you quickly discover connections between seemingly unrelated items. But perhaps the most welcome change is improved stability and compatibility. Whereas version 2.3 crashed frequently for me, I've found version 3.5 to be highly reliable. It's also much faster than before, and fully compatible with Mountain Lion, Retina displays, and all the other latest Apple technology.
For serious Internet research, DevonAgent Pro is remarkably adept at focusing on only relevant content and helping you analyze and store it. However, it has a learning curve. Even though you can enter a simple search term as you would in Google, it takes study and practice to learn how to construct more sophisticated searches that will yield better results. The app includes several helpful screencast tutorials, and I recommend watching them, because much of the interface is far from self-explanatory.
Although DevonAgent Pro's built-in browser is much better than it was five years ago—and certainly more than adequate for displaying search results—I'm not tempted to make DevonAgent Pro my default browser. It lacks niceties such as autofill for forms and fine-grained control over cookies, and because it doesn't support browser extensions, it's no longer compatible with password managers such as 1Password and LastPass. You can view and open bookmarks from any of your other browsers, but you can't edit them within DevonAgent Pro; in order to manage bookmarks, you must store them in DevonAgent Pro yourself.
Bottom line
For serious, detailed Web research, especially when you have to find data that's not accessible in conventional search engines, DevonAgent Pro can cut through clutter and help you make sense of complex information. It's unlikely to replace Safari, Chrome, or Firefox as your everyday browser, but for what it does best, no other tool can compare.