At a Glance
Expert's Rating
Pros
Very slim; sturdy built-in stand
Cons
Cheap-looking; case is difficult to open; cradle does not seem to fit mini perfectly
Our Verdict
When it comes to this case, "skinny" doesn't equal "elegant," and I'm not sure this Skinny is worth the price.
Folio-style iPad mini cases are great for protection, since they cover both the back and front (and usually the sides) of the iPad. But they're not terribly slim—in fact, a lot of folio cases are modeled after hardback books, and add quite a bit of extra bulk. STM's $35 Skinny for iPad mini gives you protection without the bulk, or so its name would seem to imply.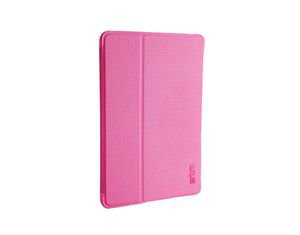 The Skinny is a fairly basic folio case. It comes in four solid colors—pink, blue, black, or berry red—and features a plastic fitted cradle covered in textured cloth. The cradle is fitted to the mini's dimensions and it's easy to snap on. The case is a little more difficult to take off, but it's manageable. The cradle has cutouts for the mini's Sleep/Wake button, headphone jack, microphone, mute switch, volume buttons, bottom speakers, and Lightning port. None of the cutouts are too deep, which means all of the buttons and ports are easily accessible.
The Skinny's cover is made of textured fabric on the outside and microsuede on the inside, which helps to keep the mini's screen scratch free. It does have a magnet inside, which activates the mini's magnetic Sleep/Wake feature. The cover is held shut by a wide tab that tucks into a strap on the back of the case. This tab holds the case securely shut—which is good, unless you're trying to open it. When the tab is tucked into the strap, it's so tight that it's difficult to open up the case quickly. The case's cover can also be folded back onto itself (and the tab tucks back into the strap from the other side) to form a stand or an angle for typing. The stand feels very sturdy.
Here's the good news: the Skinny lives up to its name. It's a very slim case, and it adds hardly any bulk to the iPad mini while still appearing to add a decent amount of protection. Unfortunately, while it's slim, it's not as sleek as some of the other slim-fitting folio cases I've seen. The case feels a little cheap—the sides are unfinished and fraying a bit, and the textured cloth cover seems like an afterthought, rather than a choice. Although the cradle is fitted to the Mini, the mini doesn't seem to fit perfectly inside, like it does in the Speck FitFolio.
Bottom line
When it comes to this case, "skinny" doesn't equal "elegant," and I'm not sure this Skinny is worth $35.