Reader Cameron Chang seeks a simple movie editor. He writes:
I have some video clips that I'd like to lightly edit. For instance, I want to cut the sound track from one and replace it with a different sound file. On another, I want to copy 12 seconds and turn that bit into a separate movie. iMovie seems like overkill for these jobs. Can you recommend something simpler?
I can and will: QuickTime Player 7 Pro.
Wait. You can still buy that? And it's compatible with Mountain Lion?
Yes and it is. A little history.
At one time, for $29 you could upgrade the version of QuickTime Player that shipped with your Mac to the Pro version. This version allowed you to cut video and/or audio segments from one movie and add them to another, scale elements when you added them, layer soundtracks, and add subtitles and text to your movies. As editors go, it wasn't the most intuitive thing on earth, but for those who knew how to use it, you could perform some common tasks quite easily.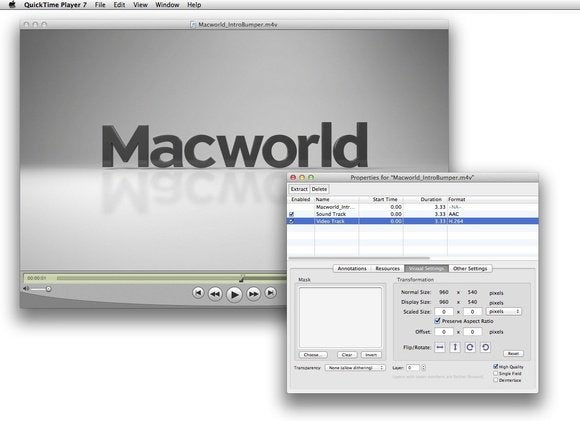 Then QuickTime Player X came along and spoiled the party. The current version of QuickTime Player lives up to its name by being a player rather than editor. The selection tools you find are awkward and a properties window for adjusting a movie's elements is absent. While it does allow you to capture audio and video (as well as your Mac's screen), as an editor it's a complete zero.
Fortunately, Apple didn't kill version 7 Pro (though the company hardly touts it). As you suggest, Apple would likely point you to iMovie as the way to get these simple tasks done, but, as you also suggest, I believe it's more trouble than it's worth. Follow the link above, pungle up your $29, and you're well on your way to performing simple movie edits.