It's been eight years since we reviewed the original version of Delicious Library, Delicious Monster's clever app for managing your media. But the question that greets Delicious Library 3, the latest edition in the franchise, is this: In 2013, is it still a good way to track and document all the items in your media collection?
The answer to that question: Mostly, but Delicious Library 3 has some mild shortcomings to be addressed.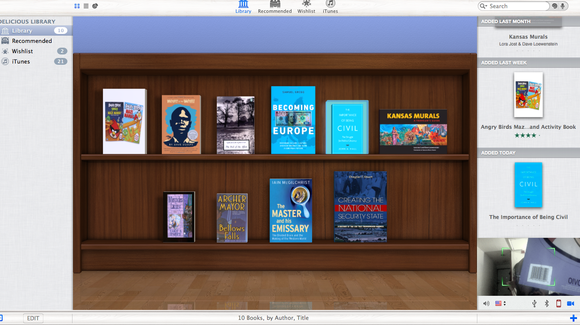 If you're not familiar with Delicious Library (the last major version of which, Delicious Library 2, was released five years ago), the Mac app organizes and tracks collections of books, movies, other media, and even tools—it's media-oriented, but it's not limited to media. Essentially, anything with a barcode can be scanned and added to the app's customized "shelf."
In the past, the easiest way to add an item to Delicious Library was by holding its barcode up to your computer's webcam for scanning. The app uses this barcode to automatically find and enter pertinent information about the item (including a photo) to the shelves of your virtual library.
Delicious Library 3 adds iOS integration in the form of a free mobile app. The app Delicious Scanner, pairs your iPhone or iPad with your computer over your local Wi-Fi network, letting you use the mobile device's camera as a portable iOS scanner. We previously took a close look at Delicious Library 3's iOS integration, as well as its new usage charts.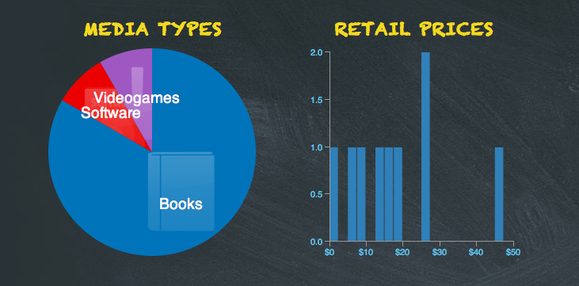 But when it comes to media, much has changed in the five years since Delicious Library 2: Many of the items that commonly used physical media in 2008—movies, books, and even software—now exist only in digital bits, and sometimes only in the cloud. If you're wanting one list to rule them all, and for that list to be compiled as easily as Delicious Library's predecessors swallowed up information about your "real world" collections, you'll be mildly frustrated with version 3.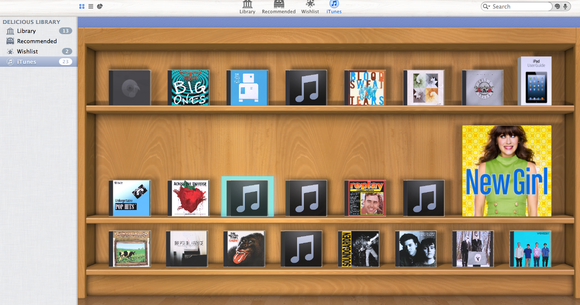 The developer does recognize this challenge. You can sync the program with your iTunes account, letting Apple aficionados automatically list any audio files, iBooks, and videos stored in or synced with iTunes. Your shelves will not, however, include apps, even if you've synced your iPhone or iPad with your computer's iTunes account. Also, your digital media doesn't integrate with the rest of your library—each medium gets its own shelf.
Strangely, adding e-books, digital movies, and music collections from Amazon isn't quite so easy. I say "strange" because Delicious Library 3 is tightly integrated with Amazon: If you own a Kindle book, you can type in the name of that book and Delicious Library will furnish the precise edition you own; same thing with albums and videos. In fact, you can even sell items from your collection on Amazon.com directly from within the app. But if there's a way to directly import and sync all of that information for dozens of titles at a time—the way there is with iTunes—it's not readily apparent. And if you live outside the Apple-Amazon universe—say, if you have a Barnes & Noble Nook—Delicious Library doesn't seem equipped to easily help you. You must enter all that information manually, or enter the Amazon version of each item and then edit the info.
When Delicious Library made its debut eight years ago, its bookshelf motif was well received. But does the app's skeumorphism make sense in 2013, when designers seem to be shifting away from that sensibility? I still like it, and it's essentially the app's trademark, but if you don't like seeing your collection of items arrayed on a shelf, you can switch to a List view, or to the Chart view, which breaks down your collection into key analytics, including the resale value of the items you own. If you're selling your books, for example, the Chart view acts as a sort of Blue Book that helps you set the price just right.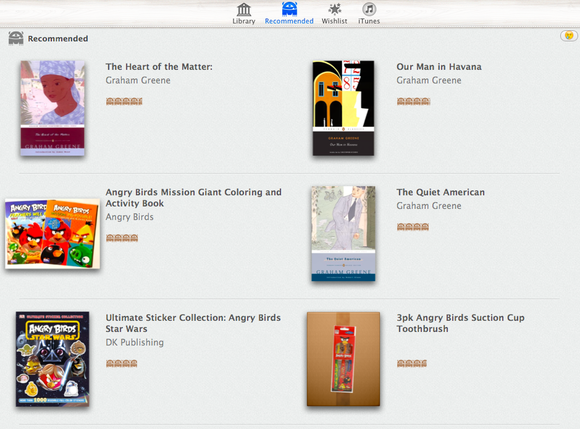 A couple of other features are worth noting. First, Delicious Library 3 generates a list of "recommended" items you might enjoy based on what you already own. You can save these items to a wish list, or click one to be whisked to Amazon.com to make the purchase straightaway. Delicious Library 3 also makes your collection searchable. You can of course search by keyword, but there's also a color view: Choose a color, and the items you own that contain that color (on, say, their cover) will pop into view. You may not be able to judge a book by its cover, but this feature makes that much easier to find.
Like its predecessors, Delicious Library 3 helps you track your media, and it makes a real attempt to keep up with the digital nature of today's virtual bookshelves. The app still needs some work in that area, however, so it continues to appeal the most to those whose media collections are heavy in physical forms: books, albums, and DVDs.
Want to stay up-to-date with the latest Gems? You can follow Mac Gems on Twitter.