No longer are rainbows, sparkly dolphins, and synth-pop ballads limited to acid trips in your high school buddy's Astro Van.
With Adult Swim's original Robot Unicorn Attack, an ironic novelty premise was married to a seriously addictive endless platformer, which then gave birth to a phenomenon that has spawned imitators, sequels, and pop-culture status.
And now, several years later, we have a sequel to what was perhaps a semi-joke game that has a devoted following. The challenge for Adult Swim was following up a game known for its over-the-top premise and difficulty. Fans may be disappointed that the universal Robot Unicorn Attack 2 for iOS isn't as difficult, but they certainly can't say the game is subtler.
The Robot Unicorn Attack world is as strange as ever. Full of rainbows, dolphins, floating space whales, and other leftovers of a seven-year-old's fever dreams, the opening level of the game is everything that fans of the series would hope for. You get to frolic in a heavenly dreamscape until you violently die, your poor robot unicorn decapitated in an explosion of failure. Thus, ends your "wish," or one of your three lives that you're given during each run.
While the previous title could get by on its impressive difficulty and its pure weirdness, Robot Unicorn Attack 2 has goals, achievements, un-lockable levels, upgrades, and other modern trappings. In short, Robot Unicorn Attack 2 isn't just a novelty anymore, but that doesn't mean it should be taken especially seriously.
Unlike its predecessor, you can retry a wish, or buy a fourth one, by spending in-game currency. You can also unlock special abilities and upgrades to your robot unicorn through completing specified goals, such as dashing through several stars in a single stage or hitting a score threshold over the course of three wishes. Some of the upgrades, like manes and horns, give you passive abilities that will help your survival, while boosts can be purchased for use over the course of three wishes.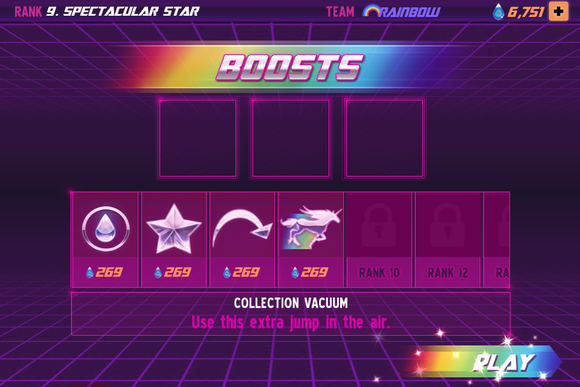 I never thought I'd say this, but yes, there is some strategy in Robot Unicorn Attack—selecting your payload and upgrades can help you burn through achievements faster. Maybe the game becomes easier with these upgrades—and so you're less likely brag to your grown adult friends about how well you did in a game involving rainbows and unicorns—but these extras will actually give you more of an incentive to play longer (a welcome trade-off, if you ask me). There are more enemies to confront, new areas to explore, and new challenges to meet; In short, you're a lot less likely to be putting this game down (or as in the case of the first game, throwing it away in frustration).
Erasure's iconic song is not the default soundtrack this time, for all of its nostalgic and ironic sweetness. Instead, you can purchase songs after you reach a certain level: Pick between Erasure, the Neverending Story theme, and Blind Guardian's "Battlefield" (from the metal version of the game). Although the game is free, it's recommended that you buy the songs to get the most over-the-top experience. Personally, I would have preferred the ability to import music from my own library to use in the soundtrack, as it seems silly to pay $1 to download a song for exclusive use in a game but not in my own library. But hey, this is a small quibble in the overall package here: it's like complaining that I didn't get my preferred kind of sprinkles on my ice cream sundae.
Bottom line
Frankly, Adult Swim has always developed clever, humorous flash games for their site, but it wasn't until Robot Unicorn Attack's kitschy soundtrack and bizarre world were partnered with a brutally difficult gameplay that they really had a hit. Robot Unicorn Attack 2 isn't as difficult, and it's perhaps not as funny (sequels to jokes rarely are) but I think it's actually a better game. Challenge your friends, engage in the daily battles between rival robot unicorn factions "Team Rainbow" and "Team Inferno," and enjoy the expanded mythos for one of the most interesting franchises for iOS.