This week, I take an in-depth look at just one question. I get a lot of emails about syncing music to an iOS device, and many people find it difficult to sync when their music library is larger than the space available on their iOS device. So here's a question about checked tracks, playing albums, and syncing.
Q: I have a lot of music and an iPod. I can't fit all the music onto the iPod, so I uncheck the tracks I don't want to sync. This works fine, except when I want to listen to an album in iTunes on my Mac.
I might have the three best songs checked so they get synced to my iPod, and when I go to play the full album in iTunes, it will only play those three songs, unless I check the others. If I do that, however, the next time I sync the iPod, those other tracks will get copied. Even if I create a playlist, it will skip the unchecked songs, so the only way to listen to music that I don't want on my iPod is to check the boxes and hope to remember to uncheck them again.
How can I get around this problem?
I know how you feel. I long used the 'Sync only checked songs and videos' option to only copy tracks that I want. However, over time, this became problematic. Like you, I'd find myself checking and unchecking tracks to listen to albums.
First, let me provide an overview of syncing options available. If your music library—and any other content you want to copy, such as videos, apps, and so on—takes up less space than you have on your iPod or iOS device, the easiest thing to do is just sync everything. If you have a lot of videos, you probably don't watch them often, so selecting which ones you sync is fairly simple. When your iOS device is connected to your Mac, click it in iTunes, and then go to the Movies or TV Shows tabs to choose which items to sync.
But if your library is larger than your iOS device's storage capacity, then you have to make selections. And there are two (OK, two and a half) ways to do so.
Reality check
The first, as you describe, is fairly simple as far as the sync process goes. You merely check and uncheck tracks in your Music library, and check the appropriate setting for the iOS device.
It's important to note that with iTunes 11, the checkboxes that used to be visible all the time are now only displayed in certain views, such as Songs view, or in a playlist in List view. So in other views, you will only notice if songs are checked or not by the color/shading of their names (checked tracks are black, unchecked tracks are light gray).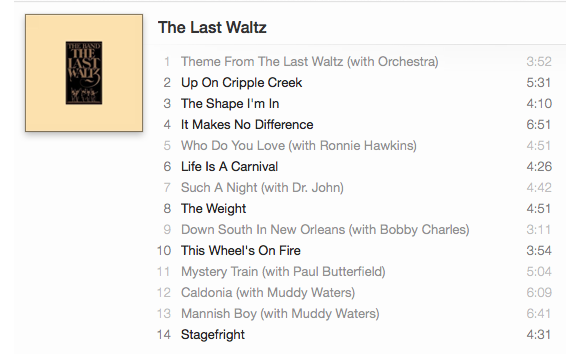 Again, with iTunes 11, since that checkbox is no longer visible, the only way to check or uncheck tracks is to select one or more tracks, then Control- or right-click and choose Check Selection or Uncheck Selection from the contextual menu.
Pick and choose
The second method involves picking and choosing. If you click your iOS device, then in the Music tab, you'll see options for syncing music. You can either sync your entire library—which is the best thing to do if you have more storage than music—or choose selected items: playlists, albums, artists, and/or genres.

Below that section of the Music tab is where you make your selections. You can choose to only sync playlists, or specific artists or genres, or you can get as granular as selecting specific albums. If you have a lot of music, I'd recommend creating a number of playlists, and filling these with the music you want; choosing individual albums is too much of a hassle. You may also want to just sync specific genres: For example, you may have one iOS device for, say, classical music, and one for other genres. As long as your classical music doesn't overflow your iOS device, you're fine.

Note that as you make your choices, the capacity bar at the bottom of the iTunes window will tell you how much free space you have left.
Simplify, simplify
I've covered two ways to choose what you sync so far, and here's the half.
You saw above that you can choose specific items to sync: playlists, artists, albums, and/or genres. Well, one easy way to resolve your problem is to create just one playlist, and dump all the music you want on your iPod into that playlist. Only add the tracks you want; so the three tracks you want to sync from your favorite album go in the playlist, and the rest remain on your Mac. They can all remain checked, but only your favorites get synced. This is much simpler, and only requires managing that playlist.
This can be a bit troublesome when you want to change what you sync, but if all your music is in a single playlist, you can view that playlist in List view or Grid view, and find tracks to remove fairly easily. I find it easier than the Music tab I mentioned earlier, where you check and uncheck different items.
So, there's no easy answer to your question, but with creative syncing, and using iTunes' checkboxes, you can accomplish what you want.