Panic's $10 Status Board for the iPad is an app that fits a niche so spectacularly, it leaves you kind of breathless. Designed to display and update data from a variety of sources, Status Board offers an amazingly customizable way to display your most important data on almost any screen, from your iPad to an HDTV.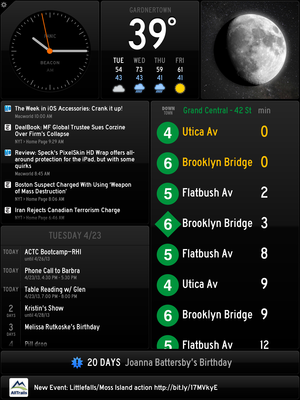 It's important to note that Status Board is a niche tool; it's not something you're likely to use casually at home or if you only have one iPad. But it is perfectly suited to situations where you want to publicly display specific information that's updated on a regular basis.
Open Status Board for the first time, and the app walks you through a quick setup process to configure and create some of the app's prefabbed status panels. These panels are little rectangles of data you can move, resize, and rearrange in almost any way you choose. By default, the app comes pre-loaded with calendar, clock, and weather panels, and can also display Twitter timelines, RSS news feeds, and the subject line of your latest email messages.
Some of the panels allow you to customize the way your data is displayed. So, for example, your Twitter, email, and news feeds can be displayed as either a list or as a ticker; the ticker shows one message at a time, and it slides across the screen, sits for a couple of seconds so you can read it, then slides the next update into view. I loved the ticker feed, but was disappointed there was no option for adjusting the delay setting to something slower of faster than Status Board's defaults.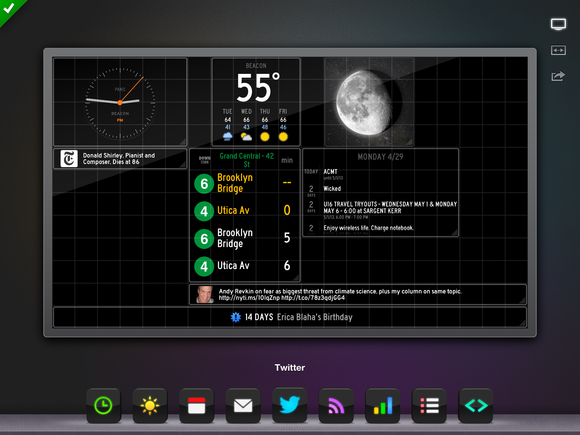 Three of the panels—graph, table, and do-it-yourself—offer more versatile options for displaying data, but they also require a better understanding of how to collect, format, and refresh data for display. Most of these panels require that Status Board have access to CSV or HTML files on or outside of your network that, when updated, update the info displayed in the panel. To this end, Panic provides excellent documentation on how to prep your data and make it available to Status Board. What's equally as interesting is that, because of the app's customization features, a small cottage industry of Status Board creators cropped up shortly after the app was released. The Panic Blog contains links to sites such as Status Board Widgets and Status Board App Info, which collect Status Board panels from across the globe. You can use these boards as they are, or as a jumping off point for creating panels of your own.
Once you create a Status Board with a complete set of panels, you can email it to other Status Board users so they can use it on their own iPads. Unfortunately, there is no option within the app to save existing Status Boards when importing new ones. So, if you want to reuse your current Status Board without recreating it, you'll need to email it to yourself before you install one that someone has sent to you.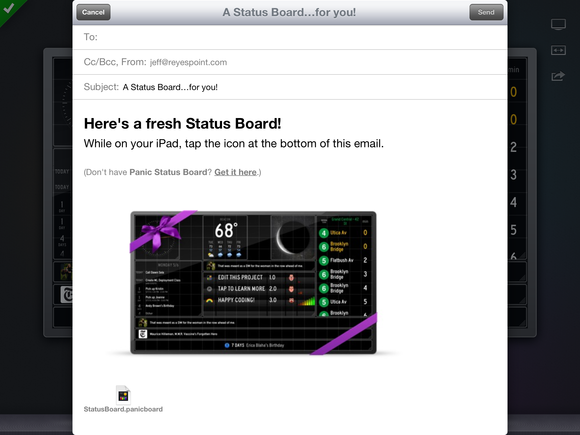 You have a couple of options for displaying your Status Board, the most obvious of which is on the iPad itself. Stick your iPad on a stand and you have a simple way of displaying information. Because many of Status Board's status panels are touch aware, you also have one-tap access to the data driving what you see. So, for example, if you display a feed for your Twitter timeline, tapping an update will offer you the option to view the update on Twitter itself or, if there is a link in the update, open the update in Safari.
While the iPad makes a nice display on its own, Status Board really shines when you connect your iPad to an HDTV via HDMI or use AirPlay to mirror your iPad to an Apple TV. The basic Status Board app does a nice job of displaying a letterboxed version of your iPad screen on your TV, but to make the most of your TV you'll need to make a $20 HD Out in-app purchase. HD Out allows you to take full advantage of your widescreen TV by creating a non-letterboxed version of your Status Board that fills the entirety of the TV screen. And, because the screen is wider, you also have more room on the screen to add more or larger panels. In short, Status Board on your HDTV is stunning, and probably the best way to use this app.
The only thing I really wish that Status Board did better is offer more in the way of customization. While some of the panels can be customized to a small degree, those options are limited. For example, there are only two clock face options, and it isn't possible to change the color theme or fonts for the pre-configured panels.
Bottom line
Status Board is a beautifully designed app that's amazingly easy to use and which fills a very specific need. If you need to display and update data on a regular basis with a minimum of difficulty, it's unlikely that you'll find anything better at handling that task than Status Board.