Google owns us, hook, line, and sinker. It manages our e-mail, calendar, and documents. We chat with friends on Gchat or Hangouts, watch videos on YouTube, find our way around with Google Maps, and many of us use Android smartphones and tablets.
Yet Google+, the social interface that encompasses all of these powerful services, just can't seem to get off the ground.
Google has so many advantages over Facebook: It knows just as much about us (if not more) than Facebook does. Perhaps Google solved its Google+ woes with a major redesign (including 41 new features) revealed Wednesday at the Google I/O developers' conference. Or maybe the real problem boils down to the fact that Facebook got there first.
Streamlining its space
Google+ has millions of devoted fans—190 million monthly active users, to be exact—who sing the 2-year-old network's praises. (To compare, Facebook has more than 1 billion monthly active users and Twitter had more than 200 million as of last December.) But do you know anyone who uses Google+ regularly?
Let's assume that Google+ has struggled to gain traction because its design was weak and its features were lacking. The social network's redesign addresses its biggest aesthetic problems, namely its single-column news feed and swaths of white space to the right of the stream. The old version of Google+ was stale, but the new multi-column stream on the desktop version of the site is interactive with cards you can flip over to find more content. The new columns make much better use of space.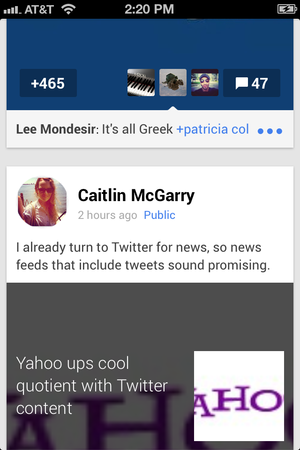 Google added some impressive features for photos to Google+ that far surpass anything offered by other social networks—save for Instagram. They include a photo curation option for organizing and editing your shots, and "Auto Awesome," which creates animated GIFs from your photo stacks.
OK, never mind: Those features definitely top all other social networks' photo settings.
The refreshed G+ iOS app is also easier on the eyes, with richer photos and cards that slide into place as you scroll down.
Carving a niche
Google+ is a gorgeous, cross-platform product. But maybe that doesn't matter: Facebook, after all, has never been known for its incredible design, says Rutgers social media professor Mark Schaefer.
Schaefer says the problem with Google+ has never been its user interface, but the fact that Facebook has a seven-year head start. Networks like Twitter and Pinterest have carved niches that don't directly compete with Facebook, which is why they've been so successful. Even Path, which is more comparable to the big F, is known as the "private" social network. Google+ is a catch-all site. And even if you choose Google+ as your general-interest network of choice, there's another problem: Your friends and family still choose Facebook.
"We don't want two Twitters. We don't want two LinkedIns. And we don't want two Facebooks," Schaefer says. "That's where [people] have their friends, their photos, their games. It's easier to move to another city than to switch a social platform. I think it's that big of a problem."
Google+ needs a niche. The new image features, supported by the fearsome power of Google's cloud, could make the network extra appealing for both professional and amateur photographers.
But Google is clearly not aiming just for photographers. The company aims to keep Google+ in the back of your mind, even if you're not actively engaged with the site (see the Google+ social login, which rolled out across multiple partner sites and apps earlier this year, and the +1 button integrated with most major sites, which is a thoughtless action, but a Google+ interaction nonetheless).
And if Facebook takes an epic misstep, you can bet Google+ will be waiting in the wings, ready to take over the top spot.