Literature and Latte's $15 Scapple is a unique amalgamation of productivity tools from the folks who brought us the amazing Scrivener (

) writing app. The developers describe Scapple as a freeform, nonlinear, mind-mapping text editor—unlike most mind-mapping software, there's no suggested hierarchy and no set system for capturing ideas.
The app starts you off with a blank canvas. Double-click anywhere to add a new note. To connect notes, just drag and drop one onto the other. If you change your mind, you can repeat that process to disconnect the two notes. The default connection is a simple dotted line, but if you'd rather have a directional arrow, hold down the Option key as you drag and drop. If you'd rather the arrow point the other way, instead hold Command+Option. If you prefer an arrow that points both ways, hold down Shift+Command.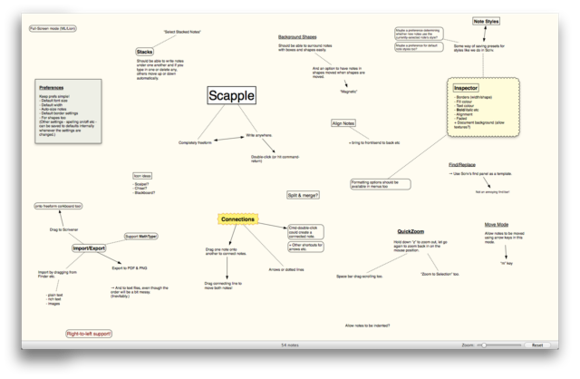 In addition to connecting notes, a feature typical of mind-mapping software, you can also stack notes to form lists. After typing a note, press Shift+Return to create a new note stacked underneath. To stack existing notes, you just drag to select them, and then either choose Notes -> Stack, or press Command+' (apostrophe). You use the same procedure for adding a note to an existing stack: Just select the stack and the note and then use the Stack command.
Oddly, you also use this procedure to reorder a stack: First you select the note just above the place in the stack you want the moved note to go, then you select the note you want to move, and then you use the Stack command. I find this process to be annoying, as I'd much rather simply drag and drop notes to rearrange them.
One aspect I appreciate about Scapple is that you can navigate it largely using the keyboard. You can use the arrow keys to move between notes, and if you press M on the keyboard, you switch to Movement Mode, which lets you move notes using the arrow keys. Holding down the Shift key as you move items speeds up that movement.
Like notes, background shapes—a simple method of grouping notes and stacks together—can also be manipulated with the keyboard. To create a background shape, choose Notes -> New Background Shape. (If you have one or more notes already selected, this menu item is instead called New Background Shape Around Selection.) You add notes to a background shape by simply dragging them to the shape.
If you want to move the shape together with the notes, you can make the shape "magnetic" by selecting the shape, and then choosing Notes -> Magnetic. However, as with many magnetic things, this feature can be annoying: The magnetic background shape picks up not only any overlapping notes, but also any note that happens to overlap the shape after the fact. Fortunately, you can just move a note away from the shape to free it from the shape's virtual magnetic field.
Scapple exports to many popular document formats, including plain text, PNG, and OPML. Of course, being from Literature and Latte, there's integration with Scrivener, but not as much as you might expect. You can drag notes from Scapple to either a Scrivener binder or to the Freeform Corkboard in Scrivener. However, you can't drag notes into a corkboard sorted in binder order, which is a strange choice.
Scapple is a promising entry in the increasingly crowded field of mind-mapping/idea-generating apps. As with its older sibling Scrivener, some of Scapple's interface isn't obvious to use, and the two apps could integrate better. But if you're a writer who's already shelled out $45 for Scrivener, the extra $15 for Scapple is a no-brainer. If you're not a Scrivener user, Scapple is still an appealing option, as it's much less expensive than the class leader, the $100 OmniGraffle (

), and it offers OPML export for transferring your diagrams to other apps—a feature the $7 Delineato Pro (

) lacks.
Want to stay up to date with the latest Gems? You can follow Mac Gems on Twitter or on App.net.