Syncing is a hot topic these days, with plenty of alternatives and lots of angst over their perceived limitations and shortcomings.
If you happen to be a user of the Omni Group's apps, like OmniGraffle and OmniFocus, you'll be happy to know that the company is releasing its own sync solution—aptly dubbed OmniPresence—on Wednesday, bringing yet one more option into the fray.
Easy and powerful
From the user's point of view, OmniPresence is designed to be simple while still offering a powerful feature set. The core of that is compatibility across both OS X and iOS apps, allowing you to effortlessly sync data back and forth.
On the Mac, OmniPresence runs in the background and resides discreetly in the menu bar, where it can be accessed at any time. Once installed, it asks you to connect to an OmniPresence server and designate a directory on your hard drive that will act as the synchronization point between your computer and the server. From there on, documents are automatically synchronized back and forth any time you update them in one of Omni's apps.
On iOS, Apple's sandboxed environment means that OmniPresence is tightly integrated with each of the company's apps, which will offer a document management panel similar to the one currently used by iCloud.
A sync for the ages
Unlike most of its competitors, including iCloud and Dropbox, OmniPresence is not based on technologies that have been developed from scratch; instead, it relies on the well-tested WebDAV protocol, which builds upon HTTP—the very foundation on which the Web runs.
Omni CEO Ken Case explains this choice as a way to maintain control over his company's products. "We thought about using iCloud and Dropbox," Case said during a phone interview with Macworld, "but they are based on proprietary solutions, and we wanted a solution that was going to last as long as our products."
As such, OmniPresence is built on the extremely popular Apache Web server, which already powers many of the Internet's websites. In addition to relying on a well-tested technology, this solution also allows Omni's apps to piggyback on the same connections as regular Web browsers, which should increase compatibility with even the most stringent firewalls.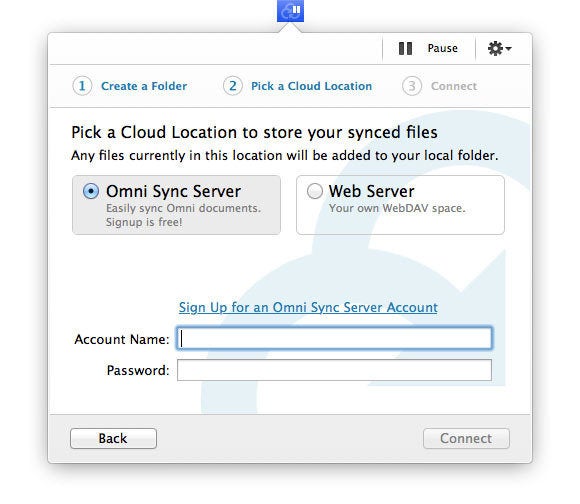 Better, smarter, more focused
Maintaining control over its sync technology has also allowed Omni to make some smart choices when it comes to functionality.
Compared to Dropbox, for example, OmniPresence works at the document level, rather than dealing with individual files. As such, multiple users can work on the same documents at the same time, with the sync server detecting conflicts and either merging them automatically or keeping multiple copies of the same document without forcing anyone to lose their changes.
OmniPresence also has a leg up over Apple's iCloud—primarily because it supports syncing across multiple members of a team, as opposed to only across multiple devices owned by the same user, but also because, being based on an open and well-known technology, it's likely easier to debug when things go awry.
Privacy please
Omni has decided to offer OmniPresence in three different forms. The first is as part of Omni Sync Server, a free service that allows you to sync your documents in the cloud, much as Dropbox and iCloud do.
As an alternative, the company will also make the server portion of OmniPresence available as a standalone (and free) product that can be installed on your own servers—or those of any hosting provider that supports Apache and WebDAV, which includes just about any provider on Earth.
Compared to a cloud-based service, this approach introduces significant advantages from a privacy and security perspective. As Omni's Case puts it, "letting choose where your data is is very important to people who value privacy, like corporate customers and government users."
And speaking of open …
In addition to the free server-side components, Omni is also releasing the client-side libraries that make it possible for apps to communicate with the sync servers as open-source software; this, in turn, will make it possible for other developers to adopt and incorporate support for OmniPresence into their own software using the Apple frameworks they are already familiar with.
This kind of generosity may seem unusual for a software company, particularly when it comes to as hot a market as sync, but Case says that it's in his company's DNA, adding that "when we build technologies that we feel are generally useful, we try to make them available as free source code so that we can help push the state of the art in our industry."
The right sync stuff
OmniPresence's relevance in a sea of alternatives remains to be seen, but Omni seems to have hit on all the right features: privacy, simplicity, support for teams, and openness. This combination of factors could well conspire to make the company's sync solution very successful, indeed.
In particular, support for custom servers and the availability of the client libraries as open-source code that relies on existing OS X and iOS frameworks could create a new rally point for those third-party developers who are increasingly disenchanted with iCloud's instability and inscrutability—perhaps to the point of OmniPresence becoming a new standard for syncing inside Apple's ecosystem.
For now, if you happen to use one—or many—of the company's popular apps, OmniPresence mainly means that you'll be able to sync your data across multiple devices (and, eventually, across your entire team) with little to no effort, and without taking up space on either your Dropbox or iCloud accounts. And that, in and of itself, could well be more than enough reason to check the service out when it launches on Wednesday.