My first Apple TV quickly established itself as an essential addition to my home media setup. I used it primarily to send music from my Mac's iTunes library to the home theater audio system in our living room. In addition, it let me watch videos purchased or rented from the iTunes Store on the family HDTV.
Over time, our use of the Apple TV has only broadened. One example: My wife invited a group of her friends over to watch a series of video interviews, obtained as free downloads from a website, but she didn't want to make everyone huddle around her computer to view the shows. Our Apple TV came to the rescue. We imported the videos into her iTunes library, letting her display the videos on the connected television.
As great as having one Apple TV has been, I've more recently discovered the benefits of owning multiple Apple TVs, one for each of the three televisions in our home.
The joy of multiple Apple TVs
The most obvious advantage of multiple Apple TVs is that I have access to Apple TV's features no matter which television or audio system I'm using. As a result, I can now listen to music from my iTunes library just about anywhere in our house.
Because I can send audio from iTunes on my Mac to more than one Apple TV simultaneously, I can arrange to have the same music playing in multiple rooms at the same time. This capability would otherwise require the greater expense of a separate multiroom audio system.
Having multiple Apple TVs also gives me the option of being able to start a movie in one room and finish it later in another room, picking up right where I left off. I can do this for movies in my iTunes library, for movies rented from the iTunes Store, or even for ones played via Netflix streaming. Overall, this comes close to matching the "any room" features of services such as AT&T's U-verse.
Speaking of Netflix streaming, though almost every device capable of displaying video seems to integrate with the service these days, I like the consistency of having the same user interface across all of my televisions. Always accessing Netflix via Apple TV provides this consistency, and it eliminates concerns about which networking services come with each television or Blu-ray player I might purchase. In fact, Apple TV, combined with the option to purchase HD digital content from iTunes, pretty much eliminates my need for a Blu-ray player. I still have one for playing discs from my DVD and Blu-ray collection, but my days of purchasing optical media are just about over.
The joy of Apple TVs and AirPlay
Whether you have one Apple TV or several, one of the device's best features is AirPlay support. In particular, with AirPlay Mirroring enabled on your Mac or iPad, you can view almost any content on your TV. (If you have an older Mac that doesn't support Apple's implementation of AirPlay Mirroring, you can use AirParrot instead.)
I've used AirPlay Mirroring to send slideshows from iPhoto on a Mac to our big screen. It even works well with some iOS games; at the very least, it makes a player's game progress easier for others to watch.
I especially like to use AirPlay Mirroring for viewing streaming video in Safari—when it's not available on YouTube (otherwise, I could watch it directly from the Apple TV's YouTube app). For example, I've used it to watch network television shows that stream from a network's website.
Perhaps my most frequent use of AirPlay, though, is with HBO GO on my iPad. This app offers "on demand" access to all content currently available from HBO. Though HBO initially blocked the app from working with AirPlay, the network shifted gears a few months ago and now permits it. The app works directly with AirPlay, bypassing the need for Mirroring, so you get better display quality. With my multiple Apple TVs, I can now watch any available HBO show from any of my televisions at any time I want.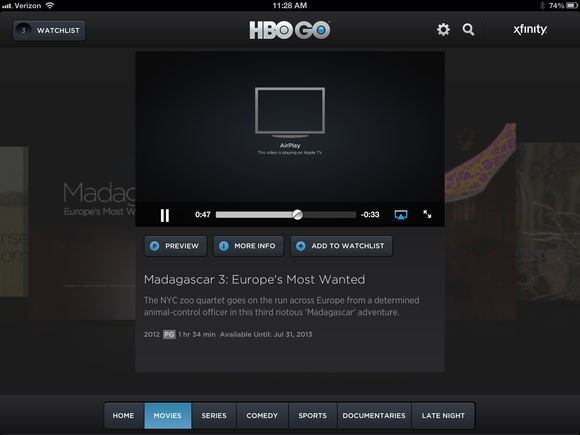 You'll need an HBO subscription from a cable or satellite provider to access HBO GO's content; but once you have it, AirPlay can send the content to any television with an Apple TV. The television doesn't need to have a provider's set-top box attached. It doesn't even need to be in your home. Though I haven't tested this capability, I believe that you can take your iPad (and Apple TV, if needed) to a friend's house and watch HBO GO on their television over their Wi-Fi network—even if your friend doesn't subscribe to HBO.
As great as using AirPlay with my Apple TVs is, accessing the same content directly would be even better. That's why I'd like to see an Apple TV App Store where I could install third-party apps, such as HBO GO, to the Apple TV itself—something you can already do with the competing Roku box.
The coming joy of Apple TVs and cord-cutting
Apple TV includes a multitude of options for watching television shows. The aforementioned Netflix offers a fantastic collection of great series, all available on demand with no commercials. Currently, I am rewatching the The West Wing and catching up on prior seasons of Mad Men. For shows not available via Netflix, you can try Hulu Plus. Or you can mirror content from any network's website. Another alternative is to purchase shows from the iTunes Store. With the Store option, you can set up a Season Pass to download upcoming shows automatically. I'd like to be able to rent TV shows at a reduced cost compared to purchasing, but I don't see Apple implementing that option any time soon.
If it survives legal and competitive challenges, the nascent Aereo service may eventually provide live Internet-based access to all over-the-air (OTA) stations. In the meantime, there's EyeTV, a device that lets me watch OTA channels live on my Mac. This means I can mirror the video over Apple TV to any of my televisions. And because EyeTV also functions as a DVR, I can record shows for later viewing.
If you subscribe to a television provider such as Comcast, many of these alternatives are unnecessary. Just use Comcast, which is less cumbersome than the aggregate of the alternatives. Nevertheless, these alternatives point to a future where you could "cut the cord," dump your television provider, go with Apple TVs for all your televisions, and still save a bundle of money. Like Lex Friedman, I'm not yet ready to go that far. For one thing, I still want easy access to basic cable stations, such as TNT, CNN, ESPN, and Comedy Central. But the day when I cut the cord is coming.
The main obstacles to cord-cutting are the networks and television providers themselves. Perhaps correctly, they see it as a threat to their business model—which is why you have to subscribe to HBO via a provider before you can use HBO GO. In the same way, ABC's new Watch ABC iOS app will let you watch most of the network's programming live on your iPad, as well as send it to an Apple TV—but only if you subscribe to a provider. This prerequisite seems to defeat most of the advantages of the live option. In fact, ABC plans to "withhold its most recent TV episodes from the free versions of Hulu and ABC.com, further limiting access to paying subscribers of cable and satellite providers only."
I believe that these blocking efforts will ultimately fail in the face of increasing consumer objections and an expanding number of work-arounds. It may take several more years, but we'll eventually have à la carte access to all channels via the Internet, without a provider requirement. The first harbinger of this may be CW's announcement of an Apple TV app that doesn't "require viewers to sign up for a subscription, or prove they have a cable or satellite service contract." If it succeeds, others are sure to follow.
As we shift in that direction, the advantages of having multiple Apple TVs will become more and more readily apparent. Even cable and satellite subscribers who never bothered with multiple cable boxes might consider an Apple TV for every television in their house, to provide access to a world of digital content no matter where the viewer happens to be.