Last week we wandered about Mountain Lion's Messages application to get a feel for the territory. In today's lesson we'll dig into some of Messages' less obvious features, including screen sharing, initiating remote slideshows and presentations, and viewing past chats.
Messages and screen sharing
When exploring the Mac's sharing features I explained how to share the screen of another Mac on your local network. Through Messages it's possible to do the same thing, but over the Internet.
To do this, each participant must use an AIM, Bonjour, Google Talk, or Jabber account. Screen sharing isn't available through the iMessage protocol (meaning two iCloud accounts) or Yahoo.
To share someone's screen, select their name in your buddy list and from the Buddies menu choose Ask to Share PersonX's Screen (where PersonX is the person you want to interact with). That person will receive an invitation via an alert sound and a dialog box. For them to allow their screen to be shared, they simply click the dialog box. They can also elect to send you a text reply. For example, if they are in the middle of something, they can just click the Text Reply button and type I can't right this second. Try again in 5 minutes.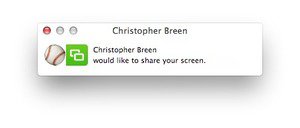 You can also elect to share your screen with another person. You do this by selecting your buddy and choosing Buddies > Share My Screen With PersonX. An invitation will be sent and your buddy can choose to accept it by clicking the dialog box that appears.
When you, as the person whose screen is being shared, wish to end screen sharing, just look in the menu bar and you'll see a flashing orange screen-sharing icon. Click this icon and choose End Screen Sharing. The connection will break. The person who's viewing the other screen remotely can end sharing by clicking the small My Computer window to view their screen and then close the small shared screen window. Alternatively, you can choose Buddies > End Screen Sharing.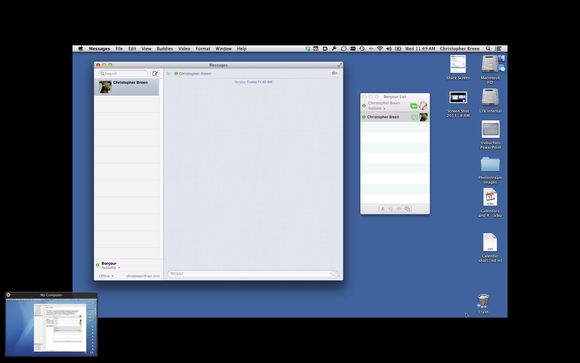 So, in what way is it useful to allow someone to remotely gawk at your Mac's screen? (Or you gawk at theirs?) The beauty of this scheme is that not only can you see the remote screen, but you can also control it. From my end, as the Tech Expert of the Family, this is an invaluable feature because I can troubleshoot a friend or relative's computer from across the country. We share the screen, I ask that they step away from the computer so I can try a few things, and let them know what I'm up to as I'm doing it. As we share, we can also talk to one another using the Mac's microphone and speakers, which saves us the cost of a long-distance call.
You probably know someone who performs a similar service among your circle of friends. If you need help, this is one easy way for them to provide it. And now that you know how to participate, they'll love you all the more.
Or, because each of you can take turns controlling the cursor and screen, this kind of screen sharing can be great for collaboration. Remember, however, that you can't both control the mouse or trackpad at the same time. Try and you'll fight over the thing like a Ouija board possessed by uncooperative spirits.
Note: When you purchase something after clicking links in our articles, we may earn a small commission. Read our affiliate link policy for more details.
Chris has covered technology and media since the latter days of the Reagan Administration. In addition to his journalistic endeavors, he's a professional musician in the San Francisco Bay Area.