Evernote on Thursday unveiled a new update for the Web, iOS, and Mac versions of its note-taking service: a new reminders function, which prompts users to make updates and add new notes.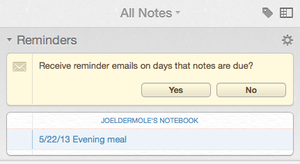 Macworld was able to take a gander at the Mac version of the new features ahead of launch. Regardless of how you're used to viewing your notes—card view, expanded cards, snippets, or list view—the Reminders section always shows up in the top of the app's note list, with a different reminder section available for each of your notebooks. The reminders themselves can be organized by date, by completed items, or by upcoming tasks.
Adding a reminder is simple: Just tap the alarm clock icon in the upper right-hand corner of each note, then add the date and time the note must be completed.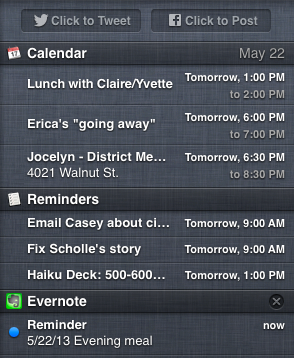 On my Mountain Lion-equipped MacBook Air, the reminder was delivered via Notification Center, just as with prompts from Apple's own Calendar and Reminders apps. You can also choose to receive reminder emails on the days that notes are due. Once notified, you can update the note with the relevant information—or simply cross it off your task list.
Evernote says its reminders feature is particularly useful in project-planning—reminders will be immediately available to Evernote Business users—as well as for tracking data needed for, say, big moves or doctor's visits.
The new feature keeps Evernote ahead in the increasingly crowded marketplace for apps that let users record ideas, make lists, and save information for future reference. Apps like Simplenote and even Google Keep are gaining popularity—at least among tech writers—but neither of those offers a match for Evernote's new functionality.
Evernote, as always, is a free service, but is limited to 60MB of uploaded data each month. The $45-a-year Evernote Premium service offers faster uploads, and a 1GB cap on data uploads.
Note: When you purchase something after clicking links in our articles, we may earn a small commission. Read our affiliate link policy for more details.
Joel Mathis is a regular contributor to Macworld and TechHive. He lives in Philadelphia with his wife and young son.