Shortly after his world history students began a pilot program testing a digital textbook for the iPad, Ken Halla noticed something different: His students were actually reading their textbooks.
"How crazy is that?" said Halla, a ninth-grade teacher at Hayfield Secondary School in Alexandria, Virginia. "To me, it's really great when the kids get excited to read."
Of course, Halla admits, the $15 iBook textbook his students used— World History: Patterns of Interaction from Houghton Mifflin Harcourt—went beyond the usual text-on-paper approach found in textbooks. Students were taking interactive quizzes, watching videos; even touring ancient European caves to look at prehistoric drawings.
"To call it a book anymore," Halla said, "is a false pretense."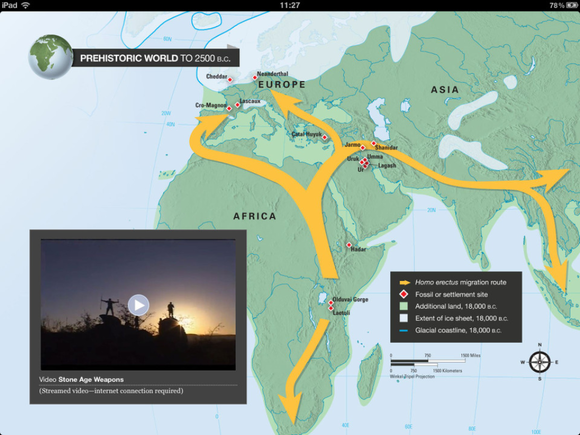 It's been more than a year since Apple held an event to announce a new focus on education. At that event in January 2012, the company launched the free iBooks 2 app (

) for interacting with multimedia textbooks and also the free iBooks Author (

), an app that lets writers and publishers create their own digital texts. The aim? To finally create a digital textbook market, using the iPad as the platform.
"We think Apple is uniquely positioned to be the first to make this work," Phil Schiller, Apple's senior vice president for worldwide marketing, said at the time.
As the school year comes to a close, Macworld decided to check in on Apple's progress. Here's what we found.
Early days still for digital textbooks
A year later, Apple's digital textbook effort still seems to be in the early stages. According to the company's public statements, more than 4.5 million iPads have been sold to U.S. schools—and yes, more than 10,000 books have been published using iBooks Author. More than 2,500 schools across the country are now using the iPad in the classroom. Where they're used, the tablet and the digital textbooks find enthusiastic responses.
But there's a long way to go before students using iPads to read their iBooks becomes the rule, rather than the leading-edge exception, in American education. One of the biggest problems is still a lack of textbooks.
Waiting on textbooks: "Textbooks for middle school aren't available," said Marsha Messinger, language arts and social studies teacher at Robert Saligman Middle School of Perelman Jewish Day School in Philadelphia. "They [the textbook publishers] are working their way from college down."
"It's moving steadily forward," said Tim Bajarin, president at Creative Strategies Inc., a tech industry research firm. He predicts that it will take two to three more years for the digital textbook industry to reach critical mass, and that he believes Apple now has a head start. "In many ways, you have to look at this as an Apple evangelistic move. The textbook industry has been relatively slow."
Waiting on schools: At Houghton Mifflin Harcourt, Mary Cullinane, chief content officer and executive vice president, says her company is ready to push iBooks and other digital textbooks when more schools are ready to buy.
"Once the early adopters demonstrate the validity of the opportunity, you'll see more folks come on board," she said, "but that transition hasn't happened yet."
How digital textbooks are being used
Where iBooks have made inroads, it appears schools have found a variety of ways to use them in the classroom:
As textbooks that are better than, well, textbooks: This may seem obvious, as it's what Apple clearly was aiming for when it launched the service. But the same educators who complain about the lack of available content also offer high praise for the iBooks that do exist.
"We want them to be interactive, we want them to have videos embedded, we want them to be easy to purchase," said Eric Anderson, director of information technology for Archbishop Mitty High School in San Jose, California. His school has tested Chemistry and Biology iBooks from Pearson this year. Both iBook editions cost $15 per copy.
"This is our model book," Anderson said of the science iBooks. "If every book on our campus was like this, we would be thrilled."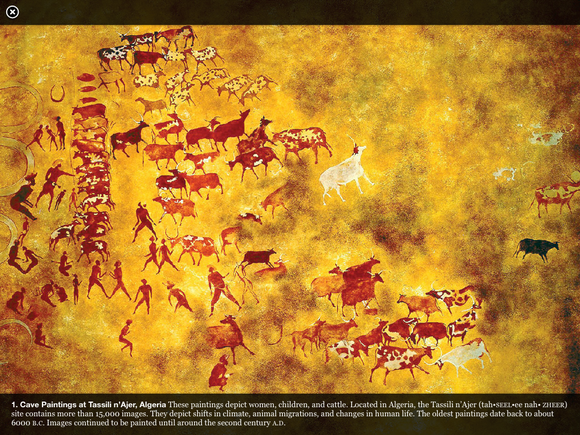 As easy collectors of custom content: Teachers have never relied entirely on textbooks. Often they cobble together lessons out of worksheets and other reading materials that fade as copies are made from copies. College students have traditionally bought class "readers" filled with excerpts and articles.
Now? If teachers find an article or a PDF that illustrates their point, they can plug it into iBooks Author and distribute custom-tailored, in-house digital supplements for their students. Little of this content is original material, though, so none of it finds its way to the iBookstore, where it might set off a copyright claim.
"They don't really have a set textbook, so the little bits and pieces that they've found to teach from, that's the way they pull it all together," Brad Bergsma, chief information officer for Northwest Kansas Technical College in Goodland said of the computer graphics instructors at his school.
"For the faculty that has been using it, aggregation has been a key driver," he said. "Rather than run off a four-page PDF, they take it and dress it up with some video and pictures."
For student presentations: At Perelman Jewish Day School's middle school in Philadelphia—where the iPad program is sponsored by the Kohelet Foundation's SmartSchool program—teachers have put iBooks Author into the hands of students to create their own multimedia presentations, often shared with classrooms via AirPlay over Apple TV.
That's helped teacher Marsha Messinger to become a believer. "I think the iPad … has a jump on education," she said.
What's next
The great digital textbooks that are already out there are likely to help more schools make the move to adopt the technology, said Houghton Mifflin Harcourt's Cullinane. Both the hardware and the software are ready now, she said.
"Four or five years ago, you saw early adopters struggling," she said. "Now they can make the jump easier."
Who will dominate digital textbooks?: But the battle over who will dominate the education market—or how—has yet to be settled. Amazon is competing in the digital textbook market, letting users rent digital textbooks for up to 80 percent off the original hardcover cost. This can reduce the cost of a textbook, for example, from $185 in hardcover to just more than $40 for a digital rental. It's possible to read Amazon's books on a $200 Kindle Fire, or by using the free Kindle app for iPad, Android tablet, PC, or Mac.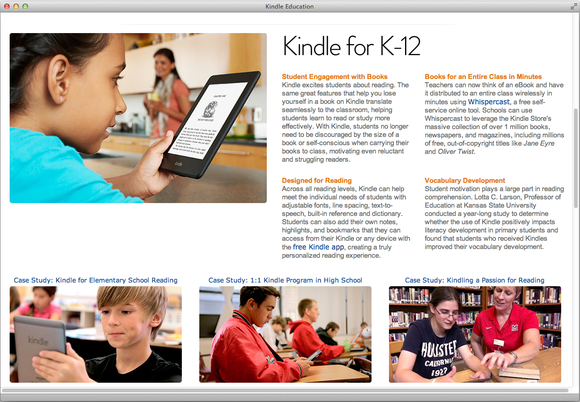 Publishers and other education companies are developing apps and other digital instructional materials that will work no matter what platform they're delivered on. Students in one classroom might access the same materials using an iPad, a Nexus tablet, an iPod touch, or even a netbook. iBooks are just one of the many options for those content creators.
One good reason for that variety: Some educators still balk at the cost of the iPad, even though the iPad mini starts at $329 and an iPad 2 ( Apple offers older generations of the device to educators) at $399.
Expensive hardware, inexpensive content: Back in California, though, Archbishop Mitty's Anderson thinks he's figured out the way his school will make up for the hardware costs: Cheaper content. "It's so inexpensive," he said. "The traditional textbook was over $100, and this (iBook) is $14.99."
Seeing a digital future: Creative Strategies' Bajarin said that textbook publishers—like newspaper publishers before them—have proven reluctant to give up the income associated with printed-paper products. But, they're starting to find that the audience—in this case, educators—wants digital formats.
"The good news is that all the education systems, whether they be elementary or college, clearly understand that the move is on to move everything to ebooks," Bajarin said.
Houghton Mifflin Harcourt's Cullinane agreed. "Almost 100 percent of the conversation we're having with districts, there's (now) a digital component to that conversation."
And that transition has educators like Anderson excited. He's looking forward to a broader array of materials to use in Archbishop Mitty's classrooms.
"Our students are really using the iPads for positive education reasons," he said. "I'd love to have every textbook in the iBookstore."