AirPlay (formerly called AirTunes) is Apple's technology for streaming media over a local (usually in-home) network. It lets you stream audio from any Mac or iOS device to any AirPlay-enabled audio system, or video from a Mac (of recent vintage) or an iOS device to an Apple TV (also of recent vintage).
AirPlay works over any modern ethernet or Wi-Fi network (for video over Wi-Fi, that ideally means a fast network using 802.11n technology). The sending and receiving devices also need to be compatible with AirPlay.
How you set up and use AirPlay depends on the devices involved and on whether you're streaming audio or video. Here's how you can get up and running.
(Note that these instructions assume AirPlay and your local network are working correctly. If not, Apple provides AirPlay troubleshooting information).
The basics
At its simplest, AirPlay is a convenient way to get audio from your Mac or iOS device to a speaker across the room—or across the house.
Though most people think of AirPlay as a wireless technology, you can also stream audio over a wired network, or between wired and wireless devices—for example, from an iPhone to an ethernet-connected AirPlay receiver. But AirPlay is also a relatively inexpensive way to set up a whole-home audio system—at least when compared with a custom-installed setup or something like a multiroom Sonos system.
Compared with Bluetooth' the much more common approach to wireless-audio streaming' AirPlay has a number of advantages. For starters, Bluetooth uses lossy compression, while AirPlay is lossless, so, assuming that you're streaming high-quality audio to begin with, AirPlay offers better sound quality. And while Bluetooth audio streaming is limited to devices no more than about 30 meters apart, AirPlay lets you stream from as far away as your Wi-Fi or wired network can reach. Finally, while Bluetooth allows you to stream to only a single Bluetooth receiver, AirPlay lets you stream audio to multiple speakers or receivers simultaneously.
AirPlay does have a couple drawbacks: For one thing, streaming is limited to Macs and iOS devices—very few non-Apple devices can transmit over AirPlay (at least not without employing third-party software or hacks); and for another, AirPlay gear tends to be more expensive than the Bluetooth counterparts.
Audio options
Streaming audio over AirPlay requires a Mac or an iOS device on one end, and an AirPlay-compatible receiver on the other. The simplest AirPlay receiver is a dedicated AirPlay-enabled speaker system. These speakers have network capabilities—usually Wi-Fi and ethernet—built in, along with special circuitry that allows the speakers to receive AirPlay-audio signals. Similarly, some recent home-theater receivers have AirPlay built in.
Alternatively, you can use Apple's AirPort Express as an AirPlay receiver. The Express will take any AirPlay signal it receives and send that audio through the unit's output jack' and, from there, to any speaker system or other audio component connected to that jack. (The Express can output either an analog- or digital-audio signal.) For example, you can connect a set of powered computer speakers or studio monitors directly to an AirPort Express.
Another possibility is to connect an Express to your existing stereo system; you can even build your own AirPlay audio system using a compact amplifier or an amp/digital-to-analog converter (DAC) and a set of unpowered speakers.
Finally, if you already have an Apple TV (second generation or later) hooked up to your home-entertainment system, that Apple TV can serve double-duty as an AirPlay-audio receiver. One caveat, though: The Apple TV can output only a digital audio signal.
Make the audio connection
Before you can stream audio to an AirPlay destination, you must configure your AirPlay receiver. How you do so depends on the kind of receiver you have.
AirPlay-enabled speaker system: Most dedicated AirPlay speakers are easy to set up. Often, you just connect an iOS device to the speaker via a USB cable, and then use a dedicated iOS app to configure the speaker to join your local network. Other models create their own Wi-Fi network; you join that network on your iOS device or computer, connect to a built-in Web server on the speaker, and then reconfigure the speaker to join your network. In either case, the speaker will come with a setup guide for performing this procedure. (During this process, you can also—and probably should—give the speaker a useful name, such as Kitchen Speaker; this name is how you'll identify the speaker when using other devices on the network.)
AirPort Express Configuring an AirPort Express as an AirPlay receiver is a bit more involved, but it's still fairly easy. If the Express is already a part of your network, you launch AirPort Utility, select the Express, and click Edit. Next, click the AirPlay tab, check the Enable AirPlay box, give the Express a useful name, and then click Update.
If you're setting up a new Express unit, you'll first need to follow the setup wizard to configure the Express to join (or extend) your existing network, and then you'll perform the same steps for enabling AirPlay.
In either case, you can also enable a password so that anyone who wants to stream audio to the AirPort Express must provide that password. If your AirPort Express is on a network accessible by other people, a password is a wise idea. Once you've set up the Express, you'll then need to connect it to your audio system using an analog- or a digital-audio cable.
Apple TV See "Streaming video," below.
Streaming audio
To stream audio, you should first turn on your audio system and make sure it's set to the correct input (if it has more than one). Your next steps will then depend on the type of transmitting device.
iOS: Apps with AirPlay controls: Under iOS 4.3 or later, apps can provide an AirPlay-selection control right in the app. This button, which looks like the AirPlay icon, is usually found next to the app's volume-level slider. When you tap the button, you'll see a list of all AirPlay receivers on your local network; tap one of those receivers, and after a few seconds of connection time, the app's audio will begin playing through your AirPlay speakers. Note that when streaming audio from an iOS app, you can choose only a single AirPlay destination at any one time.
iOS: Other apps and systemwide audio: Some apps don't provide an AirPlay-selection control; or perhaps you want to stream all of your iOS device's audio, regardless of the app. In this case, you can take advantage of iOS's systemwide AirPlay control. Double-press the Home button to access the task switcher, and then swipe to the right until you reach the volume slider; next to the slider is the standard AirPlay button. Tap it, and then tap the desired AirPlay destination.
Mac: iTunes audio: To stream your iTunes music, simply click the AirPlay button near the top left of the iTunes window (next to the volume slider), and then choose the desired AirPort destination. To send audio to multiple AirPlay-equipped devices simultaneously, click Multiple and then select the speakers you want to stream to; you can control the volume level of each speaker independently in this menu.
Mac: Streaming all audio: If you want to stream all of your Mac's audio' not just iTunes' to a single AirPlay destination, open the Sound pane of System Preferences, switch to the Output screen, and then select your AirPlay destination in the list; after a few seconds, audio should stop playing through your Mac and start playing over AirPlay.
(Alternatively, you can press Option and click the systemwide volume icon in your Mac's menu bar. This will reveal a list of output and input options; you can choose your AirPlay destination under Output Device.)
A couple caveats here: First, because of slight transmission delays, you may find that audio and video are out of sync if you're watching video on your Mac while listening to the audio for that video over AirPlay. Second, whenever your Mac isn't actively streaming audio, the AirPlay connection sleeps; once you start streaming audio again, it can take a few seconds to reconnect.
Mac: Other individual apps If you want to stream audio from an app other than iTunes—say, an Internet-radio broadcast you're listening to in Safari—but you don't want to stream all your Mac's audio, you'll need to turn to third-party software. Rogue Amoeba's $25 Airfoil for Mac lets you choose any currently running app on your Mac; that app's audio is then streamed to the AirPlay destination(s) of your choosing. The included Airfoil Video Player even allows you to stream a video's audio while keeping that audio in sync with the video playing on your Mac.
Video options and setup
If you have a recent Apple TV, you can also stream video over AirPlay from a recent Mac or iOS device. Specifically, you need a second- or third-generation Apple TV (one of the small, black models). However, the requirements for your Mac or iOS device differ depending on the type of video streaming you're doing—I cover these requirements in "Streaming video," below.
To enable AirPlay (for video or audio) on your Apple TV, navigate to the Settings screen, select AirPlay, and then make sure that the AirPlay is set to On. To prevent just anyone from hijacking your Apple TV, you can choose between an onscreen code (which means that anyone who wants to stream to your Apple TV must first enter a code that appears on the TV screen) or a traditional password.
If you'd like to give your Apple TV a descriptive name, go back to the main Settings screen, select General, and then select Name. Choose one of the default names, or choose Custom to enter a custom name.
Streaming video
When you want to stream video to your TV, you should first turn on your television and make sure it's set to the appropriate input for your Apple TV. Then use the procedure below that corresponds to your video source.
iOS: Video from individual apps Many video-oriented apps, such as Netflix, YouTube, and Apple's own Videos app, allow you to send the app's video to an Apple TV. While a video is playing, just tap the AirPlay button (usually located next to the playback controls) and choose your Apple TV.
Alternatively, on any iOS device that supports AirPlay mirroring (see the next item), some apps—higher-end racing apps are a good example—can use AirPlay to display primary video on your TV while showing a secondary screen on your iOS device. Many of these games have an option in the app's settings screen to enable AirPlay.
Whichever method the app uses, switching to your iOS device's Home screen or to another app usually stops streaming.
iOS: Mirroring the device's screen: If you have an iPhone 4S or later, an iPad 2 or later (including the iPad mini), or an iPod touch (fifth generation or later)' and you're running at least iOS 5' you can instead mirror your device's screen on your TV using AirPlay. When mirroring, everything you see on the device's screen will appear on your TV, including the Home screen and any apps you're using. This feature is more useful when your iOS device is in landscape orientation, as a landscape-orientation screen is a better match for today's widescreen TVs.
To enable mirroring on an eligible iOS device, you double-press the Home button to access the iOS task switcher, then swipe to the right until you see the AirPlay button next to the volume slider. Tap the button, choose the desired Apple TV, and, finally, switch the Mirroring option to On.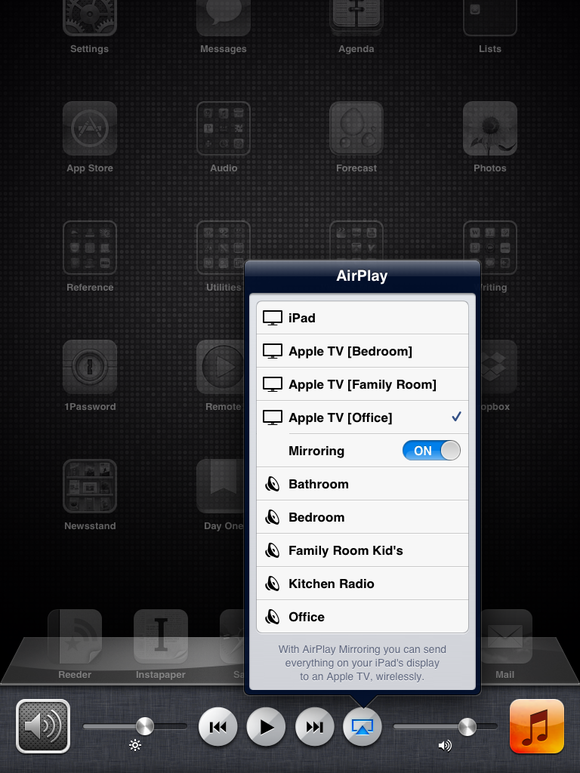 Mac: Streaming video from iTunes Most Macs that can run iTunes 10.2 or later support streaming iTunes-hosted video to an Apple TV. Just click the AirPlay button (in the upper left corner of the iTunes window, adjacent to the volume slider), and then choose the desired Apple TV. Now any video you play in iTunes will be shown on your TV instead of on your Mac; if a video is already playing in iTunes when you enable AirPlay, the video will stop playing in iTunes and, after a few-second delay, start playing on your TV.
Mac: Streaming video outside iTunes If you want to stream non-iTunes video—say, movies in formats that iTunes doesn't support, or videos you don't want to add to your iTunes Library—you have two options: video mirroring (see the next item) or third-party utilities. Beamer ($15) is a good option for the latter. When you launch Beamer, it asks you to choose which Apple TV to stream to; then you drop any supported video file (AVI, FLV, M4V, MKV, MOV, MP4, WMV, or VOB files) onto Beamer to begin streaming it.
In addition to letting you stream video that resides outside of iTunes, Beamer is also useful for streaming video from older Macs that officially don't support AirPlay for video. Beamer even streams subtitles and 5.1 audio.
Mac: Mirroring the Mac's display As with recent iOS devices, you can mirror your Mac's entire display to your TV over AirPlay, provided you're running OS X 10.8 Mountain Lion on a compatible Mac: a mid-2011 or newer iMac, Mac mini, or MacBook Air; or an early-2011 or newer MacBook Pro.
On any of these Macs, whenever OS X detects a compatible Apple TV on your local network, a new AirPlay menu appears in the menu bar, and an AirPlay Mirroring pop-up menu appears in the Displays pane of System Preferences. From either menu, choose your Apple TV to start mirroring; while mirroring, the icon for the systemwide AirPlay menu glows blue.
When mirroring your Mac's display to an Apple TV, you can choose the resolution of your display' and, thus, of the mirrored signal sent to your TV. Choose Best For Display (in System Preferences) or This Mac (from the systemwide AirPlay menu), and your Mac's display remains at its native resolution. This setting will make for the best appearance on your Mac, though the mirrored image may not fill your TV screen. Choose Best For AirPlay (in System Preferences) or Apple TV (from the AirPlay menu), and your Mac's display resolution changes to a 16:9 ratio that best matches your TV's native resolution. This is the way to go when you want to have the sharpest image on your TV.
System Preferences also offers a Scaled option, which lets you choose any non-native resolution that's supported by your Mac's display, though this option often results in a blurry image on both your Mac and your TV.
Don't have a Mac that supports AirPlay mirroring? AirParrot is a $10 utility that lets you mirror an older Mac's screen to an Apple TV. On both older and newer Macs, AirParrot also allows you to use your TV as a second display for your Mac.
Stopping the stream
Whichever type of streaming you're doing, with whichever device, you can stop streaming by using the same AirPlay control or menu through which you originally started your streaming: Just switch the selected output or destination back to your iOS device or Mac. When mirroring a Mac's display, just choose Turn Off AirPlay Mirroring (from the systemwide AirPlay menu) or Off (in System Preferences).
Alternatively, if you're streaming from a particular app, quitting that app usually stops streaming. Finally, when streaming to an Apple TV, you can usually stop streaming or mirroring by pressing the Menu button on your Apple TV's remote.
Updated 5/29/2013, 12:15pm to add mention of AirPlay-equipped home-theater receivers.