It pays to know what's going on inside your Mac, whether you're watching your free memory or monitoring hardware. To that end, almost no piece of software does what Bjango's $16 iStat Menus 4.05 achieves, offering full monitoring of your system's CPU, RAM, and disk usage; network activity; component temperatures; fan speeds; Bluetooth functionality; and international dates and times. If you crave useful, at-a-glance information about your Mac's components, iStat Menus puts that data right in your menu bar.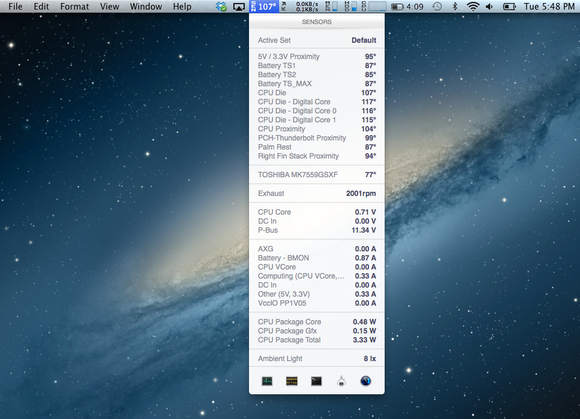 Over the years, iStat Menus has had a few radical transformations, growing beyond its origins as a freeware System Preferences pane to become a full-fledged application—but it has grown up gracefully. You can customize the application, which now resides in your menu bar, to display information about the specific components you'd like to watch. On my 2011 13-inch MacBook Pro, I prefer to display the Battery, Network, Hard Drive, RAM, and CPU modules on display. Dragging the desired components into place is easy enough.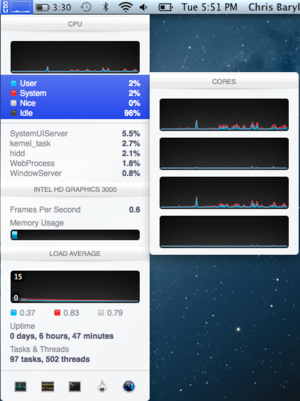 iStat Menus offers generous portions of valuable technical information in a readily digestible format. A quick click on the Temperature-sensor module, for instance, reveals the temperatures for each element of your computer, down to components such as the CPU cores, your MacBook's palm rest and battery, and so on. The utility can display historical data as a chart that allows you to see exactly how each component in your Mac has performed over time. This feature is handy for diagnosing components that may be failing, and outside of a few programs—including the tools generally leased to Apple Certified Macintosh Technicians—it's rare to find a program that offers readouts for specific modules, sensors, and system components.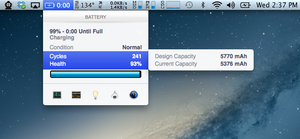 Other features, such as a battery-cycle counter and -condition readout, help answer pertinent questions, such as whether your battery is in good shape and when you might need to fork out some dough to Apple for a replacement. Shortcuts for Apple's Activity Monitor, Console, Terminal, System Profiler, and System Preferences give you easy access, so you don't have to wade through the /Applications/Utilities folder to get to the app you want.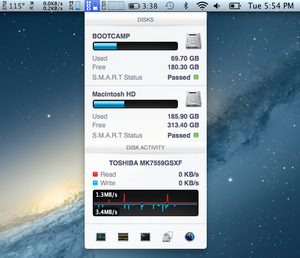 Where the program truly shines is in its user interface. Click the Network module, and you can clearly see your current IP address as well as useful tidbits such as your upstream- and downstream-data speeds. Click the Hard Drive module, and you can quickly determine how much storage is used or available on each of your Mac's mounted volumes, as well as each supported drive's current S.M.A.R.T. status. This single click saves you a trip to a Get Info window or the Disk Utility application—a convenience that does not go unappreciated.
Throughout my testing, iStat Menus ran well on my MacBook Pro's OS X 10.8.3 partition. Day-to-day functionality was smooth, with no latency or spinning beach balls to speak of, even as the application monitored everything it could. Bjango has noted that the company is fighting a memory-usage bug relating to particular AMD graphics cards on current MacBook Pro notebooks. This is a driver issue, however, that will likely require collaboration between AMD and Apple to nail down, so the company doesn't have an official estimate when this bug will be fixed.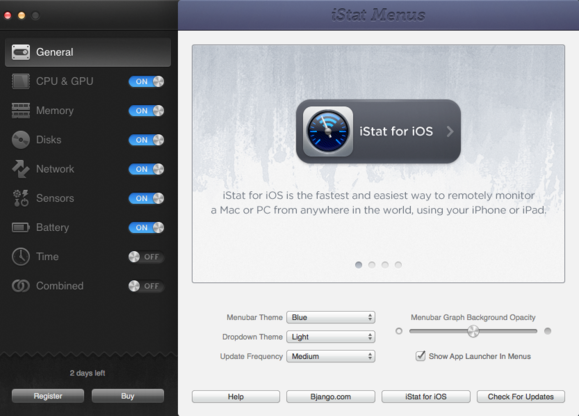 Bjango has created a standout application for hardware-level monitoring of your Mac. For $16, you get as much technical information as you want, plus a means of reviewing that data to see which components might need repairs or replacement. Anything that bridges the gap between a veteran user and a certified technician, giving users more power and preventing an unnecessary trip to the Genius Bar to diagnose an issue, is never a bad thing.
Want to stay up to date with the latest Gems? You can follow Mac Gems on Twitter or on App.net.