As you can imagine, I get questions. Lots of questions. And many times the answers to those questions are shorter than the queries themselves, making them poor fodder for a readership that feels cheated by anything less that bushel-loads of consonants and vowels by the peck. And so I horde these questions and, once enough have accumulated, drop them with a thump. Like so:
iTunes and 5.1 sound
I have a Mac mini plugged into an AV receiver via an HDMI cable. Some of the movies I have in my iTunes library are encoded to play 5.1 audio, but the sound always seems to come out in stereo. Is there any way to make it default to surround sound?
You've been spoiled. And by that I mean that you're accustomed to media players (DVD players, for instance) that have such a cordial relationship with an AV receiver that the two agree upon the correct audio configuration and do their respective jobs. And those jobs result in surround sound if the media was encoded that way, and stereo or mono if that's the correct audio format for that particular bit of media.
iTunes is less smart about this kind of thing. More often than not iTunes will default to playing audio in stereo rather than surround sound even when it's jacked into a 5.1 receiver via an HDMI or Toslink cable. You can instruct it to play the surround (or Dolby) version by choosing Controls > Audio & Subtitles > English (Surround). Alternatively, as the video is playing, move the cursor to expose the play controls, click on the sound bubble, and choose the surround setting from the resulting menu. But I agree it would be far sweeter if iTunes recognized a hunk of media with a surround track and played it by default.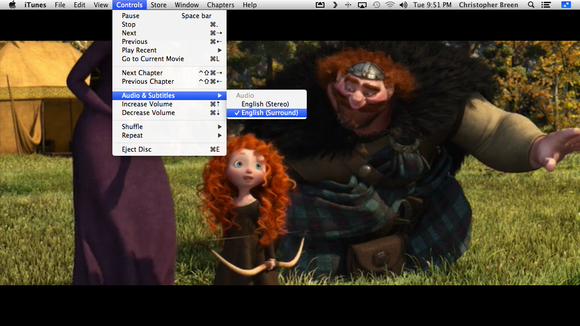 GarageBand's short recordings
Whenever I try to record audio from my USB microphone in GarageBand '11, the application records for less than a second and then stops recording. Why?
Dollars-to-doughnuts you have a corrupt com.apple.garageband.cs file. You'll find the thing by holding down the Option key in the Finder, clicking the Go menu, and choosing Library. Navigate to the Preferences folder and you'll find the file within it. Quit GarageBand and then toss this file in the trash. Restart GarageBand and all should be well.
Calendar app and distribution lists
In the native iPhone calendar app when creating an event and populating the invitees field, I am looking for some way to be able to import a distribution list of invitees. I ask this because I have a list of people that I regularly send calendar invites to and having to go through all of my contacts and add them one at a time is quite tedious.
You're darned right is is. Regrettably Apple doesn't allow group invites or distribution lists in the iOS version of Calendar.
Find (in a general kind of way) my Mac
When I use Find my Mac it provides me with the wrong location—in another house in fact. Is this normal?
Unless your neighbor has broken in and stolen your Mac, no. Unfortunately, making it more accurate is out of your control. Apple has found away of pinning a location to the world's broadband routers and sometimes the location for a particular router (yours, in this case) isn't entirely accurate. There's a chance that it will become more accurate over time as Apple gathers more information about it.