Many of the iTunes Guy columns focus on music, since the majority of the questions I receive are about that kind of media. But I get a fair number of questions about videos, and in this week's column, I cover four questions dealing with videos: their formats and tags, and how to make smart playlists to group movies by title.
Q: I have several TV shows that I ripped from DVDs and put in iTunes. There are several episodes per season; what I want to do is have them all under the main title of the show, but by season. For example, Season 1, Episodes 1-8, and so on. I can't figure out how to get this to work.
iTunes lets you set a tag for this, and this is a good time to remind people about the tags that are specific to videos. If you select one or more videos in iTunes, then press Command-I, you'll see a Video tab in the Info window. Click this to see the tags that apply only to videos. If you've set the Media Kind (in the Options tab) to TV Show, you'll see fields as in the screenshot below. If you've set the Media Kind to Movie or Home Video, the fields will be slightly different.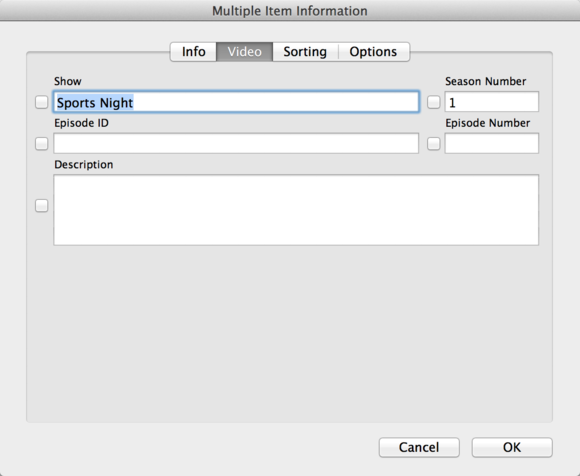 To set a season number, you merely need to enter something in the Season Number field. And to make sure your episodes are in order, it's a good idea to number them, in the Episode Number field. You can add an ID—such as SO1E12—in the Episode ID field, and you can add comments about the episode in the Description field.
The other option is to use a third-party tagging utility, such as Chris Marrin's free Video Monkey or Jendrik Bertram's $20 iFlicks. Such apps let can look up episode title, date, art, and more and then tag them before sending them to iTunes. To make things easier, name episodes in the format fringe.s01e04, say.
Q: I enjoy downloading HD movies but now find I am unable to sync any of them to my iPod classic 160GB because the iPod can't play them. Back when I had iTunes 10, when I purchased a HD movie, iTunes also downloaded the SD version. Now I have to go back into my account and redownload the SD versions, and I have very slow Internet, which is making it impossible. Why isn't iTunes smart enough to just convert my iTunes HD movies to SD when syncing to the iPod?
Some may say that it's a good thing that you no longer have to download the SD versions when you only want the HD movies. I'm afraid there's no other way to get SD versions of your movies. Since iTunes movies carry DRM (digital rights management) restrictions, you can't simply convert the files yourself. I agree that it would make sense for iTunes to be able to do this, but transcoding a film-length video can be a very long process.
Note that the iPod classic is the only iPod (with a display, that is) that can't play HD video. The iPod nano can play 720p HD video, and the iPod touch plays 1080p videos.
Q: I want to be able make smart playlists in iTunes 11 that automatically group my films by title—0-9, ABC, DEF, GHI, JKL, MNO, PQRS, TUV, and WXYZ—without having to drag and drop new items into "dumb" playlists as I do now. Is this possible?
Yes, you can create smart playlists that will do what you want. You need to do the following. Click the plus (+) icon at the bottom-left of the iTunes window and select New Smart Playlist, or choose File > New > Smart Playlist.
First, set a condition where Media Kind is Movie. Next, hold down the Option key and click the plus icon to the right of that condition; this will create a new, nested condition. Here, you'll set Name begins with A. Click the + icon next to this to add another condition, and choose Name begins with B. Do the same for C and any other letters you want. Make sure to Match any of the following rules above the three Name rules you created.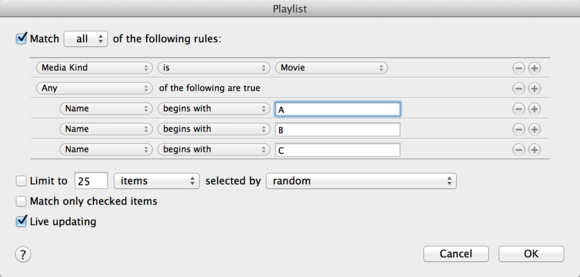 This will filter all movies, then any movies whose names begin with A, B, or C. You can do the same thing for the other playlists you want to create. Note that the 0-9 playlist will require 10 Name conditions, one for each digit. There's no shortcut for such things.
Q: I I have a large collection of videos in AVI and MKV formats, but I can't import them into iTunes. I've tried dragging the files, and adding to the library from the File menu, but nothing works. Why is this?
iTunes supports the following video formats:
Video content purchased from the iTunes Store
QuickTime and MPEG-4 movie files that end in ".mov", ".m4v", or ".mp4" and are playable in QuickTime Player
Video podcasts
iTunes Digital Copies
iTunes Store Movie Rentals
iTunes has never supported AVI or MKV files, or a number of other video formats. The only way you can add these files to iTunes is if you convert them to an iTunes-compatible format. You can use any number of third-party video conversion apps to do so, including the aforementioned iFlicks. Note that AVI and MKV are containers not formats per se, and if an MKV has an H.264 video inside it, say, iFlicks can quickly convert it to something iTunes understands.
Although the free HandBrake is primarily designed as a way to rip DVDs, it can also convert videos. Just choose a video as a source instead of a DVD, and pick a preset. When I rip my DVDs, I use High Profile, which looks fine on my TV. You can also create custom presets if you figure out something that works best for your needs.