To celebrate the ten-year anniversary of its original release, Knights of the Old Republic—arguably the greatest Star Wars game of all time—has been ported to the iPad, and is now available on the App Store for $10.
Star Wars: Knights of the Old Republic set the gaming world on fire when it launched on consoles and PCs in 2003; it not only garnered numerous awards (including a Game Developers Choice Award for Game of the Year in 2004), but also received accolades from sci-fi fans, Star Wars nerds, and RPG fans in equal fervency. This was the Star Wars game that finally delivered on the promise of the universe that George Lucas created. Even after ten years, the core elements of KOTOR—great storytelling, sharp dialogue with fully realized-characters, and an immersive, deep world—shine all the brighter on the new tablet platform.
Knights of the Old Republic is set thousands of years before the events of the original Star Wars trilogy, and you play a character caught in the midst of a galactic civil war between the Republic and the Sith. While it's hard to spoil a ten-year-old game, KOTOR's plot is still worth preserving for the uninitiated, so I'll say this: the dialogue is snappy, witty, and full of difficult choices. More so than even modern Bioware titles like Mass Effect and Dragon Age, your Jedi character is called upon to utilize his/her powers of persuasion and negotiation to get things done: You'll diplomatically try to resolve disputes, you'll solve murders, and you'll actually get to do a great deal of what "being a Jedi" supposedly means.
But that doesn't mean there won't be fighting. Utilizing rules from Dungeons and Dragons and the game system from Wizards of the Coasts' Star Wars: The Roleplaying Game, the combat is actually turn-based and—mercifully—under the hood. Action pauses when you enter combat, so you can issue orders to your three-person party, but you can also just sit back and watch it unfold. This is partly why the iPad port works so well: your success is ultimately determined by the tactics you use and their timing, and these can be easily deployed by a tap of a finger. You'll often juggle the priorities of your team, swapping between party members to heal, throw grenades, or deploy force powers and attacks.
I thought I'd miss the ability to use the WASD keyboard controls and a mouse, but the ability to pull up menus, switch characters, and manage my party was all remarkably easy with iOS's touch interface. That doesn't mean the game is a cakewalk—even in beginning skirmishes with gang members, I found that I needed to quick save frequently, often needing to ponder new strategies to defeat a particularly stubborn group of enemies. Really, the only drawback of the touchscreen interface was navigating the world outside combat—turning your character around, for example, often took several swipes.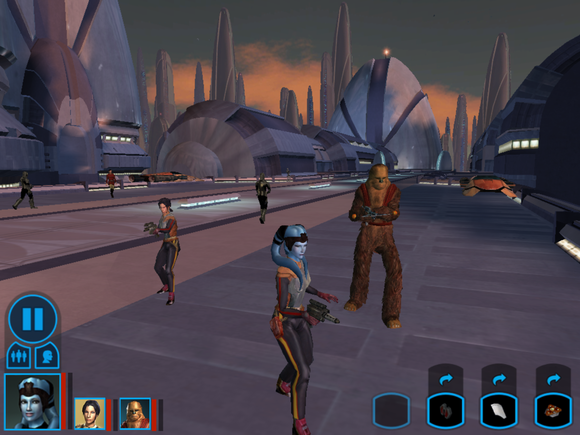 Speaking of enemies, the characters of KOTOR are memorable and diverse, from the mouthy assassin droid you acquire to the absent-minded "gray" Jedi you befriend. The plot shines due to the details—even the small side quests have interesting twists, turns, and character arcs. You'll constantly want to check in with your comrades to see how they're taking the latest event as well as has help them along throughout their own quests; and after hours of battling with them, KOTOR succeeds in getting you to care about these characters and their struggles.
Graphically, KOTOR still looks fairly impressive on the iPad. It's hard to compare it to how it looked in 2003, but to my eyes Aspyr deserves credit for making the characters look distinctive and the flash of a lightsaber as beautiful as it should be.
But KOTOR definitely shows its age when it comes to the game's environments. The game initially feels like you're talking to a lot of people in empty rooms, and it made me appreciate how far Bioware has come in introducing larger set pieces and more detailed environments in the last ten years. For example, the first area that you'll play through is Taris, which takes several hours to complete. But from its sewers to its cityscape, it never really accomplishes anything beyond generic science fiction, and too many quests are of the fetch variety. Like many Star Wars games, most of the beginning hours are a drudgery of awkward blaster battles, which is a major shortcoming. Let's face it: the wow-factor of the galaxy far, far away is the space wizards with their laser swords—the sooner you acquire them, the more fun you have.
After slogging through the initial stage, your cast of party members quickly grows, you get your lightsaber, and instead of having a bunch of awkward shooting matches, you suddenly have a party of badass Jedi warriors going on adventures. By hour five, not only do the stories and characters begin to really blossom, but I was geeking out on the novelty of having a ship, a crew, and the option to fly to several planets to complete quests at my leisure.
Bottom line
While people often have said that Star Wars: Knights of the Old Republic was the game that finally realized the potential for the Star Wars universe, that's not true: KOTOR is way better written than most of the Star Wars films. If you missed KOTOR the first time it came out, or never had the hardware to run it, you owe it to yourself to check out easily one of the best RPGs of all time, and yes, likely the best Star Wars game, too.