There was a time when PowerPoint presentations were seen as an answer to the age-old question of how to liven up dull meetings. That promise quickly gave way to a reality where such presentations—poorly thought out, or simply uncreative—have possibly made workplace meetings even more dull.
Enter Haiku Deck for iPad, a free offering from Giant Thinkwell. The app offers beautifully designed slideshow templates and draws upon immense resources—including more than 35 million free photos available under a Creative Commons license—to inspire users and help them easily craft a good-looking presentation in just a short period of time.
New users will sign in using Facebook, Twitter, or an email address. Then, jump straight into the creation of a presentation: Just push a "plus" button on the bottom of the home page to get started. You can choose from one of five themes with its own font that are free to the public; 11 more themes are available to buy, either at $2 apiece, or $15 for an entire "theme pack." One of the free offerings should do, at least when making your first presentation.
Once you've picked a theme, choose a title for your presentation, and the process is pretty straightforward after that. Choose one of three options for each new slide after the title page: an animated graph (pie, bar, and stat), text on a solid-colored slide, or text overlaid on a picture. For the picture option, you can pick your own photos from Facebook, Instagram, Flickr, or from the camera roll on your iPad—that is, if you don't like one of the 35 million stock images available.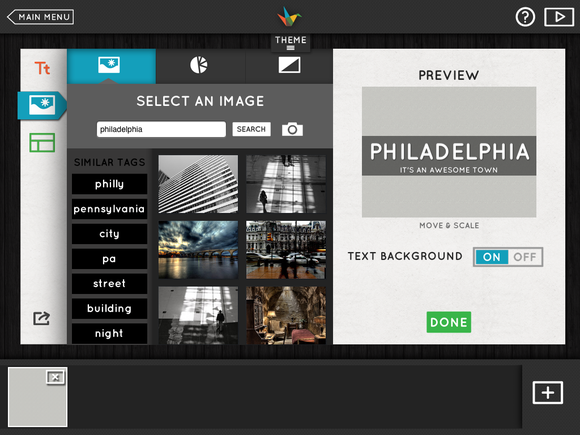 It's as easy as that. The limitations and simple design are actually part of Haiku Deck's strengths, however, as they keep you from making poor design decisions. When you enter text, for example, Haiku Deck adjusts the line spacing and text size to create the best layout. That way, you don't have to puzzle over formatting options, and you can't pick one that looks wrong or sloppy. In other words: The app is somewhat dummy-proof.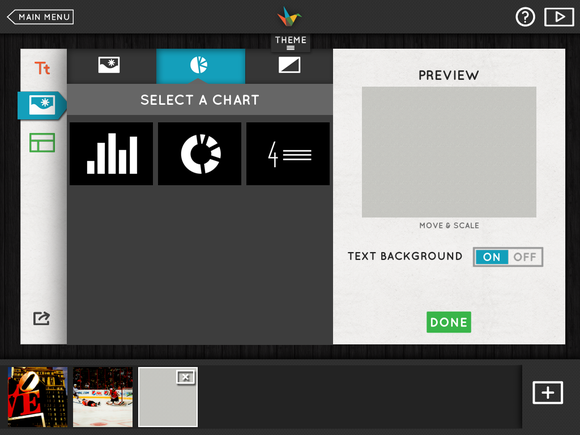 If you still can't muster a decent-looking presentation despite this help, Haiku Deck offers inspiration: You can click the "Gallery" button within the app to see what other users are creating and how they're best putting the software to use—a feature that also includes a lineup of the week's most-viewed presentations.
Once you've completed your slideshow, Haiku Deck will ask you to save it to the service's website. (As a rule, it's nearly impossible to do offline work in the app; you'll want to be connected to Wi-Fi the entire time if you don't have a data plan.) You can make it public—meaning it will be available in the gallery section for all to see—private to yourself, or restricted to anybody you provide the URL to. You can also tag it based on its category: Business, education, science, events, and "how to" are your options.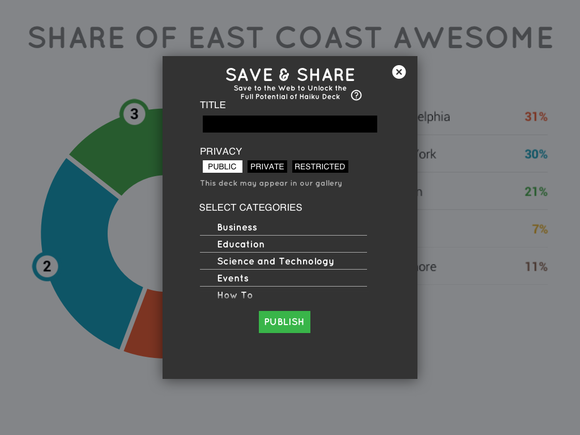 After you've saved, you can share it online via Facebook, Twitter, or email, or with an embed code to post to your blog.
But in many cases you'll want to share the presentation as part of a meeting, in which case you can export it straight to PowerPoint or Keynote; you can also simply leave it in the app and then show it to your colleagues via AirPlay mirroring.
Bottom line
Haiku Deck has to restrain your options a little bit, but it'll help you make a presentation that is solidly professional and elegant. It's easy enough to use that even a PowerPoint newbie should be able to master it in minutes.