Reader Claire Milton can't be faulted for lack of effort in regard to a stubborn email message. She writes:
I use Microsoft Outlook 2011 and I have a message in my Inbox that I can't delete. I've tried the Delete command and moving it to a new mailbox but it won't budge. What should I do?
I've had similarly intractable messages and, like you, I've found no solution within Outlook. However, after turning to the web I found a solution from one talkingmoose on GitHub that did the trick. It involves AppleScript, but it's easily done.
Copy this script:
tell application "Microsoft Outlook"set theMessages to the selectionpermanently delete theMessagesend tell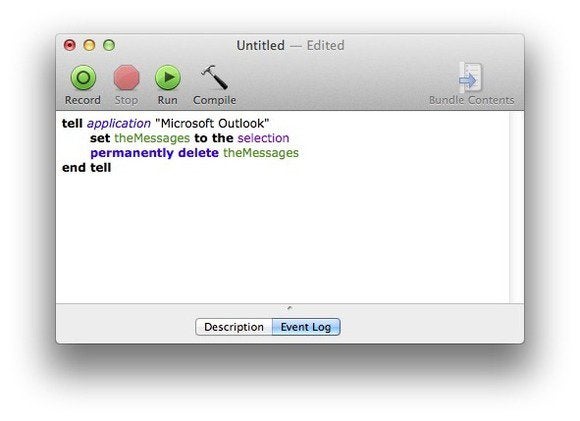 Launch AppleScript Editor (found in /Applications/Utilities) and paste the script above into a new editor window. Move to Outlook and select the problem message (or more than one if there are multiple messages on strike). Flip back to AppleScript Editor and click on the Run button. The selected messages will be deleted.