Four years ago, we reviewed Mailplane 2, the first dedicated Gmail client that avoided traditional IMAP and POP approaches to Gmail, opting instead for standard browser technology under the hood. The result was an app that gave you the benefits of "real" Gmail with the advantages of a native Mac app.
Like that version, Mailplane 3 beautifully transforms Google's webmail service into a full-fledged desktop app, with an impressive interface and well-thought-out features. But it's not the only game in town these days—and many traditional email clients now handle Gmail better—so whether you're willing to spend $25 for slightly more functionality than what is already offered through your Web browser may depend on just how much you love Gmail.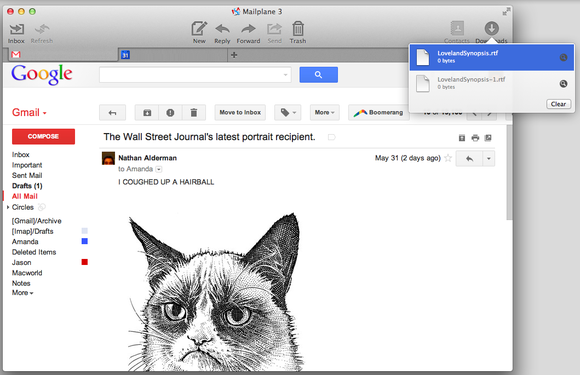 I briefly used Mailplane 2.5 a few months back, and Mailplane 3 represents a huge, applause-worthy improvement. Not only does it work flawlessly with Gmail's recent interface updates, but it's also considerably more polished in its look and feel than previous Mailplane versions. Big, friendly icons highlight the program's sleek, silver look, and Mailplane 3 boasts numerous improvements beyond its surface appeal.
Like its predecessor, Mailplane ties Gmail neatly into the rest of the Mac OS. You can import up to ten different accounts, use Mac-friendly keyboard shortcuts, and add recipients to a new message by picking from your contacts.
Mailplane 3's refinements on that feature set include a tabbed interface: Instead of switching clunkily between one account and the next, you can work with as many Gmail accounts as you like simultaneously, each in its own tab within the Mailplane window. Mailplane 3 adds support for Google Calendar in those tabs, as well, so that you can view your appointments as easily as your inbox. However, though it works well on its own, Google Calendar in Mailplane 3 doesn't seem to be as closely tied to the rest of your Mac as Gmail is. For example, I searched in vain for a way to send calendar items to and from iCal.
A Safari-style Downloads window lets you keep track of attached files you've retrieved from your mail. You can use QuickLook to preview files right in this window, or click the "view" link next to an attachment someone's sent you.
When you need to upload an attachment, Mailplane offers to resize images from your Mac in small, medium, or large formats before you send them.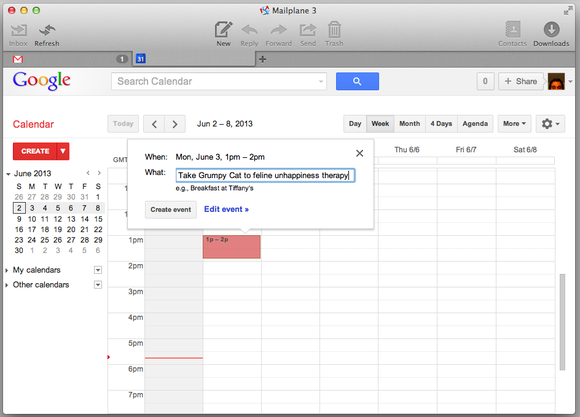 Setup is quick and fairly painless: You just enter the username and password for each account. If you're using Google's two-factor authentication, you won't have to create an aggravating application-specific password, but you will have to enter a code that Google sends to your smartphone. That applies both to activating a given account, and to turning on Mailplane's feature for notifying you of new messages.
When I saw that Mailplane supported five of the most popular Gmail plugins, including Boomerang for email reminders and Taskforce to convert emails into to-do tasks, I rolled my eyes, fearing that testing them would require individual downloads and setups for each service. But that's not the case—you enable each of them by clicking a box in Mailplane's neatly organized preferences window. After that wonderfully easy step, the plugins I'd enabled worked without a hitch.
Mailplane offers an excellent systemwide menu for notifications of new messages, complete with a Do Not Disturb feature to let you work uninterrupted. The app also integrates with OS X's Notification Center, but that feature alerts you only to brand-new messages as they arrived, not to new messages waiting in your inbox when you first open the app.
Mailplane 3 crashed once during my testing, shortly after I started using it, but I couldn't repeat that error. In general, the app seemed to load pages more slowly than they appeared in Safari, even after I'd turned off, in Mailplane's preferences, the supposedly performance-sapping Google Chat and Google Plus. Also, even when you switch off Chat, an error message still appears on your Gmail screen. You're better off deactivating Chat from Gmail's own settings.
I found Mailplane's online Help FAQ to be well written and friendly in tone. The developer also maintains a robust Google Group for users to post other help queries, with prompt responses from a cheerful and well-informed Mailplane "customer support ninja."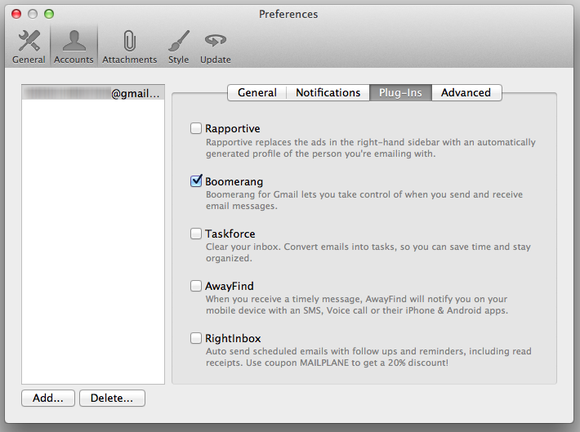 I liked working with Mailplane 3, and I admire the hard work its creators put into the new version—it's definitely the most polished and useful Gmail client I've yet tested. If you choose to drop $25 on it, you'll get a very good program. But if you don't place a lot of value on the features a native OS X app can provide, you may be just as happy sticking with Gmail in the browser.
Want to stay up to date with the latest Gems? You can follow Mac Gems on Twitter or on App.net.