Adobe has released its long-awaited and highly controversial Creative Cloud suite of applications for both longtime professional devotees and the newcomers it hopes to attract. Having historically operated on an upgrade schedule of every 12 to 16 months, Adobe is now releasing new subscription-only versions of its flagship Photoshop image-editing program—called Photoshop CC (for Creative Cloud)—along with more than a dozen of its other creative apps.
While the merits of Adobe's new subscription model promise to be a continuing topic of debate, the apps themselves are the same creative-suite products that photographers, artists, videographers, graphic designers, animators, and other people in creative fields have become attached to over the past 20 years. Although Adobe has dropped some software packages and consolidated others in the lineup since last year, the basic Creative Cloud suite will look familiar to veteran users.
As always, applications reside on your hard drive—you do not have to be connected to the Internet to use any Creative Cloud application after you've downloaded it. The system requires a connection every 180 days to double-check your annual subscription status (every 30 days for month-to-month subscriptions), but that is the extent of cloud involvement with typical app usage.
Old-timers are back
Released alongside Photoshop today are Illustrator, InDesign, Premiere Pro, Flash Professional, Audition, Dreamweaver, InCopy, After Effects, Prelude, and SpeedGrade, in addition to companion and add-on software packages such as Edge Animate, Bridge, and Media Encoder. Muse, the year-old visual Web-design program, has entered the mix. Edge Tools & Services, also part of Creative Cloud, includes Edge Animate, Edge Inspect, Edge Web Fonts, Edge Code (Preview), Edge Reflow (Preview), and PhoneGap Build. All are available with the basic $50 subscription. Fireworks is still around, but with minimal updates. Photoshop Extended is gone, folded into the main Photoshop program. Flash Builder Premium, Acrobat XI Pro, and now Lightroom are also part of the suite. Lightroom and Acrobat XI are available both in subscription format within Creative Cloud and boxed on their own the traditional way.
Adobe has divided its core offerings into Design, Web, and Video segments, but such segments matter less these days since the Creative Cloud package, for a single monthly fee, gives you access to everything in the roster for the same price.
New Bridge positioning
Longtime users of Creative Suite may have started to take Bridge—the suite's universal companion app—for granted. As an asset-management tool, Bridge debuted in CS2 as more of a file-browser convenience than a distinctive piece of software. But over time it became more useful, with features such as the Automatic Output Module, Export Panel for Facebook and Flickr, hard drive publishing, Compact mode, and synchronized windows, which it has now trimmed from the app.
With Creative Cloud, Bridge is now available as a separate download. Adobe acknowledges that veteran Bridge users will miss the removed features, and says that it is working on a separate, downloadable option to reinstate output functionality shortly after release. For now, Adobe has no plans to bring back the Export Panel, Compact mode, or synchronized windows. However, it says that it will be listening to customer feedback on those issues.
Shift in thinking
For Adobe, Creative Cloud is not simply a software upgrade—it represents a fundamental shift in thinking about how to serve customers who earn their living as creative professionals. Although users expect technical advances in software, Adobe took the opportunity to try to solve some outstanding workflow problems with this release. New demands challenge creatives, who are struggle with a deficiency of available tools and services, difficulties in tracking project assets from remote locations, questions about how to best make use of mobile devices, the need to find effective ways to collaborate from remote locations, and concerns about integrating individual creative processes into the larger community to collectively boost inspiration and creativity.
Part of the rationale behind Creative Cloud, and Adobe's decision to offer it as a subscription-only suite, is to serve up the latest tools the company has to offer without delay. Waiting a year to update major software packages does not seem as effective as in the past. Plus, Adobe has watched over time as its core customers have been asked by paying clients to undertake a broader role than their expertise covers. The best answer to that demand, Adobe decided, was to lower the bar for entry into all of its apps and then provide a built-in way to learn them.
What makes customers really nervous about the subscription model, though, is that once you end a subscription, you may no longer have access to your own work, and it's unclear right now exactly how Adobe will address this issue. People also fear that, as with cable TV companies, Adobe may hook users in with a low introductory price and then raise prices over time.
Those anxieties notwithstanding, at least a portion of the creative population has responded positively: Nearly half a million new subscribers have trooped into the system since last year.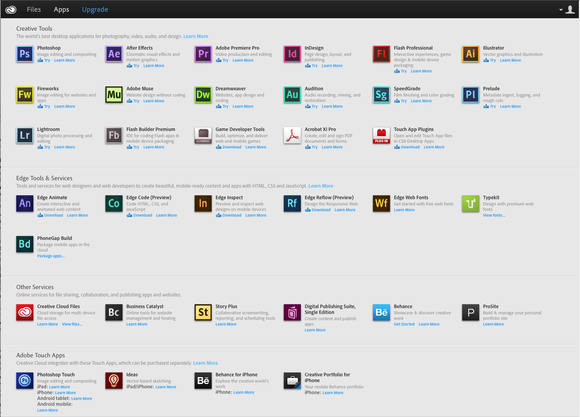 Busy year for Creative Cloud
Starting with the debut of Creative Cloud last May, Adobe has consistently updated the software and released new features only for cloud subscriptions, including Muse, Edge Animate, Typekit, Business Catalyst, and several mobile Touch apps available via the iTunes store.
By September, Adobe released its Digital Publishing Suite Single Edition for iPad so that developers could create content for the world's most popular tablet. It also followed up on a new concept of software development in creating dedicated applications that do specific things. Edge Tools & Services are designed to tackle small parts of larger projects for an easier point of entry and a streamlined workflow.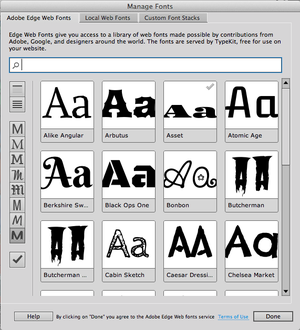 By the end of 2012, with various improvements to existing tools, Adobe introduced Creative Cloud for teams and joined with several vendors to offer training in an array of languages for all of the programs. This includes an extensive library of tutorials and trial courses from Kelby Training, Video2brain, and Attain.
Late last year, Adobe acquired Behance, a free online community where artists can post their work, seek comments and critiques, and share creative inspiration. Behance is a large part of Adobe's overall vision of Creative Cloud as a creative hub for users. Subscribers also get a slate of extra services for the subscription fee—including sync services, sync settings, sync fonts, 20GB of online storage, and automatic cross-platform downloading and updates to all programs.
Photoshop CC
As Adobe's flagship creative software package, Photoshop takes the lead with new and innovative features in each upgrade cycle, and its latest incarnation in Creative Cloud is no different. The new Smart Sharpen feature makes image details pop with rich textures and distinct details while maximizing clarity and minimizing noise and halos. Intelligent upsampling lets you transform low-resolution shots into large, high-resolution images for noise-free detail and sharpness. This new Photoshop version folds in all the advanced 3D-editing and image-analysis tools that were previously available in Photoshop Extended.
Camera-shake reduction helps you save shots you thought lost to camera motion. With Camera Raw 8, you get more precise ways to heal images, fix perspective distortions, and create vignettes.
Conditional Actions use if/then statements to automatically choose between different actions based on rules you set up. Blur Gallery and liquify effects are nondestructive, thanks to Smart Object support. You can edit or remove effects anytime—even after saving a file. Editable rounded rectangles, plus multi-shape and path selection, and more, round out the updated Photoshop CC package.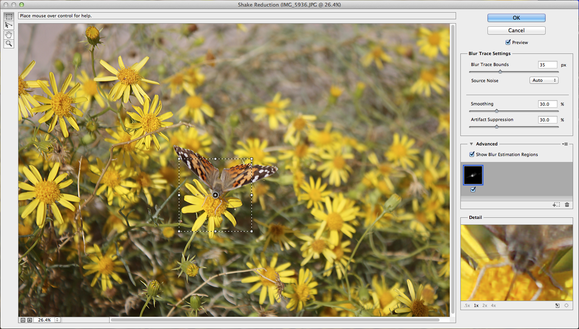 Design
Adobe's design suite features new versions of Illustrator, InDesign, Muse, InCopy, Kuler, and the Ideas mobile app.
Working with display text is a huge part of Illustrator, and Illustrator CC introduces a Touch Type tool that provides expanded type control. With it, you can move, scale, and rotate individual characters and change fonts or copy. You can also use multitouch devices in addition to a mouse or stylus.
Like Photoshop, InDesign has taken on a dark, adjustable interface. Under-the-hood enhancements such as native 64-bit support promise to expedite work with complex documents. HiDPI and Retina display support let you take advantage of the late-model MacBook Pro's high-resolution Retina display. And now, you can share work directly from the program, sync fonts from Adobe Typekit, and more.
In addition to the Font Search and Filter feature, InDesign's instant font preview lets you see how different fonts look in your layout. The Font Favorites feature allows you to find the fonts you use most often without sorting through a huge collection.
With InCopy CC, writers, editors, and designers can work simultaneously on a single document without overwriting one another's work. If you have a team or enterprise Creative Cloud membership, you can save InCopy files to the cloud.
Kuler, a cloud-based app for creating color themes via iPhone or a browser, lets you find and capture colors from wherever you are. You can create and share your own color combinations, browse themes from the Kuler community, and sync themes to Illustrator.
Adobe Ideas for iPhone and iPad is a free illustration tool. It boosts drawing accuracy with a live preview of strokes, lets you customize the toolbar with your favorite brushes, sync color themes between Ideas and Kuler, and share illustrations on Facebook and Twitter.
Web
The main players in the Web group are Dreamweaver, Flash Professional, Edge Animate, and Edge Reflow.
The new Dreamweaver CC sports a streamlined interface and intuitive new visual CSS editing tools to enhance coding.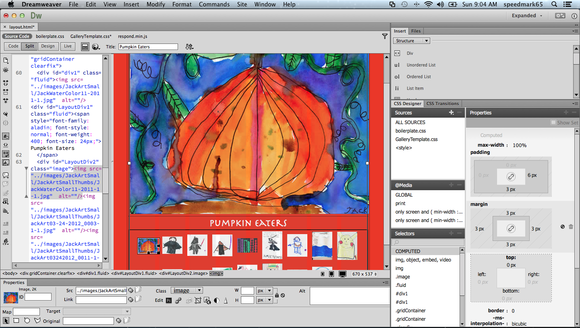 The latest version of Flash Professional CC has been completely overhauled with a faster, modular 64-bit architecture. It adds performance and reliability improvements, new features, and an updated user interface.
Edge Animate, an HTML animation tool, has undergone a substantial upgrade since it first hit the scene last fall. Custom motion paths and the option to create and reuse templates promise to speed up production. You can also host Animate runtime files on an Akamai-powered Adobe content-delivery network.
The new version of Edge Reflow lets you more easily create responsive Web designs and the new Assets panel lets you better manage projects. You can also include Typekit fonts, in addition to Edge Web Fonts, in your design.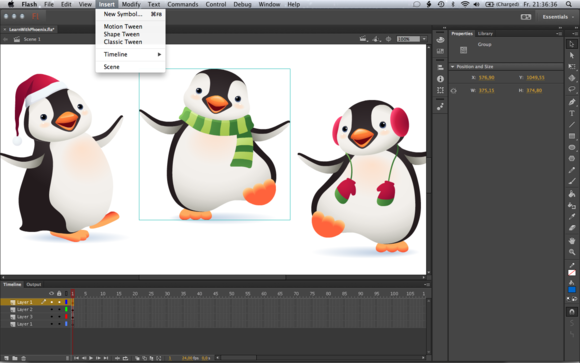 Video
Creative Cloud's video segment showcases Premiere Pro, After Effects, Audition, Prelude, SpeedGrade, and Story Plus.
Premiere Pro CC lets you edit more efficiently with a redesigned timeline, track targeting, and new shortcuts. The Link & Locate feature helps you track down your clips no matter where they were moved, easing media management. Integration with the new Lumetri Deep Color Engine and Adobe Anywhere integration make workflows more fluid.
The new version of After Effects assists in creating photorealistic content as a result of the Live 3D Pipeline between After Effects CC and Maxon Cinema 4D Lite, an improved 3D Camera Tracker, and layer and mask snapping for faster composition construction, among other things. The Refine Edge tool can save hours of rotoscoping. Stabilization improvements offer a more responsive workflow. With upcoming support for Adobe Anywhere, broadcast and post-production pros can collaborate from remote locations.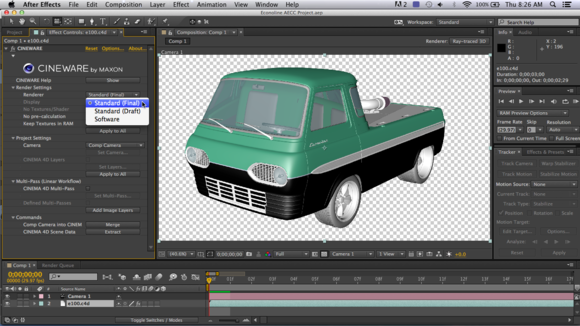 Audition CC, Adobe's pro audio app, is now 64-bit and features an improved multitrack environment that lets you visualize compositions as traditional waveforms or in a Spectral Frequency Display. Integration with Premiere Pro provides an audio-visual editing platform featuring new tools such as the Sound Remover, Preview Editor, Audio Finesse, and native filters and effects. New sound design tools include the Pitch Bender, Pitch Shifter, Noise Generator, and Stereo Filter Effect.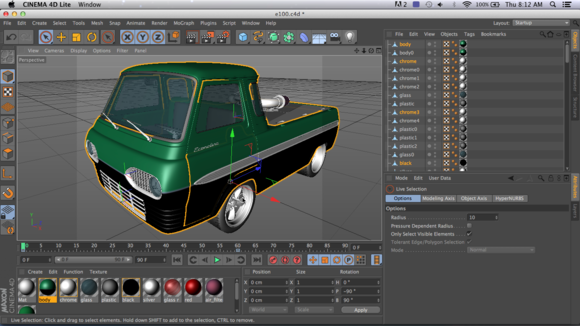 With expanded file support for ingest and transcoding, Adobe Prelude CC accelerates shot-logging with new features like hover-scrubbing thumbnails, file renaming during ingest, and metadata templates to ensure inclusion of key information. Export rough cuts directly through Adobe Media Encoder to share across devices or collaborate with Adobe Anywhere and Adobe Story screenwriting and production-scheduling software.
SpeedGrade CC offers GPU-accelerated performance and broad digital cinema camera support, including raw, HDR, and stereo-3D content. New tools include the Snapshot Browser, film stock emulations, Luma Waveform display, Mercury Transmit support for external reference monitoring, and more. The new Shot Matcher ensures match accuracy, and the program helps to deliver styled projects via layer-based tools for color correction and look design. You can resize and reframe final masters for any format.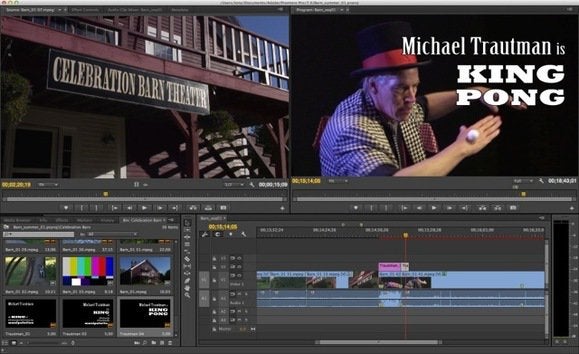 Adobe Story Plus provides writing features such as automatic script formatting, outline mode, version comparisons, and cast and location lists. Story Plus tracks video logistics, while scheduling tools sync with your script for planning and communication between writers, production crews, directors, and producers. You can access shared projects online and manage script and schedule revisions in development or production.
Pricing and benefits
Adobe Creative Cloud is available to individuals for $50 and teams for $70 per month (per seat), based on a year's subscription. Month-to-month prices, though higher, are available. Single-app subscriptions are $20 per month, with a discount of $10 per month if you already own CS3 or later. Education discounts are $30 per month, with a promotional price of $20 per month. Discounts for teams are $40 per month for owners of CS3 and later. Discounts are available for a year, before subscriptions revert to regular pricing.
Team memberships provide everything that individual-member accounts do, and more. Enterprise customers get custom storage and compatibility with Digital Publishing Suite Enterprise edition, Anywhere Platform for video, and Adobe Experience Manager (all sold separately). Government and education customers have their own subscription programs via EEA (Adobe Education Enterprise Agreement) and CLP-G (Adobe volume licensing) programs. More details on specialty programs are available on Adobe's website.
We will be reviewing Adobe's major Creative Cloud programs, starting with Photoshop. Check back for more Creative Cloud coverage.