Lots of companies dream of giving their products a high-profile debut. Anki, a robotics company that uses iOS as both the controller and "brains" of a new race-car game, got to share the Worldwide Developers Conference stage with Apple.
Why take the time out of a keynote jammed with OS and hardware announcements to spotlight one app maker? To illustrate the continuing heft and draw of Apple's now 5-year-old App Store. More than 50 billion apps have been downloaded from the store, Apple CEO Tim Cook noted during his keynote. There are are 900,000 apps available, with 375,000 of those designed specifically for the iPad.
"That still compares to just a few hundred (apps) for those other guys," he said, referring to rivals like the Android operating system.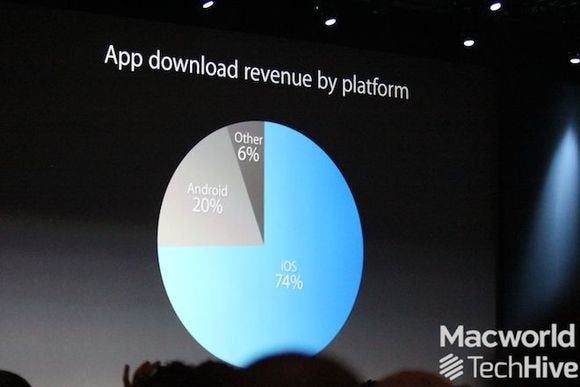 All those downloads are creating wealth. Cook said the app store had 570 million accounts: "More accounts with credit cards than any other store on the Internet that we're aware of."
As a result, Apple has paid $10 billion during the life of the store—$5 billion in last year "That's three times more than all other platforms combined," Cook said.
As for Anki, CEO Boris Sofman showed off a new game, Anki Drive,in which real iPhone-controlled cars raced around a mat on the floor—a 21st century twist on those old race tracks from rec room basements. Four cars competed for position, and one "fired" weapons at the other to clear the track of rivals.
"This is a video game in the real world," Sofman said. "We're taking the things you love about video games and putting them into the real world where you can physically touch them"
That's the sort of developer innovation keeping the iOS platform ahead of challengers like Android. "I think these guys are going to be super-successful," Cook said of Anki, which is made up of robotics researchers from Carnegie Mellon University in Pittsburgh.
Sofman said the full Anki Drive game would be available in the fall; the app is available now to give users a preview of the cars, the game, "and the technology that makes it real."