Reader Andrew Ainsbury can't seem to wait for the future. He writes:
I watched Apple's WWDC keynote address the other day and loved the idea of adding tags to my files. Is there a way I can do something similar with Mountain Lion?
Sort of. A large part of what's going on here is that you're adding a keyword to a file, which you can then use to catalog your data. There are a couple of ways to do something similar in your current version of OS X.
Using Labels
First, you can label items and then create a smart folder that looks for specific labels. To do that select a file (or group of files) in the Finder and choose Finder > Label and assign a color to the items. Now choose File > New Smart Folder, click the Plus (+) button in the resulting window, and choose Other from the first pop-up menu. In the sheet that appears, type "label" into the Search field. Select the one entry that appears—File Label—and click OK.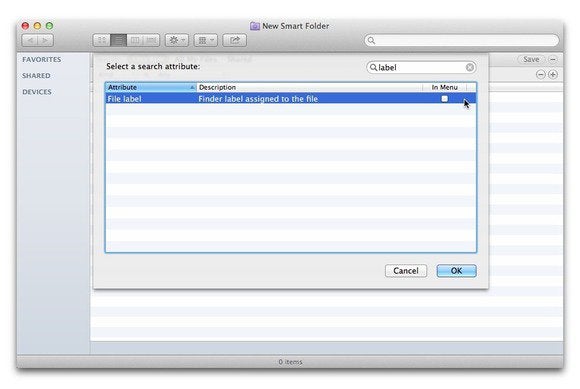 In the label color area that follows that first pop-up menu, select the color you seek. Click the Save button in the top-right of the window, name your search, be sure that the Add To Sidebar option is enabled, and click Save. Your smart folder will appear in every Finder window's sidebar. And, like Mavericks' tags, your smart folder's content will be updated dynamically. Every time you assign this label to a new item, it will appear in this folder.
Leave a comment
That's not bad, but you're limited to just seven labels. A better option is to use Spotlight comments instead. The procedure is similar. Select an item you wish to append a Spotlight comment to, press Command-I to produce the item's Info window, enter an appropriate comment in the Spotlight Comments field, and close the window.
Create a smart folder, click the Plus button to add a condition, choose Other from the pop-up menu, and enter "comment" in the Search field. Select Spotlight Comment and click Save. Configure the condition to read "Spotlight comment matches yoursearchterm" where yoursearchterm is the comment you added. Save the smart folder to the sidebar.
"Now hold your horses," you've undoubtedly grumbled. "There is no way I'm going to muck around with countless Info windows to do this. No thanks!"
And that's a reasonable objection. But there's a way around it, and that way is Automator.
Launch Automator and choose Service from the template chooser that appears. In the Library pane select Files & Folders. From the Actions pane drag the Set Spotlight Comments for Finder Items action to the workflow area. Configure the top row of pop-up menus to read Service Receives Selected Files or Folder in Finder. In the action below, enter the comment that you wish to append to an item's Spotlight Comments field—Hot Stuff or Project X, for instance. Save and name your workflow.

To add this comment to any selected files or folders, just choose Finder > Services, and then choose the workflow you just created. Provided that you've additionally created the smart folder that looks for files that include the comment, those items you've tagged this way will appear in the smart folder within the sidebar.