Apple had a lot of ground to cover in its WWDC keynote, which might be why you might have missed some of iOS 7's other new features hidden inside Monday's presentation.
System improvements
System improvements aren't always the flashiest features, so they can get short shrift at keynotes. But they're often hidden gems.
Audio-only FaceTime calls: This little nugget actually got a few seconds during the keynote when Senior Vice President of Software Engineering Craig Federighi briefly mentioned its virtues. Audio-only FaceTime calls will let you voice-chat with others—no phone plan needed—but only over Wi-Fi. I'm sure Apple would love to implement this feature over 4G and LTE networks, but I'm also pretty sure AT&T and the other cellular providers would have something to say about it.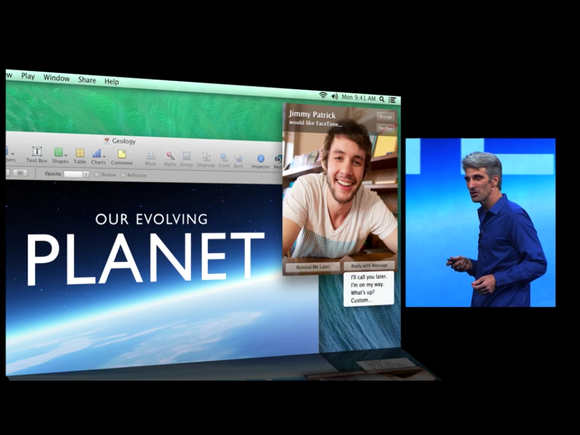 Given the short time spent on the topic, it's uncertain whether audio-only calls might also make their way to the Mac inside OS X Mavericks. We'll no doubt hear more as both iOS and OS X's fall release dates approach.
Inclinometer: Previous versions of iOS brought software support for the gyroscope and accelerometer; now it looks like iOS 7 will get the latest in 3D space-tracking technology: an inclinometer.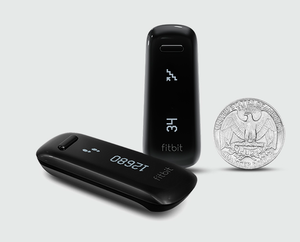 What might such a software instrument do? An inclinometer, by default, measures the angle of slope/tilt with regards to gravity; as such, you may see more apps in the future that incorporate awareness of up and down movements, rather than just side to side.
My personal hope: Developers will find a way to use the inclinometer to track floors climbed, a la the Fitbit One. Granted, the One uses a physical altimeter (which measures altitude) to accomplish its stair-counting, but it's possible some enterprising developer will find a way to make the inclinometer work for fitness-tracking.
Improved notification sync and natural language: Not only will iOS 7 sport "dismiss once, dismiss everywhere" notification sync between your devices and computers, but Notification Center will also sport a Siri- and Google Now-inspired Today pane that gives you an overview of your day's activities—in natural language, at that.
This means that, instead of seeing a ticker of your calendar activities, your iPhone will write up a nice paragraph letting you know exactly what your day's activities might entail.
Activation lock: Another feature that Federighi touched on briefly during the keynote, Activation Lock prevents would-be iPhone thieves from wiping your device clean and selling it to the highest bidder (or using it themselves).
Now, when you lose your iPhone and are forced to remote wipe it, the iPhone will stay in Lost Mode. Your lock screen message will remain, and anyone who attempts to use the phone after a reset will be required to enter your iCloud username and password before it unlocks.
Weirdly, the "Forgot your password?" prompt will still be available under this login screen, so unless you want thieves trying to brute-force your iCloud account, it might be a good idea to enable two-factor authentication or make your password hints hard to guess before iOS 7's release.
Smarter, faster downloading: While neither of these features have concrete descriptions attached to them, Apple's iOS 7 additional features slide boasts both "smart download of TV episodes" and "scan to acquire Passbook passes" as upcoming perks for the operating system.
If I had to venture a guess, I'd suspect that "smart downloads" will involve the iTunes app automatically downloading TV shows you have a season pass for as soon as they're posted to the store. Scan to acquire, meanwhile, sounds like Passbook might be getting a built-in QR code scanner for acquiring passes; the "barcode scanning" developer API listed during Monday's keynote would seem to confirm this.
No more updates tab: If you were watching our live blog or the live stream, we know you probably already cheered over this, but just in case you missed it: No more having to manually update your apps. They'll instead download in the background.
At the keynote, Apple didn't specify whether you'll be able to turn off this feature; I know a few folks who might prefer to manually update their apps, so as not to automatically upgrade to a potentially buggy version.
Wi-Fi HotSpot 2.0: One of the more-technical terms on iOS 7's additional features slide, Wi-Fi HotSpot 2.0 automatically seeks out Wi-Fi subscriber services (for instance, AT&T's hotspot network for an AT&T iPhone subscriber) and joins them when you're in the area. In theory, this feature should provide you with faster Internet access and fewer bandwidth constraints.
Change visibility on AirDrop: Apple's support for AirDrop on iOS 7 is pretty nifty: You can transfer photos to a friend nearby over Wi-Fi or Bluetooth—no wires, physical bumps, or extraneous emails needed.
But did you know AirDrop can support other file types? According to Apple's website, the service will also support sending Passbook passes and contacts; given that there's also a third-party API for AirDrop, I suspect you'll also be able to transfer other third-party files very soon.
One nice AirDrop security feature: The service, by default, only lets your contacts see your device, but you can disable it altogether (or, alternatively, let everyone in the area see you).
New Maps features
Maps will get a new interface in iOS 7 (and will be able to talk to its new OS X counterpart), but there are also a few other new features coming to the app.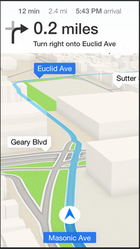 Turn-by-turn walking directions: If you like to walk, but aren't always familiar with your surroundings, Maps's new turn-by-turn directions for walkers should be a delight. (And yes, if you're like me, it'll keep you from having to pull out your phone every five minutes to check that you were indeed supposed to take that right turn.)
Night mode for Maps: I am constantly adjusting my phone's brightness when I use it as a nighttime navigator. As such, night mode for Maps sounds like it might be right up my alley; while Apple didn't display exactly how it might be implemented, a brightness slider or black/white mode would be much appreciated.
Maps bookmark syncing: iCloud has offered bookmarks syncing with Safari since its inception, but iOS 7 marks the first time you'll get sync for your Maps bookmarks, as well. So if you add your favorite sushi joint's address to your iPhone, rest assured it should show up on your Mac and iPad, too.
Communications
The iPhone is first and foremost a phone, so communication updates in iOS 7 would seem to be a no-brainer. What sort of small tweaks can we expect in the fall?
Smart Mailboxes and improved Mail search: iOS has never had access to your Mac's Smart Mailboxes, but from the looks of the additional features slide in Monday's keynote, that might soon change. (Might this also indicate that Smart Mailboxes will soon also be synced as part of iCloud? This reporter certainly hopes so.)
Improved mail search is certainly vague, but I would love it if this meant that you could select a Search All Folders option when looking for a message; currently, there's no such option, and you must instead go to the folder you want to search in, then perform your search.
Long MMS support: There's not much information on Long MMS on the Web, but after a quick chat with Macworld editors, Senior Editor Dan Moren postulates it might mean that traditional SMS messages might have a longer character count before being sent as MMS messages.
PDF annotations: According to the More Features slide, you may be able to display annotations to your PDFs by default. In what application, though? iBooks is my best guess, as it's currently iOS's default PDF reader. This might also bring with it PDF annotation tools, but we'll have to wait and see.
Chat options: According to Apple's website, the Contacts app will display the services you can use to chat with your friends next to their contact cards. Have a friend with an iMessage-enabled email address? You'll see icons for both iMessage and email next to that address.
Call blocking: Someone's repeatedly calling or messaging you that you'd rather not talk to? iOS 7 will have support for blocking those pesky email addresses and phone numbers.
Do not track: Safari on OS X has had a Do Not Track option for awhile, which prevents advertisers from tracking you as you browse the web. In iOS 7, it looks like mobile Safari will gain that same feature.
Photos and video improvements
What's new in the Photos and Camera app beyond what Apple previewed? A few cool features, actually.
No more Faces and Places: The era of face-tagging and photo-maps is over, at least for iOS. The Faces and Places tabs are no more on iOS, replaced instead with Moments and Collections. Both of these still seem to be focused around location, and Moments includes map data for individual places; unfortunately for those who loved tracking friendly faces, from the keynote it doesn't look like Faces will have a prominent place in iOS for the future.
True photo-sharing: Shared Photo Streams has always been a little one-sided: You could send photos to your friends, and they could send photos to you, but you'd each have to make a separate stream for the process. No longer: Streams can now be collaborative instead of just read-only, and they can have video, too. This is a feature I've been clamoring for since Shared Photo Stream's release last year, and am glad to see being implemented in iOS 7.
60fps video: If you love shooting high frame-rate video, you'll love Apple's new camera app, which purportedly shoots video at 60 frames per second. (Will there also be a 24fps and a 30fps setting? We'll see in the fall.)
Siri's new tricks
We've written a bit about new Siri features already, but here's the skinny: Siri has some new and improved voices in the U.S., Germany, and France; it has a new interface that hovers over the home screen rather than slides down on top of it; you can search Wikipedia, Twitter, and Bing inline (goodbye, Safari search!); and you can give it a bunch of new commands.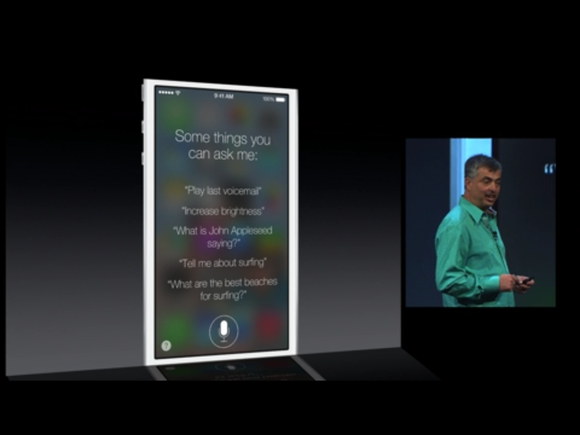 What kinds of commands? Things like asking it to play back your voicemail, return your calls, control your settings, change your music (or iTunes Radio), as well as any of the queries you're used to asking of the assistant.
In addition, if you pick up an automobile in 2014 that incorporates Apple's iOS in the Car features, it looks like Siri might take a page from Google Now's predictive travel book: iOS knows where you might be heading and gets you traffic info and predicted journey times.
International features
Like iOS 6 before it, iOS 7 offers a few nice region-specific features for international iOS users. The operating system will come with new dictionaries for Italian, Korean, and Dutch speakers, as well as a Chinese-English bilingual dictionary; handwriting recognition for multiple Chinese characters; and support for Chinese microblogging service Tencent Weibo.
Developer APIs
Apple stated at Monday's keynote that developers would gain access to over 1500 new developer APIs in iOS 7. Given that most of Macworld's readers aren't highly interested in this nitty-gritty, however, here are a few interesting ones we caught off the developer slide.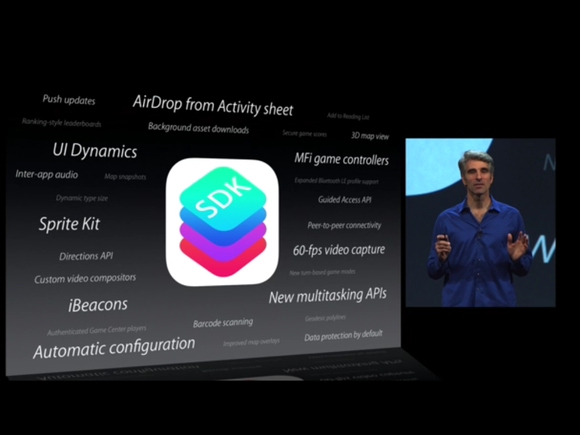 iBeacons: Apple's iBeacons, in technical speak, use the Bluetooth Low Energy profile for microlocation. In plain speak, this means your iOS device may be able to use Bluetooth 4.0 devices to collect precise location data—like your location inside of a building—even though those devices don't have a GPS system installed. That said, I don't claim to be a Bluetooth or microlocation scholar, and Apple's APIs are under the confidentiality agreement, so the actual implementation might be slightly different.
Background downloading: We heard mention of this during the keynote: In short, it allows your apps to download information for you at certain times of day, even if they're not actively running. In practice, this might allow your Twitter feed to download and cache tweets for you to read before you hop on the subway or sit in an airplane, sans Internet access.
Third-party game controllers: There are a few pseudo third-party controllers for iOS games already (the iCade, for one), but it looks like Apple plans to offer more expansive support for those wishing to connect third-party controllers to their iOS devices.
More Apple Maps in your third-party apps: There are some who would prefer that Apple's Maps stay far, far away from their third-party apps. But if you like Apple's implementation, you may see more of it in your other apps in the form of directions and "map snapshots."
Xcode 5: While not mentioned during the keynote, the next version of Apple's iOS and OS X app builder, Xcode 5, is around the corner. A developer preview is available today, with the full app presumably to be released later this year. You can read about Xcode's new features on Apple's website.
And many more…
This seems like a lot, and it is. But really, these are just the features I spotted during Monday's keynote and on Apple's iOS 7 website. This version of iOS is clearly a major release from the company, and I bet there's a whole bunch of interesting new stuff hidden away for us to discover when it actually ships this fall.
Updated at 9:45 p.m. PT to correct a statement about needing a password for downloading in the background. Updated at 1:45 a.m. PT to clarify that no beta software was used to write up information about iOS 7, and clarify wording on iOS in the Car.