There's certainly no shortage of password managers for OS X—there's even a basic one (Keychain Access) built into the OS, and the next versions of OS X and iOS will include a cross-device-syncing option. But rather than over-saturating the market, these apps are catering to different kinds of users—and that can only be good news if it means better security for more people.
A case in point is Lunabee's $13 OneSafe ( Mac App Store link), one of a genre of apps designed to keep your personal information safe from prying eyes while making it readily available when you need it. (I review the OS X version here, but a $6 iOS version is also available—your data synchronizes between devices over iCloud.)
Setting up OneSafe is a simple process; a quick wizard walks you through the process of choosing how you'll unlock your password database. Unlike most of its competitors, which support only passphrase-based unlocking, OneSafe offers a choice of four unlocking mechanisms: a four-digit PIN, a full passphrase, a pattern-drawing keypad similar to the one implemented by some versions of Android, and a set of four combination-lock wheels. (To help you if you forget your combination or password, OneSafe allows you to choose two security questions, although these are optional.)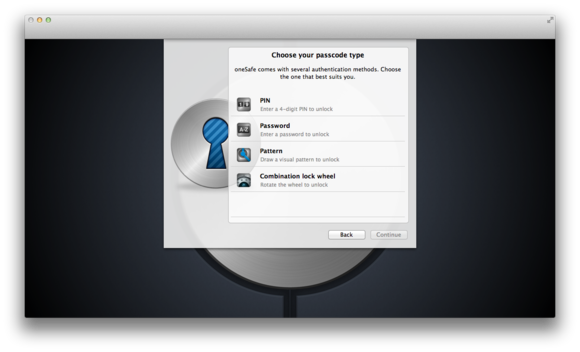 Giving users multiple options is a great idea, particularly for those who suffer from disorders like dyscalculia, or people who simply have a hard time remembering complicated passwords. Still, I'm not a fan of the app offering a four-digit PIN as an option, given the weak level of security it provides.
Storage options
OnePass looks and feels like a modern OS X app, with a clean design and a clear workflow. As with other password managers, you aren't limited to storing passwords—you can store just about any kind of information imaginable, from data about what's in your wallet to app settings, generic files, and entire documents.
The data you store can be organized in an arbitrary number of groups and categories of your choosing. Notably, when setting up a new category, you can even configure the app to require a separate password for accessing data in that category—a great option for adding an extra layer of security to extremely sensitive information.
OnePass provides three mechanisms to make it easier to find data stored in your personal vault. The first associates a specific template or icon (depending on the viewing mode you choose) with the information. There are literally dozens of templates you can choose from, and they cover everything from your driver's license to website logins.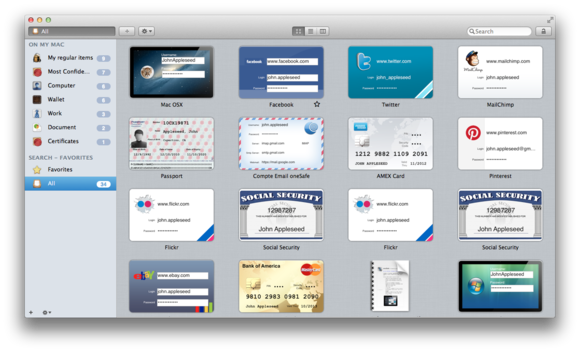 In addition, you can designate individual entries as favorites, making them easily accessible from a Smart Folder-like category listed on the left-hand side of the app's main window. Finally, there's a global search function for finding specific entries by name.
Keeping safe
Like several of its competitors, OneSafe uses AES–256 encryption—an algorithm that's considered safe and whose reliability has been well researched—to keep your data secure. Assuming you don't pick a weak passphrase, this means that data stored in the vault is well protected from prying eyes.
I particularly like the option to double-encrypt entries stored in a particular category, especially if you're using the weaker four-digit PIN as your main database password. My only fear is that using this feature properly requires significantly more sophistication and discipline than the average user will likely use. I hope a future version of the app offers to automate this process somewhat, guiding users towards the most appropriate type of protection for each kind of information they decide to store in their vault.
You may be wondering how OneSafe compares to 1Password (

), my favorite password manager. The most obvious difference is price, as OneSafe is just $13, compared to $50 for 1Password. But there are functional differences, as well. One of the biggest is that 1Password integrates much better with various browser, making it easier to use in your day-to-day Web activity. OneSafe, on the other hand, offers more passcode-locking options, including the aforementioned double-locking mechanism for especially important data, as well as the option to use a four-digit PIN to access your password database. Unfortunately, OnePass offers no guidance on the latter feature for inexperienced users, who are thus likely to make their data less secure.
Bottom line
There's much to like about OneSafe. The app is well made, robust, and very easy to use—all excellent attributes for a security app—software that, by necessity, can often feel more annoying than useful. Considering its price and features, OneSafe is a good choice if you're in the market for a new password manager—and an excellent choice one if you've never had one.
Want to stay up to date with the latest Gems? You can follow Mac Gems on Twitter or on App.net.