Though both operating systems are set to arrive this fall, we know a lot more about iOS 7 than we do about its Mac sibling, OS X Mavericks. But with a little digging through the keynote slides and through Apple's OS X preview website, we were able to find 12 things you may not have heard or noticed about the company's next operating system.
The Finder goes full screen
OS X's new Finder Tabs option got some love during Monday's keynote, but there are a few other new perks coming to your new, tabbed Finder in the fall.
Window merge: If you've accidentally opened too many Finder windows, don't panic: A quick shortcut will merge your windows into one easily-managed Finder window, organized by tabs.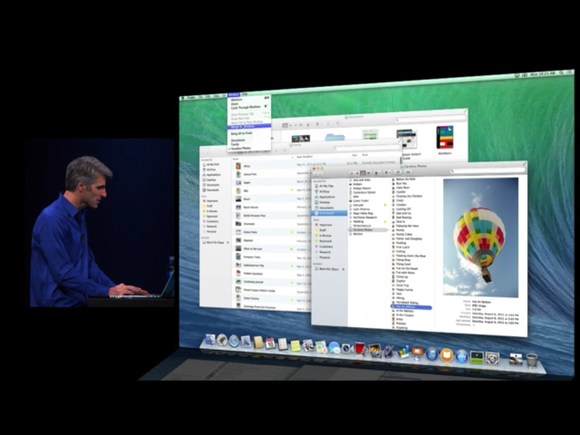 The full screen Finder: Don't want to deal with individual windows during your file-finding expedition? In OS X Mavericks, you can make any Finder window go full screen.
Drag and drop: You've long been able to copy files from one Finder window to the other; with Mavericks, you'll be able to copy files from one tabbed pane to the other as well.
Drag to tag: Even if you have older files, you'll still be able to make use of OS X's new tagging options. Just drag the older file into the appropriate tagging pane inside the Finder, and that file will be automatically tagged with that label.
Do more with displays
We've been waiting years for Apple to figure out a solution for full-screen apps and multiple displays, but it looks like our waiting will be over this fall when OS X Mavericks arrives. In addition to running full screen apps on each display and easily accessing the menu and toolbar, here are a few other nifty multiple display tricks coming in the fall.
Drag assets across full screen apps: Even if you're working full screen on both displays, you can still share information between apps. Say you have iPhoto and Keynote open (as Federighi did during Monday's keynote): You can drag a photo from iPhoto across the first display into Keynote on the second.
Full screen apps and Mission Control: In Mountain Lion, your full screen apps appear as separate desktops along the top of your Mission Control dashboard. You've always been able to drag and drop the order of those displays within Mission Control, but soon you'll be able to move full screen apps across displays. Accidentally opened iTunes in full screen on display number two? Just open Mission Control and drag it to display number one.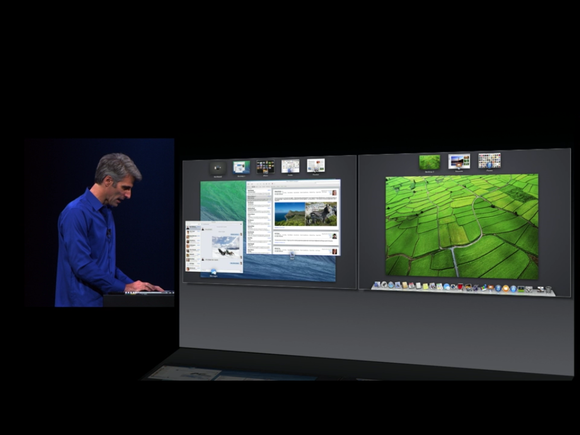 The third display: OS X Mavericks's AirPlay display was shown off pretty prominently on stage, but we'll still mention it here because it's such a neat feature. If your computer is powerful enough, you can drive not just two displays, you can also turn your Apple TV-equipped HDTV into a third, fully-functional display via AirPlay.
How powerful will your computer have to be? That we don't yet know, but I imagine Apple will release more information as the Mavericks release date inches closer.
Save your Wi-Fi passwords across devices
iCloud Keychain's big appeal is its password and credit card number saving, but I'm personally looking forward to Wi-Fi network and password storage. Come the fall, when you log in to a Wi-Fi network on your Mac, iCloud will remember the network and password in case you need to log in on a different Mac, iPhone, or iPad.
The new Reader
If you love OS X's Reader function in Safari, you'll probably enjoy Mavericks's improvements to the pared-down reading feature. Come the fall, Reader will ditch the hover-page for a separate screen bordered in cool grey.
Read multiple books at once
Coming from the single-screen view of iOS, reading multiple books at once sounds like crazy talk. But that's the advantage to having apps like iBooks on the Mac: multiple windows to view multiple books. Of course, iBooks makes no guarantees about giving you the multitasking needed to read multiple lines of text.
Calendar gets you where you need to go
We know that rich Corinthian leather and stitching effects are no more in the OS X Mavericks Calendar, replaced with a simpler, iOS 7-inspired theme. But the design improvements aren't the only new features coming to Calendar.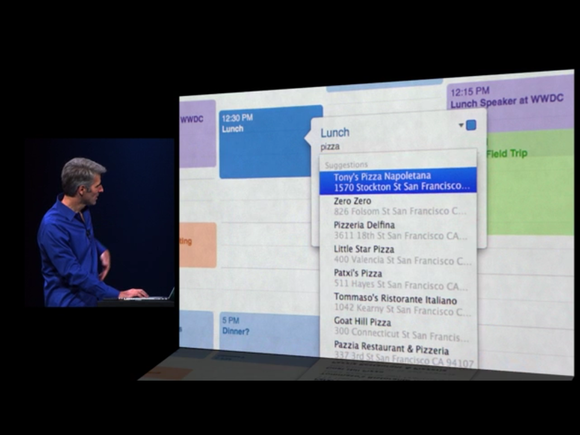 In addition, Calendar uses baked-in Maps support to help you figure out where you want to go (thanks to location suggestions), and travel-time calculations once you have an address in mind. Once you've selected a method of travel, the app will even bake that time into your appointment, and offer you the option to schedule a reminder for when you should leave the house.
Get LinkedIn
OS X Mountain Lion was all about social interactions, building in support for Twitter, Facebook, YouTube, Vimeo, and Flickr. In OS X Mavericks, the social network gets professional: Yes, according to Apple's website, you'll soon be able to connect your LinkedIn account with your Mac—that is, assuming you still have a LinkedIn account.