The keynote event that kicked off Apple's 2013 Worldwide Developer's Conference was jam-packed with announcements: iOS 7, OS X Mavericks, a new Mac Pro, new MacBook Airs, new apps like iBooks and Maps for Mac, and more.
But with great announcements come great opportunities for disappointment about the things that Apple didn't announce this time around. Whether they were simply features we'd been hoping for or whispers that dominated the rumor mill, here are some announcements we wished we'd heard about, but didn't.
Apple TV and other rumors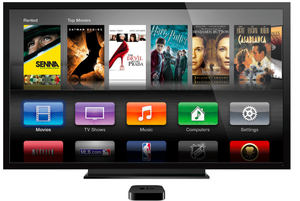 Whither the Apple TV SDK? Developers are antsy for an official way to get their programs onto the Apple TV alongside Apple-approved apps like Hulu. Unfortunately, right now the only way they can do so is via AirPlay. A true Apple TV SDK—accompanied, of course, by an Apple TV App Store—seems in some ways inevitable, but Apple apparently isn't in any rush to make it happen.
We saw no Apple television set, either—let alone the mythical iWatch.
iOS
Many features we'd hoped to see arrive on the iPhone and iPad didn't get announced. There's still no way to select third-party apps as defaults for handling email, calendaring, Web browsing, and the like—sorry, Mailbox, Fantastical, and Chrome. Apple similarly didn't announce any access for third-party developers to place their own widgets in Notification Center.
Also, with the exception of being able to add a virtually unlimited number of apps to folders, there's no new approach for app organization. And there are still no third-party options to add widgets (a la OS X's Dashboard) to your lock screen or home screen.
I'd additionally allowed myself to believe that we'd finally see an iOS app for iCloud file management—sort of a grand repository, akin to Dropbox. No such luck.
Finally, while Siri improvements are significant and much appreciated, I'd hoped to see Google Now-style live transcription enter the mix.
The Mac and Mavericks
Senior editor Dan Frakes and I have long wished for a Mac with an always-on Internet connection. (Given that you can buy an iPad with LTE service, the lack of a similar option for the Mac seems all the more notable.) Though we're delighted by the promise of tremendously-improved battery life in the new MacBook Airs, some of us did let loose small sighs of disappointments that there's still no LTE or other cellular option available for the Mac.
I also would have bet cash money that Siri would arrive on the Mac with 10.9, and, unfortunately, would have ended up poorer because of it. Like dictation, Siri is a feature that will likely always feel more useful on touchscreen devices (where text input is slower-going), but there are certainly use cases for Siri on the Mac as well. I'm not sure what Apple is waiting for at this point; I, for one, can't wait to start talking to my Mac and having it respond in meaningful ways.
It's also at least a bit surprising that Apple didn't show off a design overhaul in Mavericks. I'm not complaining about this one per se—I think Mountain Lion looks just fine. But I do find it curious that, while repainting so many pixels on the iOS side, Apple seemingly thinks OS X's core visual theme looks just fine as is. That may well be because the iOS design overhaul is coming at a special point in Multi-Touch's history: Now that users understand how iOS works, the system can offer fewer visual hints about what is and is not tappable than was previously required; since there's no analogous evolution happening on the Mac, OS X may not need such a vast change.
What we saw
All that said, what Apple did unveil at WWDC looked polished, impressive, and worth getting excited about—and we still have many months of betas and changelogs before iOS 7 and OS X are released to the public. Any remaining unfulfilled hopes and dreams only mean that we have more to look forward to the next time Apple schedules a major press event.