A week that began with a flurry of Worldwide Developers Conference announcements from Apple is ending with its once-fiercest rival making a little news of its own. Microsoft on Friday announced a mobile version of its Office productivity suite for the iPhone. The software giant's move answers a longstanding demand for a version of the world's most widely used office software for one of the world's most popular mobile platforms—though there are a couple of big caveats that could limit just how widely this iOS-friendly version of Office gets adopted.
Microsoft's Office-for-iPhone announcement couldn't have been more low-key than if it had sent company representatives door to door to quietly spread the news. Microsoft broke the news on a Friday—that's the day in the news business when you typically let people know that you've been indicted, or that those rumors about you are true and that you and the intern hope everyone respects your privacy— posting the announcement in its Office 365 blog and not, say, at a high-profile press event. That's a significant choice by Microsoft.
It's also a lot to digest for iOS users, especially with our heads still swimming from iOS 7 previews and promised Siri announcements. Still, here's a quick breakdown of everything we know about Microsoft's new iOS offering so far.
What's the app called?
Office Mobile for iPhone, according to Microsoft's blog post. Office Mobile for Office 365 Subscribers, according to the app's listing in the App Store. Catchy, no?
What can I do with it?
Don't confuse Office Mobile for a full-featured version of Microsoft's Office suite. You can use the app to view and edit Word, Excel, and PowerPoint files. You can even create Word documents and Excel spreadsheets on your iPhone, though not PowerPoint presentations. Documents, spreadsheets, and presentations look on your phone like they do on your computer screen—though smaller, of course—thanks to the app's support for charts, animations, SmartArt Graphics, and shapes. You'll access those Word, Excel, and PowerPoint files from SkyDrive, SkyDrive Pro and Sharepoint.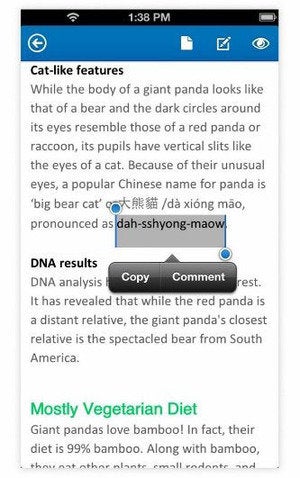 Microsoft put in some nice touches aimed at mobile users. Word and Excel both feature Viewing Tools that let you jump to specific areas of documents and spreadsheets, saving you from an afternoon of unending scrolling. In PowerPoint, a Slide Navigator performs much the same feat.
(We'll have a more detailed hands-on with Office Mobile later; we'll update this story with a link once that article becomes available.)
How is this different from other iOS apps from Microsoft?
You're referring to the aptly named Microsoft OneNote, available in separate iPhone and iPad versions, that let you jot down notes and store them in the cloud for later access from a Mac or PC—and not much else. It certainly was never designed or marketed as a tool for business-strength writing or editing. Microsoft's SkyDrive app allowed you to access, manage, and share files, but it lacks any sort of editing capabilities. For all its limitations, Office Mobile is undeniably Microsoft's first serious attempt to make a version of Office for iOS users.
What is this going to cost me?
To download the app? Why, it's free! Downloading Office Mobile won't cost you a dime.
Using Office Mobile, on the other hand, will require you to subscribe to Office 365. That's Microsoft's cloud-based subscription offering, and the Office 365 Home Premium edition costs you $10 a month or—if you pay up front for an annual subscription—$100 per year. (You can use Office 365 for free for 30 days, though.) Business users have their own Office 365 pricing.
Making an Office 365 subscription a condition for using the iPhone app certainly makes Microsoft's cloud-based offering more attractive to would-be subscribers. Microsoft has even said as much, with Pat Fox, a senior director of product marketing in the Microsoft Office Division, stressing in the Office for iPhone announcement that the new app is "adding even more value to our Office 365 subscriptions." And, in a world where the likes of Google and its Web-based Google Docs are making business users reconsider their need to have something like Office, Microsoft is properly motivated to want to goose Office 365 adoption rates.
Of course, tying Office Mobile to an Office 365 subscription may also have the unintended consequence of making Apple's mobile versions of iWork seem more attractive. Apple's word-processing, spreadsheet, and presentation apps for mobile may cost $10 each, but they work natively on both the iPhone and iPad, even if you don't have their Mac equivalents installed on your computer. (Having the Mac versions of Pages, Numbers, and Keynote will, however, help you get more out of their mobile counterparts.)
On a related note, if you wonder why Apple took the time out of its busy WWDC schedule to note that a cloud-based version of iWork is coming soon (along with updates to the Mac and iOS versions), wonder no more. Apple obviously knew that a mobile version of Microsoft Office was on its way to the App Store and wanted to preemptively remind people that it's got a few products of its own for on-the-go productivity mavens.
Why is this only available for the iPhone?
Well, Microsoft has these Windows-8-powered tablets that it's trying to sell. Sales aren't going particularly swimmingly, so it's not in Microsoft's interest to take the one advantage its Windows tablets have—dedicated versions of Office—and extend it to the iPad, otherwise known as the tablet people are actually clamoring to buy. After all, when your latest ad campaigns tout your Office advantage, you're not about to turn around and push out a version of Office for the iPad. (Of course, you could always run Office Mobile on your iPad if you wanted: Like any iPhone app, it will run in a compatibility mode with a less-than-optimal resolution. "You'll have a more satisfying experience using Office Web Apps," Microsoft said.)
Any other system requirements I need to know about?
Besides that aforementioned Office 365 subscription, you'll need to have an iPhone 4, 4S, or 5, or a fifth-generation iPod touch. Those devices need to be running iOS 6.1 or later. And if you want to take advantage of features like Resume Reading (which lets you pick up in a document where you left off on your computer) or Recent Documents (in which you quickly access on your iPhone what you've recently worked on back at the computer), you'll need to have Office 2013 installed on a computer somewhere. That's the Windows version of Office, by the way.
Loek Essers of IDG News Service contributed to this report.