Fractal freaks get ready: There's a new fractal app in town. Frax for the iPhone and iPad, which launched today, comes to you from the legendary team of Kai Krause and Ben Weiss, the gurus behind Kai's Power Tools, Kai's Power Goo, KPT Convolver, and other graphic art and design software. These artistic visionaries, in league with fractal wizard Tom Beddard, have launched Frax as a unique way to create, view, and interact with the beauty of the fractal universe. And it's stunning.
One look at Frax confirms that neither Krause nor Weiss has lost his creative vision—but touch is what Frax is all about. From pinch and swipe gestures to accelerometer-based rotate-to-fly and tilt-to-steer movements, Frax for iOS features numerous ways to explore the classic fractal forms of the Mandelbrot and Julia sets while sitting on your couch or riding the subway.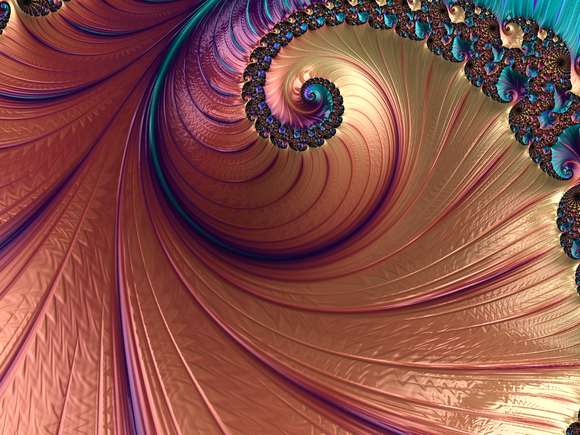 Fractal past reenvisioned
Frax may be new to iOS, but its antecedents reach back to an older Mac program of the same name, created some 20 years ago. Indeed, for more than a generation, artists and mathematicians have used desktop computers to try to re-create these natural life forms.
In the 1990s, fractal design and generation frequently pushed underpowered hardware to the limit, sometimes taking hours to painfully paint a single fractal form onscreen—a far cry from endlessly replicating its structure to infinity, a fractal's ultimate mission. But today's Retina display iPads and iPhones are powerful enough to make fractals accessible—even easy—to view, create, and interact with.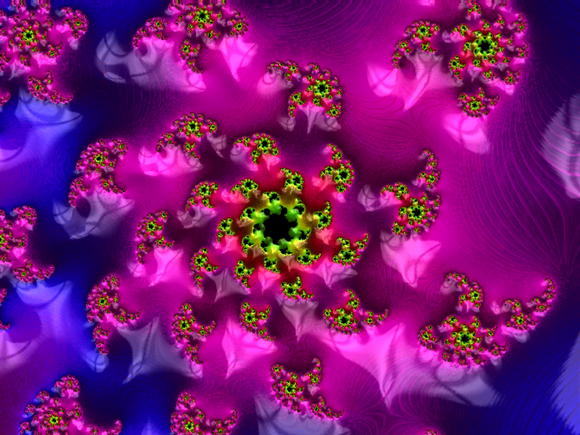 As an interactive visualizer, Frax is part game, part entertainment, part design tool, part scholarly investigation, and wholly mesmerizing. The idea is that anyone can enjoy Frax without having to give it much thought. "The beauty of Frax is that it doesn't have to do anything," says Tom Beddard. "It doesn't have to have an aim. It's just something that you can explore at your own pace in your own mood and find your own inspiration."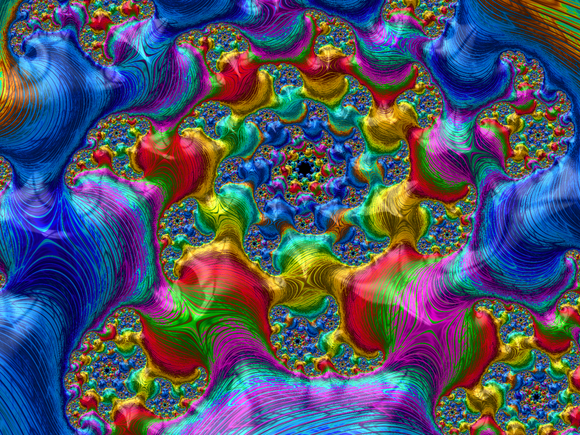 Dynamic self-replication
The term fractal—meaning broken or fractured—was coined in 1975 by mathematician Benoît Mandelbrot, who ended up defining the brand-new field of fractal geometry. Fractals describe the mathematical structure of natural patterns that we see all around us, in common objects like snowflakes, leaves, clouds, food, even blood vessels. They are self-replicating and scalable, and each iteration of a fractal is a copy of itself, so as you zoom in or out, the pattern looks similar. With Frax, you can zoom into more than a trillion-to-one depth range of the famous Mandelbrot set; and for the first time, some Julia sets can be zoomed infinitely, too.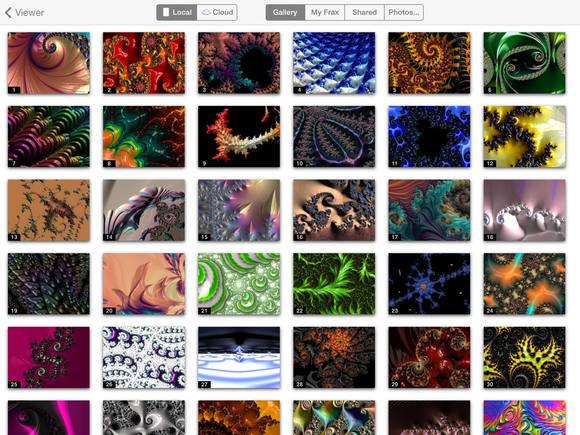 Because fractals are so much a part of the natural environment—and because of their phenomenal beauty and infinite variety—it's no surprise that many people are obsessed with them.
Says Ben Weiss, "Fractals resonate on a deep level. Our bodies are dependent on fractal architecture. We're all breathing with lungs that branch and then branch again in repeating self-similarity. Our hearts are pumping blood through a fractal blood vessel system. Even heartbeats on an EKG will reveal fractal patterns."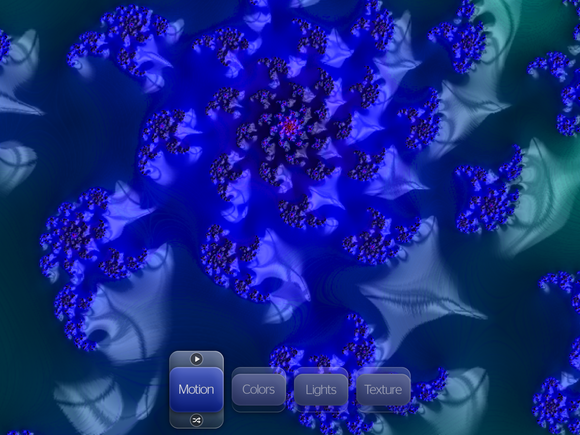 The software team redux
The Frax team has a long history in software and interface design. Kai Krause is the most famous, not surprisingly, as his first name is the defining title on a slate of creative software that spans a generation. He is the founder of MetaCreations, the Kai of Kai's Power Tools, and the inventor of Bryce, LivePicture, and more. But even in the old days, he did not work alone.
Partner and coder-in-arms, Ben Weiss joined Krause as something of a prodigy when, at 19, he wrote the code for KPT. The third member of the Frax troika, Tom Beddard, pulled together the Frax site and the app's cloud back end.
Why Frax and why now? After 10 years of labor in the obscure trenches of Apple, Google, Microsoft, and Picasa confidentiality agreements, Weiss got sick of the anonymous toil and convinced his old friend Krause to join him on the new Frax path he started with the iPhone 3Gs. "We set out on a journey, challenging each other to make it better, faster, more intuitive, and more fun at every step," Weiss says.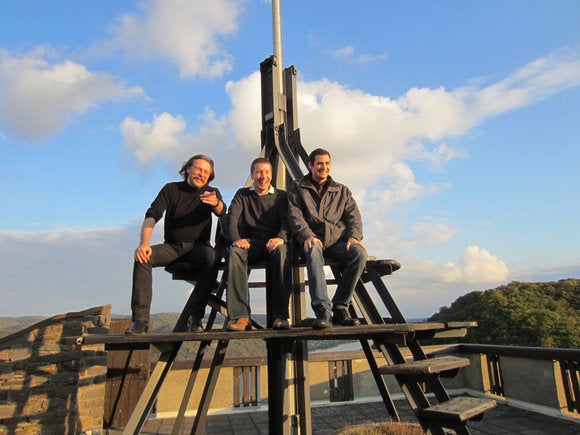 It's been somewhat of a different path for Kai Krause, who has spent his life since 1979 in the spotlight, with his name plastered on software boxes worldwide. For him, the past decade has involved a lifestyle change of withdrawal from public view. But he resists the idea that just because he's part of the creative team, Frax signals some kind of comeback.
"I may appear to have disappeared—from the viewpoint of someone looking for KPT 8 and Bryce 11 and such. But frankly, from my own side, I never left. I simply chose not to live my life on a public stage at every point," he says. "Or to be more precise: I refused the need to convert every new idea instantly into a profit-generating venture—I wanted to take long-range views, research, and think and invent purely for its own sake." Still, he admits, with Frax he has let his idea out into the world, and this won't be the last time he does so.
Updated style
Frax is derived from an old concept, but it has a fresh, distinctive look—not unlike the Kai's Power Tools (KPT) of old. With their colorful nonstandard interfaces, the various KPT Photoshop plug-ins were as fun to look at and learn as to use. The new Frax harks back to that user sensibility.
"For me, [software development] was much more [about] creating a certain entity with a personality, with character and feeling—a little quirky maybe, a little odd at times, but surprising and unique and unexpected, where you could spend enjoyable time to discover and explore. And even after weeks or months, there would always be another level of detail or undocumented secret features, so you know that you actually never quite mastered it all," Krause says.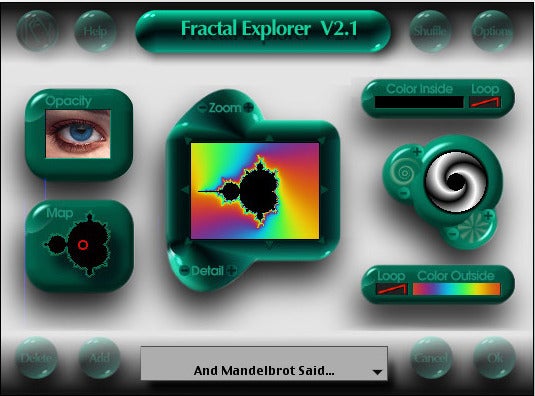 The software community had mixed feelings about that approach, of course. And Krause does not have fond memories of rushing to market with products that he considered "crap"—products that were only halfway there, just to meet a deadline. "It is unfortunate that much of the work from the '90s has never been properly seen as intended. From the early KPT tools in Photoshop to Bryce and all those others, there have always been practical limitations and time pressures which forced me to bring out software way too early. So there is fairly little that I would really say represents the style as it existed in my head."
Frax is a way to create something that shares KPT's unique sensibility without the deadline pressures of commercial software development. Designing for mobile devices is a more liberating process, and designers like Krause who have a distinctive way of presenting material are freer to do so.
New development techniques
It's not 1997 anymore, and part of the look and feel of the new Frax may be derived from new methodologies. Sure, that includes upgraded hardware—the new mobile Frax runs 400 times faster than the old desktop version did. But workflow and collaboration techniques have changed profoundly as well.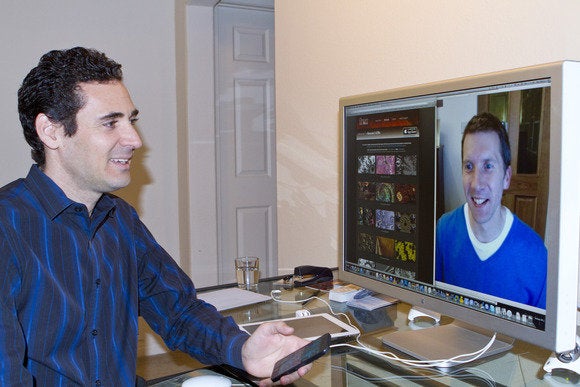 You won't see quaint images of late night coding sessions littered with overflowing ashtrays and half-finished cocktails. The whole Frax team hardly met at all while creating the new Frax—just once, for 48 hours. Instead they relied on Internet connections, email, and chat to get through the most of the app development, from Krause's home base in an ancient castle in Germany, Beddard's homestead in Scotland, and Weiss's place in southern California. Weiss and Beddard did however have two intensive ten-day sessions to "hammer out some gnarly problems," says Beddard. But that was the sum total of their physical contact over a three-year span.
"I find that, too, a fun part of the Frax story—how one can build a complex app in such a way, and how that is only possible in recent years with the new tools. Sharing gigs of files, routinely sending hundreds of them back and forth, updating new builds, working from sketches to snapshots, was all just a dream a mere decade ago—let alone the last time we wrote a Frax Explorer in 1993 with no Web existing," Krause says.
Still, Frax took about three years to make, on an international time clock. The team was small and low-key by design, eschewing outside funding.
What ultimately brought this trio together was the art itself, fueled by the approval of the original fractal master. When Weiss showed Frax to Benoît Mandelbrot at a 2010 TED conference, the 85-year-old father of the fractal pronounced it "superb," excited to see the entire operation generated from an iPhone. Mandelbrot's enthusiasm prompted Weiss to approach his old friend Krause years after their old company disbanded, to get together again and make the app for real. Sadly, Mandelbrot died before he could see the commercial debut of Frax.
Onward
According to its creators, Frax is the ultimate fractal app available right now. But future planning is already underway in connection with 3D fractals called Mandelbulbs, which Beddard is pioneering. 3D fractals are not quite possible on current-generation hardware, but Krause is happy to reserve some innovations for the next version. "It is therefore a self-chosen, 'let's do this as an homage to the classic Mandelbrots and Julias' period—for now," he said.
From their long history in the industry, the developers know that technology is a product of time and place. The KPT and Bryce packages, revolutionary in their era, have largely faded from view. For every app, the day eventually comes when it goes to app heaven. Ben Weiss isn't waiting around. Frax, for this team, is a dynamic entity that in a sense has already overtaken the present and leaped into the future. "We like to think of Frax as a next-gen app," Weiss says, "and new hardware will let us push its capabilities even further. Those 4K displays cannot get here fast enough for us."
To celebrate today's launch of Frax, the developers have given TechHive and Macworld readers exclusive access to some of their high-profile, high-resolution original fractal creations. Not merely wallpapers, these are actual fractal files that you can use Frax to view, alter, play with, and enjoy the developers' original work.
Frax is available now on the iTunes store for the iPhone ($2) and iPad ($4). A Pro version is also available as an in-app purchase for both devices for $5 and $7 respectively. Be sure to check out our review of Frax and the Macworld podcast featuring Frax developers Ben Weiss and Tom Beddard.
Photos copyright Jenna McGrath and Adrian Mendoza. All rights reserved.