At Apple's recent Worldwide Developers Conference, the company announced iTunes Radio, a Pandora-like streaming radio service that will start broadcasting to the general public in the fall.
While some view this as Apple finally embracing a model other than traditional music ownership, others wonder if the company is simply dipping a toe in the water. Will Apple go all-in and produce something that's a step forward, or is iTunes Radio a half-hearted me-too measure? As someone who loves music, I'm certainly rooting for the former. But I fear the latter unless Apple meets these expectations.
1. No sea of holes, please
Nothing will elicit comparisons to Apple's failed music social media experiment Ping more quickly than an obviously porous catalog. For instance, if you attempt to create a Beatles station that plays not a single track by the Fab Four because Apple hasn't secured the streaming rights, iTunes Radio will look half-baked. Apple has made a lot of noise about having artists that other services can't touch (The Beatles being the obvious example) and listeners expect to stream what they can buy. Most people don't care whether you can do X with an artist's catalog but not Y because of licensing issues.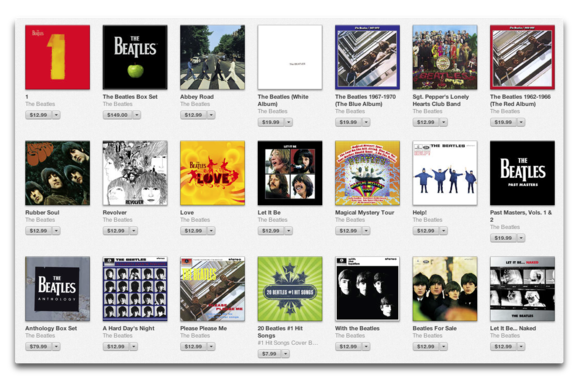 Similarly, if, when searching for a popular artist of the day, iTunes Radio shrugs its virtual shoulders in a "never heard of them" way, the service will seem weak, particularly if a similar search of Pandora turns up the result you're after.
2. Stations that start making sense
If you think technology enthusiasts can be persnickety about missing details, spend an hour with someone who lists music among their top three passions. The music that streams from the stations you create should adhere fairly strictly to the station's theme. For instance, if you choose to create a station based on J.S. Bach, you don't stray out of the Baroque period—no Beethoven, Mozart, Debussy, Chopin, or Yanni. Dave Brubeck is not George Winston and James Brown isn't Usher.
iTunes Radio should sound like it was programmed by people who understand music—its history and associations. If, instead, stations deliver music that's broadly popular in the source genre or was produced in the same decade, listeners who really care about music will deride it as an amateurish effort.
3. Set it free and easy
One reason that Pandora succeeds is because it's available on just about every digital device capable of playing sound. You'll find it offered on smart TVs; Internet-connected Blu-ray players; Roku, Sonos, Android and iOS devices; and computers.
From Apple's (and the record labels') perspective, it makes sense to plant iTunes Radio firmly within iTunes and on iOS devices, because the service acts as a sales tool. When you find something you like, just tap the very obvious Buy button above the track. (And, of course, because iTunes Radio will be largely ad supported, it makes sense for Apple to control the environment in which those ads get delivered.) But as a listener, it's rare that I turn to my computer or iPhone for music, particularly at home. I'd dearly love to tune into iTunes Radio on my Sonos system via a method other than AirPlay using an AirPort Express connected to an auxiliary input.
4. How deep is your dive?
Streaming music based on an artist, song, or genre is nothing new. In addition to Pandora and Last.fm, on-demand music services such as Mog, Rdio, Rhapsody, Slacker, and Spotify offer similar services. Some are better than others, and what makes them better is their ability to go deep into a catalog and make interesting (and appropriate) choices.
Streaming radio is as much about discovery as it is familiarity. If you play just the top 100 hits of a particular genre, you've missed the point. Classical music is about more than Pachelbel's "Canon in D," "Für Elise," and Barber's "Adagio for Strings." Jazz goes beyond Take Five and Kind of Blue. Duran Duran and Madonna scratch only the surface of 1980s popular music.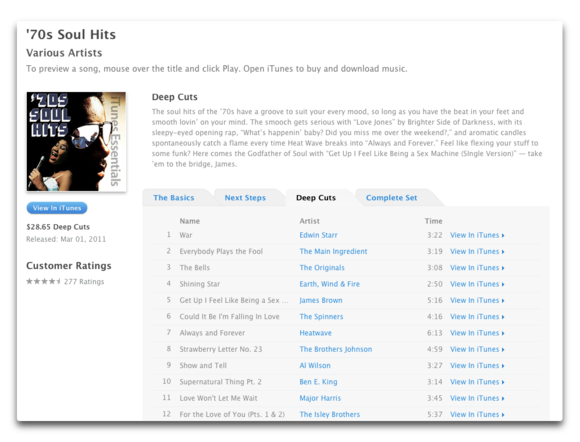 Prior to iTunes 11, the iTunes Store offered something called iTunes Essentials (you can still find it on the Web). Essentials allowed you to explore a particular artist's work in three levels—The Basics, Next Steps, and Deep Cuts. The Basics offered the artist's well-known work, Next Steps tracks were more obscure, and Deep Cuts offered quality tracks that were likely to be familiar to only the artist's fans.
A similar feature in iTunes Radio that allows you to request deeper tracks would help distinguish it from Pandora. If the station you've created plays predictable tracks, provide a setting that allows those who wish to explore stream more obscure tracks that, again, don't violate the mission of the original station.
Big time
Apple remains the leader in digital music sales as well as the maker of today's most popular music players, and as such, we expect big things. Pandora has established the concept of streaming Internet radio and provides admirable results. Save for a catalog that some wish was deeper, Pandora's got it right.
iTunes Radio can succeed based solely on its exposure to a far broader audience. But I hope Apple has set its sights higher and can put its massive music catalog to good use. As a music enthusiast, I'd like a service that engages listeners of all levels—the "hey this is better than the radio in my car" crowd as well as those who will gripe when Aerosmith's version of "Walk This Way" blasts from the Run-D.M.C. station.