One of the first things I loved about my first iPad—a first-generation model bought about six months after the product launched in 2010—was the native Notes application. Silly? Sure: Even now the app is limited, providing basically a plain text file that's mostly useful for making a grocery list or jotting down quick ideas. But I thought it was beautiful.
Why? Because Notes was more than utilitarian. It wasn't the faux yellow tablet paper that impressed me, rather, it was what happened in the app when I rotated the iPad into landscape mode: It became apparent that somewhere in the universe, that pad of office paper—virtual as it is—was being carried around in a nice folio, perhaps one made of rich Corinthian leather, with fine stitching all around the edges.
And I had the same thought I might have had about a real folio made of real leather with real stitching: Somebody cared enough about this to try to make it nice.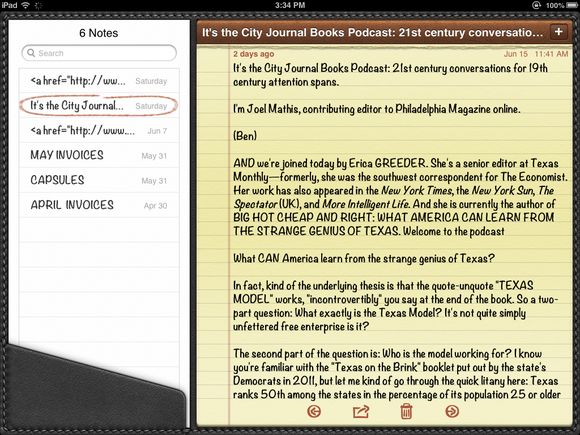 The practice of designing apps to resemble their real-world counterparts—known as skeuomorphism—has found itself increasingly in disrepute among designers and tech writers: Last fall's ascendance of Jony Ive, who replaced Scott Forstall as the person in charge of iOS's look and feel, meant a change of some sort was coming. And iOS (after five years) was certainly starting to feel fusty, with developments at Windows and Android at least temporarily turning the heads of formerly hardcore Apple fans.
So when iOS 7 was unveiled last week at Apple's annual Worldwide Developers Conference, it wasn't a surprise to see those skeuomorphic touches eliminated. What was a surprise? The delight that Apple's top brass—most notably Craig Federighi—seemed to take in actively repudiating its own recent history.
• On the Calendar app: "Absolutely no cows were harmed in the making of this calendar."
• Again, on Calendar: "Look! Even without all that stitching, everything just stays in place."
• And on iOS Game Center: "We ran out of green felt."
OK, OK, Craig: We get it.
Listen: Maybe skeuomorphism's day is done, but let's not whitewash the past: faux leather stitching certainly didn't keep Apple from essentially defining the smartphone and tablet categories during the first six iterations of iOS. You don't have to keep dancing with the one that brung ya, partner, but it's generally considered rude to merely shove her aside, point at her, and start laughing while you dance with somebody new. The snarky rejection of a design philosophy that is still in use on every single iPhone and iPad in the world—save those of a few Apple employees and developers—might've been over the top.
It's also important to remember why skeuomorphism made sense during iOS's early years, even if it is time to move on. Until the iPhone and iPad came out, our experience with touchscreens was laughably limited to balky ATMs and the like. In most cases, digital onscreen buttons simply replaced real-world buttons.
Then, suddenly, Steve Jobs and friends gave us the ability to touch the Internet. To pinch and zoom, to slide a piece of data over with our fingers in order to examine another piece of data, to take a picture of a skull and turn it around 360 degrees using our very own hands. We'd never done this before!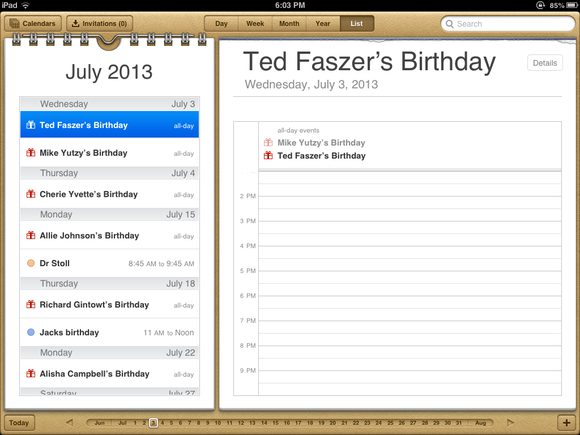 Only here's the thing: We aren't really touching the Internet. You've never held a webpage in your hand in your life. Multitouch technology makes it seem like you have—and it's so intuitive that even toddlers love to play with it—but really, all you're doing is sending instructions to a microprocessor about how to display information.
That's not to dismiss multitouch technology: It makes our lives better by helping us easily connect the ephemeral world of data and our physical selves. But that's also what skeuomorphism did, in its own way, and why it made such sense for that technology and that design to go hand-in-hand for the last few years: Together, they helped orient us to a radically new computing environment with a minimum of discomfort.
It didn't always work: The reel-to-reel tape recorder that appeared in Apple's Podcasts app would only be familiar to your "real" world if you were a 1970s TV detective. ( The company figured that one out pretty quickly.) And yeah, the Game Center offering did feel kind of like your mom's basement rec room from 30 years ago. Still, one person's distaste can be another person's nostalgia. In any case, it's all going away in iOS 7.
iOS 7 will be out in the fall, and no doubt Apple will offer ways of signalling—either through performance and aesthetics—that, yes, somebody cares enough about the new system to make it nice. It may be that there are still ways to make the Notes and Calendars apps charming as well as useful. Skeuomorphism is far from the only way to skin that rabbit.
But it's interesting to note that one of the most-anticipated new features of the new iOS is a parallax view of the home screen, which lets a background image move around slightly while icons remain in place above it. It's a trick that enhances the user's sense that the world behind the glass is real, three-dimensional, something to be actually grasped. The only thing that's missing? A little bit of crushed green felt.