Since our last full review of Yojimbo , then at version 2.0, Bare Bones Software's "digital junk drawer" has been steadily adding features. Yojimbo is a tool for storing and organizing text, PDFs, images, passwords, serial numbers, and similar scraps of information that are easily lost in the sea of files on one's hard drive. Information can be added to the Yojimbo library manually, by dragging files or text to a Drop Dock, typing or pasting into a Quick Input panel, and now through scanning, too. Items can be tagged with keywords and grouped into folders or Tag Collections that automatically include all library items containing the tags you specify. MobileMe subscribers with multiple computers can place a copy of Yojimbo on each computer and keep the libraries synchronized.
Yojimbo 2.1 added support for Snow Leopard's text system features giving users access to system-wide text expansion and data detectors. For example, select and control-click on a date in Yojimbo and the contextual menu includes options to display the selected date in iCal or create a new iCal event on that date. Version 2.1 also added text-to-speech and a transformations submenu for changing text case, the latter being helpful when editing caps-lock afflicted source material.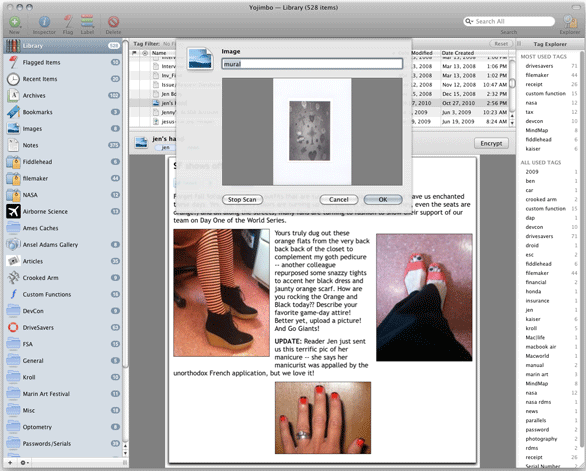 Last June saw the release of Yojimbo 2.2 and the Sidekick feature. In an effort to liberate Yojimbo data from the Mac, Sidekick builds a Website of the items in your Yojimbo library. The resulting site can be uploaded to the Web server of your choice for access from most Web-enabled devices. I tested Sidekick with iOS, Android, and Mac OS Web browsers and found it to work well in all but Firefox 3.6. Perhaps Sidekick's most significant drawback is that makes no effort to organize your data like it appears in Yojimbo. Collections and tag collections are disregarded. Library items are simply listed alphabetically on Sidekick's index page. A JavaScript search utility filters the list as you type, but it searches only titles, not content or tags. For users with a very large library, that index page can be long and slow to load. If you don't need to see everything, Sidekick can be configured to export just those items with the tags you've specified. And the site is read-only; there is no provision for creating or editing the data. Drawbacks notwithstanding, Sidekick and any Web host give you near-universal access to your Yojimbo library any time you're away from your Mac.
Which brings us to Yojimbo 3.0.1, the currently shipping version. Yojimbo can now scan directly from any TWAIN-compliant USB device connected to your Mac. When creating a new image item in the Yojimbo library, the program will check for the presence of a scanner and, should it find one, present a Scan button. The feature worked just fine on my (let's call it "vintage") Epson Perfection 1250 flatbed scanner. My much newer and faster Fujitsu ScanSnap isn't supported, but that's not Yojimbo's failing; Fujitsu has chosen to ignore the TWAIN standard.
Handy as direct scanning is, there are literally no controls. Click on Scan and you get a new Library item of the entire scanner's bed. I don't expect extensive resolution and color controls, but a simple crop tool and grayscale option would be welcome.
Yojimbo 3 is also required if you wish to use Bare Bones' new companion product, Yojimbo for iPad. Yojimbo 3 can be paired with a single iPad. Like Sidekick, Yojimbo for iPad is read-only. Unlike Sidekick, your Library's structure is retained and the data is kept current so long as the Mac and iPad are on the same network—no iTunes sync required.
Macworld's buying advice
Yojimbo remains one of the best data organizers for the Mac. Bare Bones has seen fit to offer version 3 for free to owners of Yojimbo 2.x. If you don't yet have a place to store your digital odds and ends, and don't require two-way synchronization with a mobile device, Yojimbo is a very strong option.