At a Glance
Expert's Rating
Pros
Fun patterns; slim and sturdy.
Cons
Doesn't support magnetic sleep/wake; a little cheap-looking
Our Verdict
If you're looking for a fun folio case at a decent price, this is it.
If you find yourself with a brand new iPad mini, one of the first things you'll want to get is a case to keep it safe. True, all of the options can be a bit overwhelming, but Speck's lineup is a great place to start if you're a little stuck. Below, you'll find Speck's CandyShell and FitFolio, two basic cases in a modest price range with a lot of color options.
FitFolio brings the fun
I normally like Speck cases: they're fun, colorful, and they fit well. But Speck's $35 FitFolio for iPad mini is a little disappointing when compared to other models in Speck's lineup. This folio-style case is sturdy enough, and it features a fitted plastic cradle that holds your device securely in place, but it looks a little cheap, and I couldn't get the cover's magnetic Sleep/Wake trigger to work.
True to what we've come to expect from Speck, the FitFolio is available in a wide array of colors and patterns, in both vegan leather and cloth finishes. The vegan leather options are solid colors—including fun names like raspberry pink, black, harbor blue, malachite green, and coral pink—while the fabric models feature colorful patterns, including stripes, plaid, flowers, and owls. Our review model was "PowerOwl Teal," which features a cute pattern of owls and lightning bolts against a teal plastic background.
The FitFolio secures your mini in a fitted plastic cradle that snaps easily onto your device. The cradle has cutouts for the Sleep/Wake button, headphone jack, mute switch, volume buttons, Lightning port, back camera, and microphone, as well as dotted holes for the speakers. The cutouts are a little deep, but only presents a problem with the mute switch—if you've got bigger fingers, this is not the case for you. The cradle is a little tough to take off of your iPad once in place (that's how secure it is, I suppose), but it's possible with a bit of prying.
The inside of the FitFolio's front flap is wrapped in a soft, faux-suede material that has four grooves in it. The grooves let you fold the case into a stand that props your iPad up in landscape orientation—just lodge the FitFolio's plastic case into one of the grooves, and it stand up like a picture. You can also fold the cover back on itself to make an angled typing surface.
One thing that struck me as odd is that the FitFolio for the iPad mini does not support the mini's magnetic Sleep/Wake feature. This is an odd design choice, because FitFolio models for other devices do have this feature: I have a vegan leather FitFolio for my Nexus 7 that has a magnet in the cover, and the FitFolio for the full-sized iPad supports it as well.
Speck's FitFolio for iPad mini is a great choice if you're looking for a fun, colorful case, but you don't have any other major case requirements. Its design won't be for everyone, and the cover lacks a magnetic Sleep/Wake trigger. Still, the FitFolio is relatively slim, feels fairly sturdy, and offers screen protection, making it a fun case at a decent price.
CandyShell: Our favorite (basic) flavor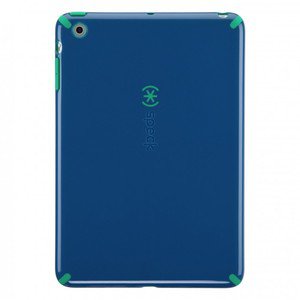 Hard shell cases aren't known for their excellent protection factor—they largely leave the iPad's screen uncovered—and Speck's $45 CandyShell for iPad mini is no different. But if you're looking to add a little color to your iPad mini, the CandyShell is a pretty, well-made option that will keep your mini safe from minimal harm.
The two-tone CandyShell comes in five cool color combos: raspberry with dark grey, black with slate grey, white with slate grey, blue with green, and pink with fuchsia. Our review model is harbor blue with malachite green, and I have to admit that the colors look great together. The outer polycarbonate backing features the primary color, with splashes of the secondary color on the inside, corners, and button overlays.
The case is made of two different materials, a hard polycarbonate outside and a soft, rubber-based inside. The rubbery inside can be seen from the outside in little accents: the button overlays, Speck's logo on the back of the case, and around the rim of the iPad's screen, where it creates a small lip to help protect the screen from scratches if the mini falls and lands face-down. The shell features cutouts for all ports (including the Lightning port, headphone jack, Ring/Silent switch, rear-facing camera, and microphone), and press-through button overlays for the Sleep/Wake and volume buttons. These overlays are soft and easy to press.
Though Speck's CandyShell won't protect your iPad mini from major drops, it will protect it from scratches and minor spills. It's not the thinnest hard shell case out there, so it does add a bit of bulk (and protective weight) to the device. My only real complaint is that the shiny polycarbonate back is somewhat prone to fingerprints—you'll be cleaning the case more than you clean the screen.