A reader who prefers to remain anonymous has some movies that he'd like to turn into an entirely different kind of media file. He writes:
I have some MPEG-4 music video files and all I want to do is lift the soundtrack from them and burn that music to CD. What's the secret?
There are many secrets to this one. Allow me to run down a few of them that are built into the current Mac OS and Apple applications you likely have on your computer.
Use QuickTime Player X: Launch QuickTime Player X (found in the Applications folder) and use it to open your movie. Choose File > Export and in the sheet that appears choose Audio Only from the Format pop-up menu at the bottom of the sheet. Name the file and click Export. The file will be exported as a 256kbps AAC audio file.
Use Services: In the Finder select your movie files. Choose Finder > Services > Encode Selected Video Files. In the window that appears choose Audio Only from the Setting pop-up menu and click Continue. 256kbps AAC audio files will be created from your movies.
Use GarageBand: Launch GarageBand, click New Project, select the Movie project, and click Choose. Name your project in the window that appears. Drag your movie into the project's Movie Track. The soundtrack will automatically appear below in the Movie Sound track. Choose Track > Hide Movie Track (see the image above). Choose Share > Export Song to iTunes. If you'd like the highest quality file available, uncheck the Compress option and click Share. The audio from the movie will be exported to iTunes, using the title you assigned when you created the project. If you unchecked the Compress option, the resulting file will be in the AIFF format.
Use iMovie: Launch iMovie, choose File > New Project to create exactly that, and select File > Import > Movies. Add your movie to a project. Choose Share > Export Using QuickTime. In the Save Exported File As window that appears, choose Sound to AIFF from the Export pop-up menu and click Save to create an AIFF audio file.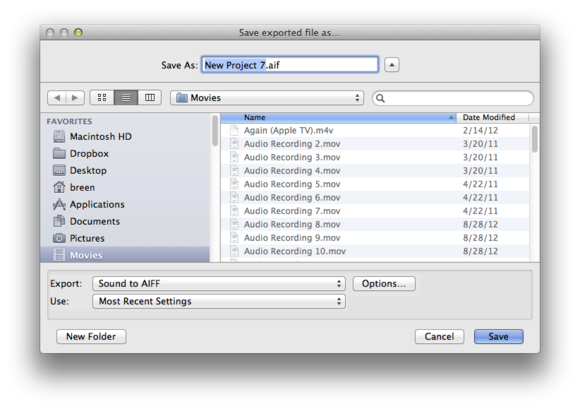 All four of these techniques will extract the audio you're after. If you take the GarageBand or iMovie route you'll additionally be able to edit out the audio you don't want so that you're left with just the good stuff.
Once you've done all this, drag your audio files into iTunes. Choose File > New Playlist, name the playlist, and drag those files into the playlist. Reorder them as you like. Finally, choose File > Burn Playlist to Disc. Insert a recordable CD into your Mac's media drive (please tell me you have one) and click Burn. Done.