Ten years ago, Apple introduced the Power Macintosh G5, the first of a new generation of Macs based on IBM's PowerPC G5 architecture. Unveiled by Steve Jobs during the 2003 World Wide Developer's Conference, the G5 replaced the aging Power Mac G4 and carried the banner for the ultra high-end Mac market until Apple released the Intel-based Mac Pro in 2006.
At the time of its debut, Apple claimed the G5 was the "world's fastest personal computer," a controversial statement that held up with mixed success in lab tests at the time of its release. But it was fast, no doubt, and capable: The high-end model shipped with dual 2GHz CPUs, and as Apple's first 64-bit computer, the Power Mac G5 could utilize up to 8GB of RAM. To add extra oomph, each of the three introductory G5 models featured a front-side bus clocked at half the CPU clock rate, including an astoundingly speedy 1GHz FSB for the 2GHz model.
Aside from its 64-bit CPU, the Power Macintosh G5 debuted a few other firsts for the Mac platform. It was the first Mac to integrate Serial ATA hard drives, which provided a significant speed advantage over its parallel cousins (it did retain a Parallel ATA interface for its DVD-burning SuperDrive). It was also Apple's first computer to include USB 2.0 ports, which had already become standard in the Windows world.
From design perspective, the Power Mac G5 was Apple's first computer to ship in an aluminum enclosure. The anodized chassis sported a sleek, monolithic design that carried with it a significant footprint: At 20 by 8.1 by 18.7 inches in dimension, the Power Macintosh G5 remains one of the tallest and largest Macs Apple has ever produced. The 39-pound beast was also one of the heaviest sans-CRT Macs ever made.
Keep it cool
For such an excess of volume, you'd think the G5 would contains an excess of expansion potential, but in fact, most of the case was dedicated to heat dissipation.
Apple spent a large portion of the Power Mac G5's 2003 introductory keynote explaining how it engineered around the PowerPC G5 CPU's hotplate nature with four separate "thermal zones" and no less than nine internal cooling fans that, if run together, sounded not dissimilar to a jet taking off when things got a bit too toasty. (In general, the machine stayed relatively quiet considering the amount of thermal energy piping through its innards.)
That Apple's engineers had to bend over backwards and upside down to accommodate the thermal profile of IBM's G5 CPU must have been powerful evidence for Apple's executive staff that the company had to change direction in CPU architecture—as it did three years later with the switch to Intel CPUs.
But in between all that G5 cooling apparatus, Apple did find room for a single 5.25-inch bay, two 3.5-inch hard drive bays, and eight DIMM slots for RAM inside the Power Mac's case. For internal expansion, the initial G5s included one 133 MHz 64-bit PCI-X slot and two 100 MHz 64-bit PCI-X slots.
By modern standards, that's a surprisingly inefficient use of space: three bays and three slots in a case that could swallow 36 modern Mac Minis in cubic volume. But such was the price for appeasing the G5 heat monster.
Over the next three years of its lifespan, the Power Macintosh G5 continued on to bigger and hotter heights, increasing clock speed and memory until it maxed out in late 2005 with a model containing two dual core 2.5GHz PowerPC 970MP CPUs (four cores total) and a liquid cooling system.
From Power Mac to Mac Pro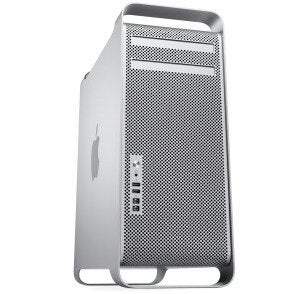 By then it was painfully obvious that the PowerPC architecture, which had failed to break the promised 3GHz barrier for over two years, was proving too limiting for Apple. In 2006, Apple unveiled the previously unthinkable: Intel-based Macs.
But even after that switch to Intel, one thing remained the same: Apple's then-new Mac Pro retained the dimensions and general exterior design of the Power Mac G5. Only now, a decade after the G5's introduction, is Apple finally ditching the aluminum beast for a mysterious dark cylinder.
Think about it: Ten years of the same design in Apple-Land is pretty much unheard of. The design must have served Apple very well—as well, at least, as it did the millions of professional users who have used the Power Mac G5 and its spiritual descendants over the previous decade. Happy birthday, G5.