For much of the last couple of years, it seemed, developers raced to build note-taking apps that were tricked out with as many features as possible: Handwriting to text recognition, voice recordings, color-coded writing inks, and more. Lately, though, simple note-takers are on the rise, with slimmed-down apps like Simplenote that let users record a thought or two, and then move on. Fetchnotes, a free app for iPhone and iPad, belongs to the latter category, but it left me wishing that its developers had filled out its slender roster of features.
To get started with Fetchnotes, you'll need to register and create an account. This makes your notes accessible from any device, including via the web on a desktop computer. All you have to do is push a "plus" sign in the corner of the screen, type a thought—such as "Remember to do the dishes"—and you're good to go. Notes can be viewed only in landscape mode on either the iPhone, iPad, or iPod touch.
There are hints of social networking within Fetchnotes. You can tag notes or concepts by using hashtags, but how Fetchnotes uses hashtags is confusing. For #books, for example, it seems as though the tag is supposed to generate a link to Amazon for the book you want, but that feature is hit or miss. (A note that said I want to read The Bible generated an Amazon link to a—ahem—much more obscure work by an anonymous author.) And tapping the hashtagged word doesn't show you other notes with the same hashtag—you'll have to actually do a keyword search for that.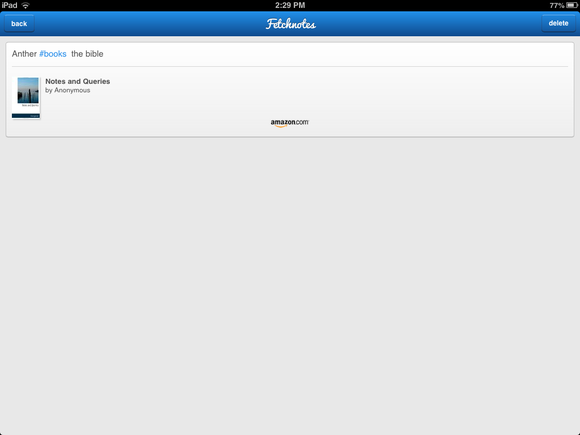 Similarly, the app says you can mention friends on Fetchnotes using a Twitter-like "@" nickname to mark them. The problem: There's no way to tell if that friend or family member is actually using Fetchnotes. You can't search for other people in your contact list, the way you might in a more developed network, so actually making connections is difficult.
Bottom line
If all you want to do is list the occasional "remember this" item, Fetchnotes will do. But if you want to organize or share your notes, the app's features fall short—even when they work, they do so in a counterintuitive fashion. You're better off with Simplenote, or Apple's native Notes app.