Desktop RSS readers may be a dime a dozen, but here's one you can run for free—at least for a while. Black Pixel on Monday released a public beta of NetNewsWire 4 for Mac, a new version of the software for the post-Google Reader era.
NetNewsWire, of course, has a storied history. Developer Brent Simmons first created the app, at the time one of the very first desktop news aggregators; its success helped to drive the popularity of RSS newsreaders and the format in general. The app started as part of Simmons's own company, Ranchero Software, before he eventually sold the business to NewsGator, where he then worked for years. In 2011, the software ended up at developer Black Pixel.
Not entirely coincidentally, Google Reader, which over time powered the feed syncing behind NetNewsWire and a slew of other newsreading apps, will soon follow eWorld, the Pets.com sock monkey, and Flooz into the Internet graveyard; the service will close its virtual doors forever on July 1.
In terms of features, there's not much new in NetNewsWire 4. The app will feel instantly familiar to anyone who's used prior versions of the software, though its developers have given it a fresh coat of paint. You get a grayscale list of feeds at left, previews in the middle column, complete with thumbnails, and the full article (or summary, if that's all that's available) in the rightmost pane. There's no longer a view option with the full post at the bottom; three columns is the only choice now. And the middle list of stories vanishes when you navigate into a webpage, which strikes me as a little jarring. Of course, NetNewsWire 4 is a beta, so all of this may change as development continues.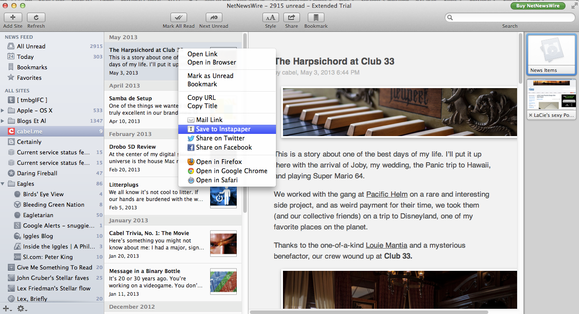 The overall sense is that NetNewsWire is the same old NetNewsWire, and yet it manages to feel pretty new at the same time.
One major feature that NetNewsWire doesn't have at this writing is syncing. In a blog post, Black Pixel CEO Daniel Pasco writes that sync is coming, along with the company's iOS versions, and the beta will remain free to use until a completed, sync-capable version arrives. Pasco told Macworld that the company wasn't yet ready to offer official word on what the finished app's sync solution will look like; back in March he noted that "iCloud hasn't worked for us."
An RSS reader without sync harkens back to the dark, unpleasant days of POP3 email. If you currently use iOS newsreading apps like Reeder, Mr. Reader, and the like, a sync-free version of NetNewsWire means there's no way to, well, keep your feeds in sync between the platforms. If you choose to use NetNewsWire 4 on the Mac, you'll need to decide either to use it exclusively, to use it for some feeds and your iOS reader for others, or to incessantly mark the same articles as read on multiple devices. The forthcoming iOS apps may help alleviate that, if you're willing to abandon your current solutions, but even so, no release date has yet been given for them. For now, the app can import your feeds from Google or an OPML file, or you can simply add your favorite feeds by hand. NetNewsWire 4 also offers a handful of popular sites to fill out your subscriptions, if you wish.
The recent spate of announcements and rumors from companies like AOL, Digg, and Facebook about their own upcoming Web-based reader services are aiming to capitalize on the tech-savvy users who are fearful about how they'll sync their newsfeeds once Google shuts down Google Reader for good. And companies like Feedly, Feedbin, and a slew of others are all clamoring to be the new RSS backend. In starting over, NetNewsWire 4 appears to have thrown away everything up to and including the sync, which may be a deal breaker for heavy news readers, for now.
NetNewsWire 4 will cost $20 when it does ship, though thrifty early birds who choose to pre-order now can snag it for $10.