Upon its first launch, Airmail ( Mac App Store link) has impressively sleek looks and a smooth takeoff, but the flight got a little bumpier after I'd stayed on board a while. Airmail's appealing interface can't entirely conceal this lightweight email client's shortcomings.
Setting up Airmail couldn't have been easier. The program asked for my email address and account password, and within seconds, it had configured an IMAP account and started populating my inbox. The first time it ran, my mail appeared with impressive speed. (Unfortunately, that wouldn't always be the case.) Airmail looks terrific, displaying information in a series of vertical columns across the screen: accounts, then mailboxes, then message lists, and finally individual messages.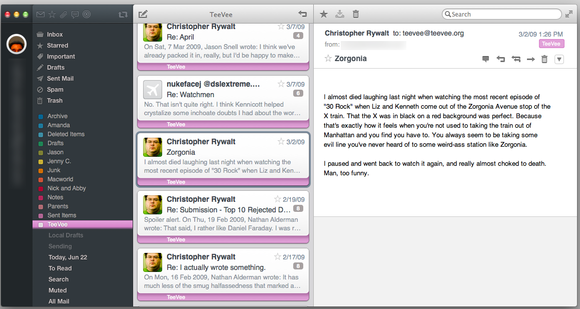 Airmail is smart enough to pull in your Gmail labels and display them as different mailboxes, and it offers a preset selection of other views, including emails that have arrived the same day and emails you haven't read yet. It also supports threaded conversations, and can display icons and images associated with each sender. Searches through my messages summoned speedy, accurate results.
Dig deep enough in Airmail's somewhat bewildering Preferences, and you can even find multiple themes to apply to your inbox. I preferred the default one, but I found them all pleasing to the eye; some offer more information in the message list, some less, and each takes a unique approach to color-coding your messages according to your Gmail or other folders.
So far, so good. But in regular use, Airmail's drawbacks quickly become apparent. Icons to check mail, view attachments or conversations, or see all messages from a given sender occupy a small, hard-to-see ledge at the top of the mailbox list column. There's a "quick reply" button at the top of the message list column, but it opens an entirely new window to compose your missive; there's no easy way to quickly create a reply within the same window.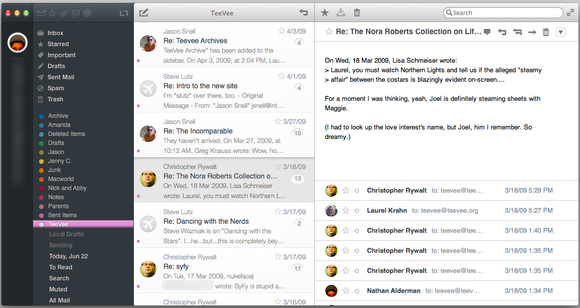 I also noticed a problem that numerous other users have posted to Airmail's help forums: After a while, it started taking a significant amount of time—45 seconds or longer—for any mail from my Gmail account to appear when I loaded Airmail. Other users had reported this on Airmail's one and only help forum, but aside from a flag on the thread marked "completed," the company hadn't responded to them. Announcements of numerous betas listed on Airmail's Web site suggest that this and other bugs will get fixed in some future release.
I also couldn't seem to link my Dropbox account to Airmail. I'd click the button in its Prefences to set up that feature, log in to Dropbox, and get assurances from the site that a new folder had been established to store my attachments remotely. But that new folder never showed up in my actual Dropbox, even after several tries. I had better luck linking my Google Drive, which worked right out of the gate.
Aside from the forum, Airmail offers no help guide, tutorial, or other documentation. Even a simple walkthrough of the program's features or preferences would have helped.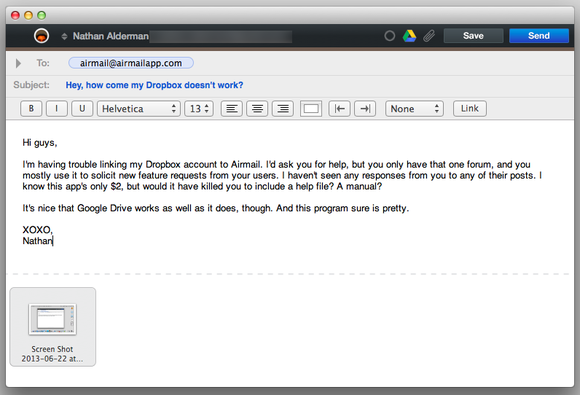 Bottom line
For just $2, I really shouldn't expect bells and whistles. Airmail looks sharp, and it does a few things like search (and its delightfully authoritative set of message-sent and –received sounds) quite well. In the course of my review, an update to Airmail fixed several irksome bugs and shortcomings, so the program's definitely improved. Still, you might want to wait until future versions have worked out the last of its kinks.
Chart: See how Airmail compares to other Mac email clients we've reviewed