To Thread Contact's credit, this $2 universal iOS app from New Zealand developer Oigo is beautiful to look at. The spare aesthetic, with a white background fronted by cool greys and blues, looks great on your iPhone, and makes you feel like you're living in the future.
But that's one of the few advantages Thread Contact has over Buzz Contacts, a productivity app with a similar set of features, but which costs just $1 in the App Store.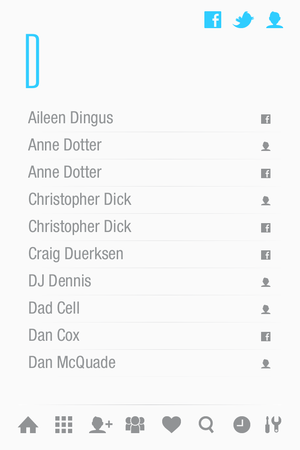 Like Buzz, Thread Contact compiles your contact information from your iPhone's contacts app, Twitter, and Facebook, and puts it all in one place. Both Thread and Buzz offer nice-looking dialers to make phone calls. But it's more limited than Buzz—Thread Contact only calls from your iPhone, where Buzz will also call from Skype or several other voice-to-voice applications available for the iPhone.
Thread Contact also lets you create personalized groups of contacts; as does Buzz. But Buzz Contacts makes it easy to send bulk emails or SMS messages to all the members of a designated group; With Thread, you can send individual emails and text messages without issue, but it seems to be missing a bulk message option. Which makes the groups feature simply an easier way to find certain contacts.
But adding contacts to a group isn't exactly intuitive: It took me a few minutes of searching before I realized that I had to go to each individual contact and edit that person's information to include them in a group. If there's a way of batch-adding contacts into groups, it's not readily apparent, and neither the app nor OiGO offer any kind of FAQ guidance. (You're on your own.)
Thread does have some unique features: You can add a contact to a calendar event from within the app; you can also easily share information about an individual contact via email or text. And it's native to the iPad, not just the iPhone.
Bottom line
For the most part, Thread Contact gets you only halfway to the range of features offered by Buzz Contacts, but it does so at twice the cost. It's not a bad app on its own, but it's hard to justify the expense when you know there's something better out there.