Lately, it feels like not a week goes by without a new password management solution for both desktop and mobile operating systems making an appearance on my radar. Personally, nothing could make me happier, both because I happen to believe that at least one of these app belongs on everyone's devices, and because, despite an increasingly crowded market, each entrant brings something unique to the table.
But I digress; let me instead tell you about Keeper ( Mac App Store link), which is designed to offer a complete array of password management features for all your computing needs.
Security for everyone
Like an increasing number of apps in this space, Keeper supports practically every major operating system in existence; on the desktop, this means that you can download and install versions for OS X, Windows, and even Linux, with browser extensions available for Safari, Chrome, and Firefox.
Similarly, on mobile, the software is available for iOS, Android, Windows Mobile, Blackberry, and Symbian OS. In practical terms, if you have a computer, phone, or tablet made in the last five years, you will be able to run Keeper on it.
The apps themselves can be downloaded at no cost, and you are free to use the basic functionality they offer without having to ever pay a dime—never a bad thing, particularly if you are still on the ropes about acquiring a password manager and this is your first foray in this kind of software. More advanced functionality, such as syncing your data across multiple devices and backing it up to the cloud, come as part of a subscription package that costs $10 per device per year.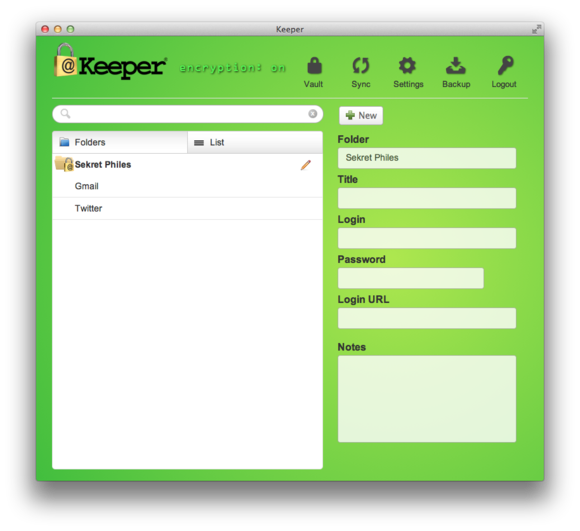 An effective data vault
Keeper uses a military-grade AES encryption algorithm to keep your data safe from prying eyes; according to the company, this method is approved by the U.S. Department of Homeland Security for the safeguard of information.
Your data vault can only be unlocked using a master password that you choose when you first create your account. I was happy to see that Keeper prefers long passwords, and won't let users get away with simple four-digit combinations, which are easier to remember but, unfortunately, also much easier to crack.
As a supplemental safety mechanism, you can also enter a security question, which you must answer whenever you log on to the app. This will likely feel a little overkill to many users, but I think that it speaks to the developers' commitment to security: Even if a third party were to somehow gain access to your master password, they would still be unable to log in without knowing a number of intimate details about your personal history.
Simplicity itself
Keeper's functionality is simple almost to the point of being barebones: You can create secure items by providing a Web URL and the appropriate login information, together with any additional fields and an optional note. The results can be organized in an arbitrary number of folders (and, of course, moved around as needed).
Its functionality is therefore somewhat limited compared to much of its competition, which can often follow complex login patterns and stored additional items like secure notes, software licenses, and personal documents. On the flip side, however, the app is also extremely easy to use, particularly when you install a browser extension, which autofills form data for you and makes logging no more complex than clicking on a button.
One item of note is Keeper's ability to export your entire data vault in PDF format, with the passwords clearly shown in plaintext. This may seem like a very risky option—and, indeed, it is if you leave the file lying around on your hard drive. However, if used properly, it is also a great old-school safety mechanism: print the PDF file out, store it a safe or safety box (of the real-life kind), and your business partners or family will have a permanent backup in case something happens to you.
Finally, you can also share individual login items with other users, allowing them to access critical passwords that are kept in sync across the company's cloud infrastructure.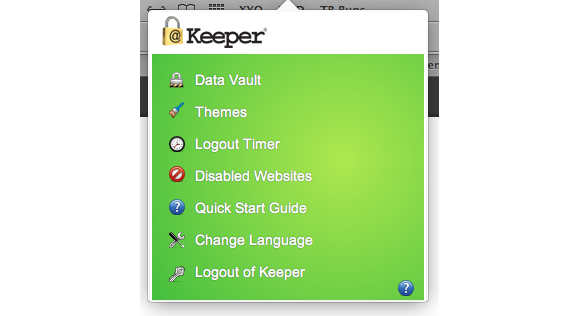 Bottom line
Overall, Keeper is one of the simplest password managers I've ever seen. If you do not use one of these apps today, it represents a great starting point: it takes security seriously, it can be set up in under five minutes, and takes even less time to master.
I don't usually judge software by its cost, but the app is a much harder proposition if you want to take advantage of its more advanced functionality, like syncing. If you want to use your data across, say, an iPad, an iPhone, and a Mac, you're out $30 per year—and, at that price, you can find apps that, like OneSafe and 1Password, offer a greater array of functionality, although they often support fewer platforms.