I never though I'd say this when I first listened to a podcast, many years ago, but I love podcasts. Each week I listen to a dozen or so different shows, some produced by friends, and others by celebrities of various caliber.
Apple offers a couple apps that are supposed to make it easy to listen to podcasts: iTunes on the desktop, and the appropriately-named Podcasts on iOS. Alas, these two apps might as well have been developed by two different companies, because making them work in tandem—particularly when it comes to syncing episodes between them—is, well, complicated.
Since I could never make Apple's own software work well, a while back I switched to Vemedio's Instacast for iOS for listening on my iOS devices. I've been very happy with it, so I was pleased when the software finally made its way to OS X in the form of Instacast for Mac.
Instacast looks exactly like I think a podcast app should. Its main interface takes a cue from recent versions of Apple's Mail, dividing the screen in three vertical panes: On the left is a list of the podcasts you subscribe to; in the middle is a list of available episodes for the selected show; and on the right is information about the selected episode.
That's pretty much the entire interface. Unlike iTunes, which has grown over the years into an agglomerate of half a dozen different apps worth of features, Instacast does one thing and does it exceptionally well. Even better, when you want it out of the way, the window minimizes in a convenient mini player that, much like iTunes's, can be safely stashed away in a corner without closing the app. (Alas, there's no way to remove Instacast's icon from the Dock, which would make it even more discrete.)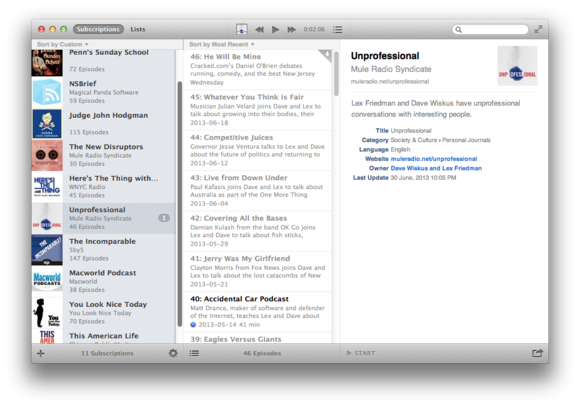 In addition to playing back individual episodes of a podcast, Instacast allows you to organize episodes in a couple interesting ways. The first is to create playlists of episodes from your subscriptions. This feature essentially lets you create your own talk-radio station filled with your favorite podcasts.
The second is to create smart lists that automatically aggregate episodes based on criteria you define. For example, you can pull together all the episodes you haven't finished listening to, or just those that have been added recently.
By default, only the most-recent episode of each subscribed podcast is downloaded to your computer—if you play an older episode from your subscription list, that episode is streamed from the Internet. However, you can choose to have Instacast automatically download older episodes for offline access; the app lets you limit the total amount of drive space it uses, deleting older episodes to make room for new ones.
Instacast's sharing features include support for Twitter, App.net, email, iMessage, and a few additional Web services. You can also connect to your account on the micropayment site Flattr to provide small donations to each podcast's producers when you listen to their work.
Unfortunately, Instacast doesn't include any kind of social-oriented discovery features, which is a shame. When adding a new podcast, you can choose from a number of different groups, or search for a specific show, but there's no way to find podcasts that your friends are listening to (or watching). That would be a convenient way to discover new shows, particularly considering how tightly Apple has been integrating various social-media networks into OS X and iOS.
One area where Instacast especially shines is syncing across devices. Through a feature aptly named Instacast Cloud, which is free to to all registered users, you can sync subscriptions, episodes, and playback status across multiple copies of the app on any supported platform. Once you've provided your Instacast Cloud username and password, everything is handled automagically.
I've used this feature ever since the initial public beta of Instacast for Mac, and it has worked flawlessly. I can, for example, stop playback of the latest episode of the Macworld Podcast on my laptop, step outside for a walk, and launch Instacast for iOS to pick up immediately where I left off. The feature works without a hitch, and it's free—what more could you ask for?
Bottom line
On its own, Instacast is a great app that deserves a spot on your Mac if you listen to podcasts. It's been deliberately designed to provide all the important features you need without overloading you with needless extras. Coupled with its iOS counterparts, however, Instacast is an absolute pleasure to use. The sync feature is powerful and automatic, letting you jump seamlessly between devices, perfectly matching today's mobile lifestyles.
Want to stay up to date with the latest Gems? You can follow Mac Gems on Twitter or on App.net.