Your Mac has many features you may not know about. Let Macworld's editors teach you more about your computer with our new ebook, 100 More Things Every Mac User Should Know.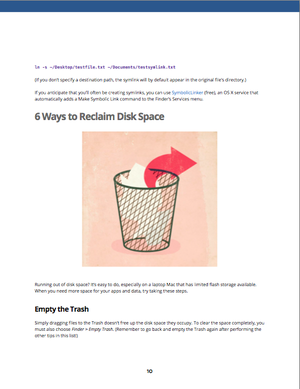 Two years ago, we adapted a feature from Macworld into a book called 100 Things Every Mac User Should Know. The idea was to compile a bunch of tidbits—keyboard shortcuts, Finder techniques, and the like—that we thought every savvy Mac user should understand and feel confident about using: not ABC beginner stuff, and not truly esoteric expert-level maneuvers, but the kinds of things that mark you as experienced and informed.
Of course, there are a lot more than 100 such things. So we decided to revisit the idea, coming up with another 100 pieces of Mac-related information we think users should have at their command. So, yes: You now have 200 things you need to know, applicable to those running Snow Leopard, Lion, and Mountain Lion.
As we said back in 2011: We're sure you know a lot of the things we've listed here. But we bet that very, very few of you, if you're really being honest, can say you know them all. Check them out, and let us know if we're wrong.
Want a peek inside? You can download a free PDF preview of the book from our website.
To get 100 More Things Every Mac User Should Know on the device of your choice, you can purchase it now from the iBookstore, Kindle Store, and Nook Store for $2.99.
You can also pick up a bundle of the book in all formats—PDF, ePub, and MOBI— for $3.99 or as a PDF for $2.99 from our Web store.
We hope that you enjoy this extended feature. If you want to learn even more about your Mac runs on, make sure to check out our other available Superguides including our Mac Basics Superguide and Total OS X Mountain Lion Superguide.