Moment lives in your menubar. It lights up—and sounds an alert—whenever you receive a new Facebook notification. Click the menu icon, and you see your notifications, old and new alike. (Older ones are dimmed to make it easier to spot the new ones.) It's the same list you could expect to see if you viewed your notifications list on the Facebook website.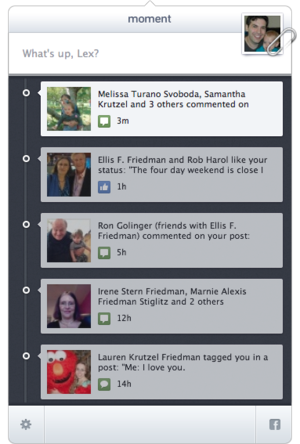 Click a notification, and the Moment menu vanishes, opening the appropriate Facebook page in your Web browser of choice. It's a shame Moment doesn't simply display the page directly within the app, though such a feature is clearly beyond the scope of what Moment had in mind. Leaving its cozy confines for the wilds of Facebook proper, however, is always a disappointment.
Where Moment really shines, however, is in facilitating posting to Facebook. To post a photo to your timeline in a flash, just drag the photo onto Moment's menubar icon, optionally add a text status to go with it, and click the Post button. Alternatively, you can just click the menu icon, type your status update, and (optionally) drag in an image. Want to post a video, or a link to a webpage? You can drag those, too—Moment knows precisely how to handle them.
A nice touch is that you can add friends to a post or photo by simply typing their name(s) in the Who Were You With? area. Moment automatically finishes the name(s) based on your friends list on Facebook.
Moment is tidy, elegant, and makes quick work of updating your Facebook status and keeping tabs on your notifications. If those features appeal to you, the app's sure to please.
Editor's note: Updated at 9:30 a.m. PT on 7/10/13 to correct the price.
Note: When you purchase something after clicking links in our articles, we may earn a small commission. Read our affiliate link policy for more details.
Lex is a former writer for Macworld. He lives in New Jersey with his wife and three kids.