If you're an iOS user who subscribes to Sony's Music Unlimited subscription streaming service (you did know Sony had a streaming music subscription service with a global catalog of more than 20 million tracks, right?) you should be feeling better right about now.
On Thursday, the app for iPhone and iPod touch added two cool features (features that are long overdue, compared to other music services).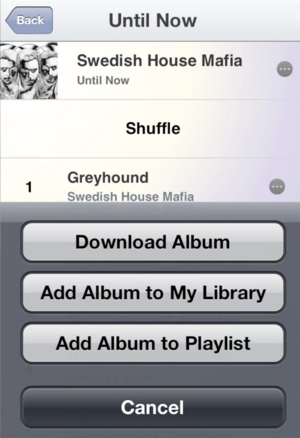 First is offline playback, which lets you download individual albums and tracks, as well as your playlists, to listen to when you can't or don't want to stream. Once pulled down, items appear in a new My Downloads section of the app.
The other is high-quality streaming, which delivers tracks as 320-kbps AAC files rather than 96 kbps to 160 kbps. To get it to work, you'll have to enable High Quality Audio HQ Streaming in the app's settings. After that you should see a HQ badge next to the track info when playing a song. Unfortunately, Sony notes that the higher quality stream isn't available for offline listening, so it's an either/or proposition at this point. And Sony told me that the bit rate for downloads is an abysmal 48 kbps. Both features have already been available on other platforms, such as Android and PlayStation 3.
In order to stream to an iOS device, you need to subscribe to the Premium plan, which costs $10 a month (like Spotify and others) or $60 a year (a curious yet compelling discount). It also includes support for Android phones and tablets, Walkman-branded hardware, PlayStation Vita and PSP devices, Sony Bravia TVs, and Blu-ray players. The $5-a-month Access plan only gives you browser-based support, as well as PlayStation 3 playback.
[Updated at 11:22am pacific to add download bit rate.]