Disclaimer: I hate the iOS Calendar app. Not only is it ugly—although not quite faux-leather ugly like its desktop counterpart—but it lacks any features that make it useful beyond creating a simple event. There are plenty of calendar alternatives in the App Store, and while many people have urged me to try Fantastical and Tempo on my iPhone, I have yet to find a calendar app that does everything I need it to with a design that doesn't make me want to take a cheese grater to my eyes. That's when I was introduced to Cal, and vowed to never suffer through a second-rate calendaring experience again.
Cal is a free calendar app from the same folks who make Any.do. The app imports your various calendars—be they iCloud, Google, Exchange, or Facebook-based—along with your contacts and location. Once you navigate through its painless setup process, you'll drop right into Cal's main view, which details the events you have listed for a particular day. Tapping on an event gives you more information on it, like its location and who else is attending.
Much like Any.do, Cal takes a very simple and straightforward approach to organizing your life. It forces you to take things one day at a time to avoid feeling overwhelmed. You can't view your entire week, but you can swipe between days or take a look at a monthly overview by swiping down from the top-half of the screen. Swiping between days and opening up events is executed in such a graceful fashion that its almost surprising Apple didn't take a similar approach to its own Calendar app.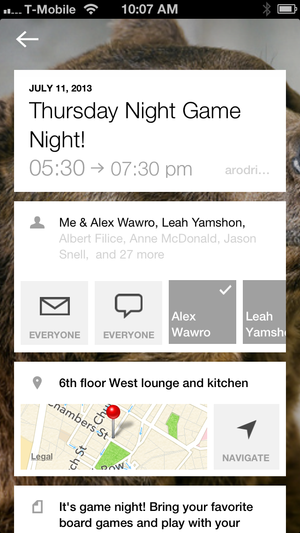 To add an event, press the "+" on the top right of the screen and start typing. Cal is smart enough to know when you're including someone in an event, but unfortunately lacks the natural language capabilities that you get from Fantastical. So writing "Lunch with Nick" will invite Nick from your contacts, but you'll have to manually set the time at which that lunch takes place.
One advantage that Cal has over Fantastical, however, is that it's much more visually appealing. The app pulls in images from Tumblr to use as backgrounds for different days, and you can select from several themes to get your calendar looking the way you want. These themes include art, fashion, and landscape, among others, with animals checked by default. For instance, I chose food and animal themes to remind me to eat outside every once in a while.
But for all the praise I shower upon Cal, the app has several areas it could improve on. Animations are jerky at times, and the ability to dictate new events using plain speak would be nice. There were instances where Cal was unable to invite someone to an event because they weren't in my contacts—even though I know for a fact that I had all their information saved to my iPhone. And an iPad version of the app would be greatly appreciated, but at this point I'm just being nit-picky.
Bottom line
If, like me, you are tired of Apple's pathetic excuse of a calendar app, give Cal a try. It's available now in the App Store and it's definitely worth the few megabytes you'll spend to download it.