NoteSuite represents a major upgrade (as well as a name change) for Projectbook, an iPad-only note-taking app that Theory.io released last year. Not only is the NoteSuite upgrade free for existing Projectbook owners, but it is also accompanied by a long-awaited desktop app of the same name in the Mac App Store.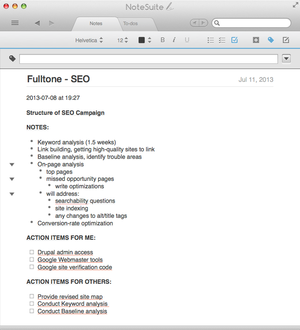 Existing users of Projectbook should have no trouble making the transition to NoteSuite, but new users should be forewarned: Like its predecessor, NoteSuite is not your average note-taking app. It's designed to be your one-stop project-management tool, and therefore it has lots of advanced capabilities (and an associated learning curve) that you won't find in lesser note-taking apps.
For example, while you're taking notes, you might also be compiling a to-do list. Rather than stopping what you're doing and opening a separate task-management app (or, worse, writing the items down on paper), you can simply highlight some text in your note and select Make Task, which puts a checkbox on that note item and places the task in NoteSuite's master to-do list. The Mac app also provides a "quick note" feature that you can access via the menu bar from within any app. The iPad app offers a similar feature, but due to Apple's iOS restrictions, it's available only within the app.
You can divide complicated tasks into subtasks if necessary, delegate tasks to other people, assign due dates and, optionally, add tasks to the built-in Calendar app. You can view items that are due today, up next, and this week, but unfortunately NoteSuite doesn't integrate with the Reminders app. According to the developer, Apple is to blame, not NoteSuite. I'm hoping this limitation is something that can be rectified, because I rely on Reminders.
Unlike simpler note-taking apps, NoteSuite can contain more than text within notes. For starters, you can record audio, which scatters little speaker icons within your text; tapping an icon plays the audio from that particular point. You can incorporate graphics that you either create within the app or bring in from outside. You can also insert documents, such as Word files, PowerPoint slides, and PDFs. The iPad app gives you several ways to do so, while the desktop app lets you drag images and documents into the app.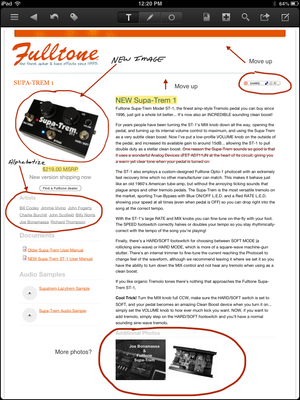 You can bring outside data into your notes by emailing it to your notebook. NoteSuite requires that you set up your own dedicated email account for the app. (Some competing apps automatically provide each user with a special email account for this purpose.) Although at first glance this arrangement may seem a little kludgy, it actually fits into NoteSuite's "own-your-own-stuff" philosophy. (More about this later.)
As a Web developer, I find the new Web-clipper tool very useful. The desktop app provides a browser plug-in for Safari, Chrome, and Firefox that is easy to install from the notesuite.io website. On the iPad, you clip a webpage by tapping the Sharing icon within mobile Safari and choosing Copy. When you navigate back to NoteSuite, the app then prompts you to import the webpage. You can bring in Web clips either as text, which strips out extraneous content, or as an image of the webpage.
You can convert Web clippings and imported documents into PDF files that you can then annotate. You can convert a note to PDF and/or make annotations only on the iPad for some reason—it really needs to be included with the Mac app, too, and the Mac app can only export a note as a PDF (if you display an annotated PDF note on the Mac, it displays the annotations, but you cannot edit them). PDF conversion generally works well, but certain webpages I tried did not convert accurately.
As for annotation, you can insert text boxes to add typewritten text, and you can highlight, underline, or strike through text within a PDF. Various pen tools and geometric-shape tools allow you to write and draw on the page, as well. Writing and drawing are very smooth, even on the iPad mini's lower-resolution screen. NoteSuite also provides a clever magnifying tool that aids with handwriting. The pen tools and the shape tools are on separate tool palettes, which I find slightly annoying in cases when I need to switch tools frequently. But my biggest complaint is that the brush-size, color, and transparency options affect all the tools globally. I usually prefer to use different colors and brush sizes for writing and drawing, so it gets tiring having to change those options each time I switch tools.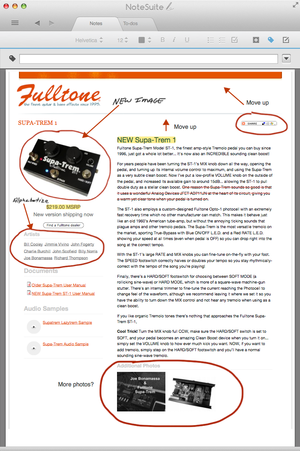 Because the developers believe that you should have full control of your data, NoteSuite stores your data locally on your Mac or iPad, in contrast to similar cloud-based services that store your data on their servers and require you to pay a subscription fee to access your data offline. In contrast, NoteSuite gives you the best of both worlds by letting you use iCloud to keep your data in sync between your Mac and your iPad. Speaking of cloud services, you can also link the app to Box, Dropbox, and Google Drive in order to import and export data with those services. And you can link to Instapaper or Pocket to bring in content from those apps.
It's difficult to avoid making comparisons to Evernote, which is likely NoteSuite's biggest competitor. In some ways Evernote is more approachable for nontechnical users, but NoteSuite sports a greatly simplified user interface and provides well-written help, so new users should be less intimidated than before. When I inquired about converting Evernote data to NoteSuite, the developers said that this is a highly requested feature and is currently under research.
Bottom line
Although I was impressed with the original Projectbook 1.0, it seemed rough around the edges—and because it was an iPad-only app, it simply didn't fit into my workflow. However, despite a few minor quirks, NoteSuite is a solid update with a much friendlier interface. Now that the app is available on the Mac, it's worth a second look, and I bet that more users will give it a chance. The developers have indicated that an iPhone app is in the works as well; I'm looking forward to its release, since my iPhone plays an important part in my workflow. And if TextExpander support is added to the iOS apps, then I may have found my new project-management tool.
Editor's note: Updated at 10 a.m. on 7/18/13 to clarify the Mac's ability to handle PDFs.