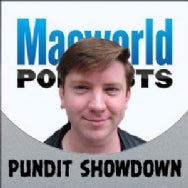 Normally the Macworld Podcast is a sober, carefully constructed affair. But our sober, carefully constructed host, Chris Breen, is on vacation. And when the cat's away, the mice will make a game-show podcast that's full of sound effects. That's right. It's time for a third edition of Macworld's Mac Pundit Showdown, our blatant rip-o… er… homage to the excellent BBC radio program Fighting Talk. In this edition, Dan Frakes, Roman Loyola, and Chris Holt match wits as they field questions from their cruel quizmaster, Philip Michaels.
Listen to episode 166
Show notes
If you're wondering exactly what's going on here, we explain it all in the show notes to our original Macworld Fighting Talk podcast. Fearing wrath of BBC lawyers, we soldiered on when we did our second installment, re-dubbed Mac Pundit Showdown. Macworld Editorial Director Jason Snell won both contests, proving that it's good to be the boss.
Brian Lam of Gizmodo apologized to his parents about Steve Jobs.
See just why Dan Frakes had to swallow his pride when he talked about the mythical mid-range Mac minitower.
Those with delicate eyes look away: these are Roman's headphones.
You can find previous episodes of our audio podcasts at Macworld's podcasting page.
To subscribe to the Macworld Podcast via iTunes 4.9 or later, simply click here. Or you can point your favorite podcast-savvy RSS reader at: http://rss.macworld.com/macworld/weblogs/mwpodcast/